Rare 2-0 win signals Liverpool's resilience
On New Year's Day, Liverpool won 2-0. Believe it or not, it's a rare scoreline for the Merseyside club.

It has been over two years -- Dec. 18, 2011, to be precise -- since those words were written. It is the first time in 107 competitive games, and the first time under Brendan Rodgers, that Liverpool have managed that most inviting of scorelines. The last time Liverpool won 2-0, away to Aston Villa, Kenny Dalglish was still in charge, Luis Suarez was still mortal and the term 'moneyball' was still in vogue.

A 2-0 victory probably appears something to not get terribly excited about, and a repeat viewing of the victory at Anfield against Hull would support that. For Liverpool, it was uninspiring, industrious and a little bit turgid; it was a slog, a proverbial rolling of the sleeves, a hearty mop of a sodden brow. Hull set up to contain Liverpool, and it was Liverpool's job to break them down. They were always going to do it, it was just a matter of how and when.

Liverpool have won games by all sorts of glorious scores under Rodgers -- 6-0, 5-0, 5-1, 4-1, 4-0, 3-0, 4-2 -- to leave the scoreboard operator as tired as the opposition who toil against Suarez and friends. A 2-0 win may seem meagre, or even disappointing, given they were playing the type of side they have delighted in destroying over the past few years.

But there is something satisfying about a 2-0 win. A 1-0 victory indicates it has been a little too close for comfort, a game that was not won even in the final minute; a 3-0 score hints at subservience from the opposition, total and utter acceptance of their fate. Two-nil is the thinking man's score; it is the porridge of Baby Bear, the album that has the right number of tracks, the film that does not linger on the final scene for too long*.

This is partly tongue-in-cheek, of course. It is unlikely Rodgers and his squad have sat in the changing rooms, head welded into hands, after a 4-1 or 5-0 win. Few would argue with some of the exhibitions Liverpool have offered, especially when Suarez is so magnificent throughout. As their goal difference rises, so does the importance of every goal; their plus-23 figure is almost worth another point ahead of Everton (plus-13), Spurs (minus-1) and Manchester United (plus-9).

There is something about a 2-0, though. It's a clean sheet, after all -- something Liverpool had only achieved five of before Wednesday, and just once in the previous eight games. Furthermore, it demonstrated how hard Liverpool worked for a result far from certain. Hull had enjoyed a six-goal thrashing of Fulham over the festive period -- a stark contrast to the weary and worn Liverpool who travelled to both Manchester City and Chelsea, only to leave with no points and little energy.

Liverpool fought against that, and they fought against Hull. They looked tired but still sought the opening goal, eventually grabbing it with a set-piece. At this point, most mid-table teams have crumbled at Anfield; most would have opened up in search of an equaliser, creating space for the vibrant attacking trident of Liverpool to operate in.

But Suarez was nursing a foot injury, Raheem Sterling was on the unfamiliar left-hand side, and Iago Aspas still adapts to a league he may never fully comprehend -- the effervescence of the front line was lacking, particularly against a Hull side reticent to move forward despite Daniel Agger's goal. When Suarez did what Suarez does in the second half with a free kick barely believable, it was not only a demonstration of his quality, but of Liverpool's tenacity.

There have been accusations levelled at Liverpool that they are flat-track bullies, that once the opposition rolls over for their stomachs to be tickled, Rodgers' side put in the boot viciously. There have also been accusations that they do not have the ability to grind out results, one that subsided with their start to this season but has slowly returned.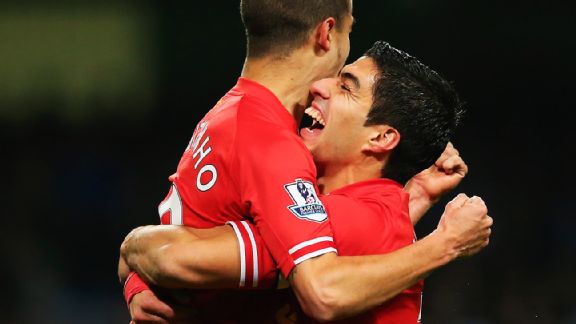 Alex Livesey/Getty ImagesLuis Suarez continued his brilliant season, scoring his 20th goal vs. Hull.
This result showed that such claims are unfair. Once 2-0 up, Liverpool did not enter a frenzy to find a third, though they did come close once or twice. They were impressively calm and considered in possession, with Jordan Henderson magnificent in midfield. They kept their shape and composure, as evidenced by Hull not having a single shot on target. There was even time to bring Steven Gerrard back from injury as a second-half substitute.

Though a 2-0 win against Hull doesn't seem too important, the Liverpool manager disagreed.

"Our best win of the season," Rodgers insisted.

It may not have offered a vintage showing from Suarez or the gleeful, gluttonous hunt for goals (though Suarez was good enough, forcing Hull to simply kick him in an attempt to stop him), but this showed a side of Liverpool that will be essential if they are to qualify for the Champions League.

Not every game can be Fulham, Norwich or West Ham; not every game will keep the average of 2.3 goals a game -- and 2.7 goals at home -- up. This is particularly true with six of the top eight still to come to Anfield in games that will require periods of play where the tempo must slow, the defence must concentrate and the team must work collectively.

Those who think Wednesday was special because of Suarez would be right. He reached 20 league goals on Jan. 1, and did so with a remarkable set-piece that looked worthy of a video game.

But it was also special because of the score, the end of a 107-game streak. It could be described as routine 2-0 win, but then, winning in that manner hasn't been very routine for a while. If Liverpool cannot keep up the wins of fours and fives, then this is not a bad alternative.

*I'm fully aware that description was certainly not a 2-0, and probably more 3-0 or even 3-1. I'm able to do irony as well, folks.