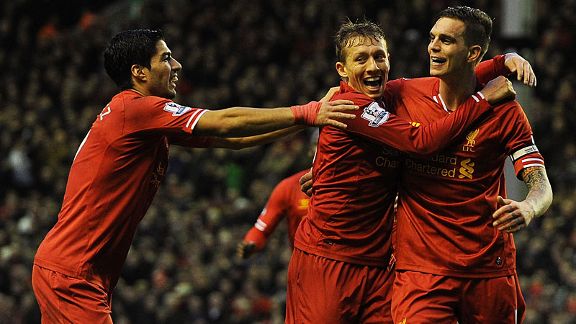 GettyImagesLuis Suarez and Lucas celebrate with Dan Agger after he scores.
"Our best win of the season" declared Brendan Rodgers after his side avenged their recent defeat at Hull City by comfortably seeing off Steve Bruce's men at Anfield to move back into the top four at the expense of neighbours Everton.

I'd suggest that spanking Tottenham 5-0 at White Hart Lane was probably better, but it's easy to see why the Reds' boss was so delighted as this was a huge result for Liverpool under the circumstances. A 2-0 home win over Hull may not seem like anything particularly special, but there was an awful lot riding on this game for Liverpool. Whilst the Merseysiders' home form has generally been exemplary this season, this had looked to be a very tricky fixture coming off two defeats and with a growing injury list.

- Rodgers hails 'best win' of season

The two loses over the Christmas period were not especially damaging in terms of confidence, but they had most certainly taken a heavy toll in terms of the energy and fitness levels of the squad. Whereas other top sides are able to change four or five players, that's a luxury that Rodgers cannot afford and as a result there was certainly some trepidation amongst Kopites going into this game. Losing away to Manchester City and Chelsea is not going to be especially damaging to Liverpool's top four prospects, but failure to beat Hull at Anfield would have been fairly catastrophic, especially having already dropped three points to the Yorkshiremen a month ago.

Bruce has a great record against Liverpool and his side went into this game on the back of a 6-0 win over Fulham. All things considered, Hull must have felt that this was a very good time to face the Reds as the injuries have started to pile up for Rodgers, and even some of those who took to the field in this game probably shouldn't have done. Rodgers said afterwards that Luis Suarez had a foot injury that would have sidelined 90 percent of players, whilst Jordan Henderson has been carrying an injury too, but simply could not be left out as there was no-one else to fill in. Thankfully, skipper Steven Gerrard was back, but he was only fit enough for a place on the substitutes' bench.

Liverpool shrugged off whatever fatigue they were feeling and just got on with the job at hand in a professional manner. It was a comfortable win in the end and the margin of victory would have been much greater but for some awful finishing. The Reds were not at their rampant best, but played some wonderful football in spells and just as importantly, ensured that they kept things tight at the back. Indeed, Simon Mignolet did not have to make a save all afternoon, as both Daniel Agger and Martin Skrtel were excellent in front of him.

The first goal was always going to be crucial in this one. If Hull had gotten their noses in front it would have been difficult for Liverpool to come back as the Tigers (am I allowed to say that or is it now offensive to Hull supporters after the crazy antics of their owner?) would have shut up shop and suddenly Liverpool's weary legs would have felt that little bit heavier.

Thankfully the breakthrough was made by the Reds, which made things a lot easier as it allowed them to pass the ball around and forced Hull come out. The players didn't have the energy levels to play a pressing game high up the pitch -- especially without Joe Allen who is often the catalyst for that -- but they never really needed to as they scored first and passed the ball sensibly.

Hull offered very little in resistance and failed to even pose a threat from set plays, unlike Liverpool, who found the net twice from dead-ball situations, continuing their new found efficiency in that area. Daniel Agger soared highest to head in a corner from Philippe Coutinho in the first half, whilst Suarez rifled in what has now become a trademark free kick from distance after the break to make the game safe.

The Reds created numerous clear chances in open play too, but failed to finish any of them off. Raheem Sterling, Coutinho and Henderson all wasted excellent openings in the first half whilst Coutinho should have scored in stoppage time when he waltzed through the Hull backline, but shot straight at the goalkeeper to deny himself one of the goals of the season.

That would have rounded the day off nicely, but securing three points was the main objective and that was achieved easily enough, so all in all it was a day of mostly positives for Liverpudlians. A clean sheet, another great goal from Suarez, the midfield and defence performing well, Gerrard returning and just the one new injury (to Glen Johnson) to contend with. Things went about as well as they could.

Sadly, poor Iago Aspas once again looked to be in over his head though. The game passed him by once more and he never looked comfortable in a wide-right role. He operated slightly more centrally in the second half but fared little better. It's a difficult situation for both player and manager at the moment, as the £8 million summer signing really doesn't look capable of making any kind of meaningful contribution, but the lack of depth in the squad means that Rodgers needs to keep him involved.

A goal would do the Spaniard the world of good as he looks to be completely devoid of any confidence right now and we've see with Sterling, confidence can make a real difference to a struggling player. Perhaps the game with Oldham in the FA Cup this weekend can get Aspas firing?

It was a much more encouraging performance from another of the summer arrivals though, as Aly Cissokho produced comfortably his best display in a red shirt. The Frenchman was steady rather than spectacular, but he defended well and used the ball efficiently, which represents significant progress on most of his previous outings.

The result keeps Liverpool well in the hunt for the top four and gets them back to winning ways after a tough Christmas period. The FA Cup this weekend comes at the ideal time for Rodgers as it will allow him to make some changes to the side and gives his injured players more time to recover in time for the next Premier League game. And who knows, perhaps there'll be a new recruit or two as well.