January transfer window ins and out at Liverpool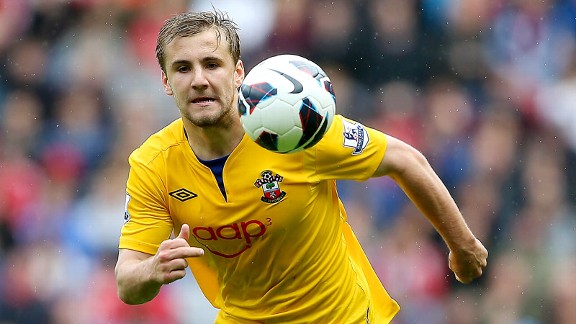 AllsportSouthampton left-back Luke Shaw would be a great addition to Liverpool.
Whom should Liverpool bring in during the January transfer window, and whom should they ship out?

HIT LIST
Liverpool should be open to adding to all positions other than goalkeeper and centre-half. Some needs are more pressing than others and not all will be filled in this window, but to ultimately reach the level of a Manchester City, for example, Liverpool require more depth right across the board.
In terms of the January window, ideally Liverpool need to add a couple of players who can make an immediate contribution in the manner that Daniel Sturridge and Philippe Coutinho did a year ago. Should that happen, then the top four would be the very least of their ambitions for the remainder of the season. Finding players to do what Sturridge and Coutinho did is easier said than done of course, as the Reds discovered last summer.

Top priorities are a central midfielder and another match-winner, ideally one who is comfortable playing wide or through the centre. Sturridge is set to return in a few weeks, but having another attacker to call upon will certainly benefit Brendan Rodgers, especially if that player could then revert to a wide position when Sturridge comes back in. It had been hoped that Victor Moses would be that player, but it hasn't really worked out for the on-loan Chelsea man up to this point.

Numerous attacking players have been linked, with strong rumours that FC Basel's Egyptian forward Mohamed Salah could be Anfield-bound. His versatility and youth give him the right kind of profile for Liverpool, and he would certainly fill a need.

A new full-back is also reportedly on Liverpool's New Year's wish list. That would make sense as Glen Johnson's form has taken a nosedive of late and there are issues surrounding his future (he's paid more than he's worth; Liverpool want to extend his deal but with a pay cut, and Johnson isn't so keen). Martin Montoya was heavily linked, but that has gone awfully quiet of late, and others have been mentioned, such as Chelsea's Ryan Bertrand. Luke Shaw would be the dream signing, but surely Southampton would not consider selling midway through the season.

The most intriguing rumour surrounds the possible return to Anfield of Xabi Alonso. I'd suggest that is something of a long shot for various reasons, but Alonso would improve virtually any midfield in Europe and it would obviously be a real coup should Rodgers pull it off. Porto's Fernando Reges appears a more realistic midfield target.

EXIT LIST
This is an extremely short list; Liverpool cannot really afford to let anybody go as the squad is relatively thin in comparison to the other top sides. Some of the younger players would benefit from a loan move, but Rodgers may not be in a position to allow that. Should a big offer come in for Daniel Agger, then perhaps that would have been considered, but the injury to Mamadou Sakho means that is a nonstarter now. Given the importance of breaking into the top four this season, Liverpool would be wise to try to keep hold of everybody until the summer.