Rodgers shifts the focus after City defeat
One thing cannot be overstated enough: Referee Lee Mason, of Bolton, Greater Manchester, is not a corrupt or biased official. Although his competency to referee has been questioned after his showing in Manchester City's 2-1 win over Liverpool, his integrity cannot be doubted.

Granted, Mason and Liverpool have some history as far back as 2009 -- a long time in football. He was the referee to send off both Philipp Degen and Jamie Carragher in Liverpool's 3-1 defeat to Fulham in October 2009; Degen's was deserved for a typically rash challenge, but Carragher's professional foul was simply not a foul. Two months later, Mason would also show red to Javier Mascherano against Portsmouth at Fratton Park, a decision that prompted the ire of then-manager Rafael Benitez.

Anybody expecting a pattern to form will be disappointed. In his decadelong career, they are the only red cards he has shown to Liverpool players. He has also awarded Liverpool three penalties in the past three seasons -- one, coincidentally, against Manchester City at the Etihad Stadium in January 2012. The plot thickens, if not into the stew of deceit some might hope for.

It is not solely down to red cards and penalties, of course. Rodgers' annoyance with Mason and his officials after the Boxing Day result was partly thanks to Joleon Lescott's attempts to kick and drag Luis Suarez in the penalty area but also because of the decision to flag Raheem Sterling offside when he was blatantly onside. Given that Martin Skrtel only needs tassels on his biceps and face paint to become The Ultimate Warrior at set pieces, such is his inclination to wrestle during their delivery, the first qualm could be considered contentious; the second, given Sterling was 2 or 3 yards onside, is more than fair.

"It is arguable it is a penalty at the end. Hopefully we don't have a Greater Manchester referee again on a Liverpool-Manchester City [game]," Rodgers said after the game.

Something else cannot be overstated enough: Liverpool were magnificent against Manchester City. They walked into the treacherous Etihad Stadium and left with their reputations enhanced, becoming one of the first sides to officially enter a title race in defeat (even though, whisper it, they were in it anyway). If Sterling is allowed to run through, an alternate reality offers the possibility of Liverpool being 2-0 up within 25 minutes. If the tug on Suarez is given, it could end 2-2 with the late penalty award.

That is what could have happened -- now for what should have happened. Liverpool, and Skrtel specifically, should have stopped Vincent Kompany from heading past Simon Mignolet for the equaliser; Mignolet, in turn, should have done more to stop Alvaro Negredo's tame effort from going in, while those in front of him should have not committed forward so heartily with seconds of the half remaining. Glen Johnson should have done a lot of things differently, but most certainly should have fired into an empty net in the second half, and Sterling should have found the target from 6 yards late on.

Liverpool went to the Etihad and essentially beat Manchester City, before beating themselves. Despite the brilliant performance throughout most of the 90 minutes, two mind-melting lapses ruined everything. The officials contributed to that, too, and were poor throughout. Aside from Sterling's offside and the non-award of Suarez being heaved to the floor, Mason did not allow the game to flow. At all. He would constantly bring play back when advantages were available for both sides; he would blow for fouls that did not exist and call throw-ins wrongly, and he generally hindered an otherwise excellent game.

But, with Rodgers' words after the game, the focus was on one thing. The narrative had been firmly established. No scrutiny fell upon Skrtel's full nelsons or Mignolet's error, nor did the microscope fall upon the misses of Johnson and Sterling. Instead, the officials were questioned, for their decision-making and their geography.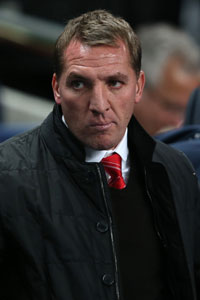 GettyImagesBrendan Rodgers shifted the attention squarely onto the referee after Liverpool's defeat.
It forms part of the wider story surrounding City and Liverpool: Liverpool were more than capable of matching the title favourites at a ground where Arsenal and Spurs have both conceded six and United have conceded four. Few are thinking of the self-infliction that cost Liverpool but rather of the officials' decision-making. In criticising the referee and his assistants, Rodgers has protected his players. It also tells the rest of the league that City can be hurt on the outskirts of Manchester, and that maybe all you need is endeavour, belief and a little bit of help from referees.

The Northern Irishman has denied that his comments are "games" and there is no reason to disbelieve him, but it has also served a purpose for his side, protected them from any public personal criticism and moved the emphasis elsewhere ahead of their trip to Chelsea on Sunday. It is something Jose Mourinho, whom Rodgers began working with at age 30, excels at -- even this season, after the 2-2 draw with West Bromwich Albion, his approval of referee Andre Marriner when all around were lambasting him helped calm the discussion of the fact his side needed a contentious last-minute penalty to salvage a point.

"I'm not someone who is berating them during games. Neither I nor my staff ever chase the fourth officials," Rodgers said Friday, with time to reflect on his comments. "I've had a number of referees here at the training ground and support what they do, so the FA know that, when I make a statement like that, I am speaking honestly."

He added: "The decision-making during the game yesterday was poor, and I have to speak on behalf of the supporters at this club. If you look at my record since I have been a manager, I have never had any indiscretions against my name. I don't play games. I fight my corner, but I always have respect."

There are opportune moments to fight a corner -- something Rodgers has learnt over the past 18 months, something else to add to that ever-growing list.

He is not afraid to criticise referees, but his insistence on doing so after last season's opening-day defeat to West Brom was ill-advised, given the severity of the 3-0 defeat. He then accused Mark Halsey after Jonjo Shelvey's red card against Manchester United -- fair game -- before ringing referees' chief Mike Riley soon after about his side's treatment. To do so with no league victories felt like an excuse-making exercise. He also labelled a November 2012 foul on Steven Gerrard at White Hart Lane as "assault" -- it did take Liverpool until Boxing Day to win a penalty last season, so his frustration was understandable.

But with his side winning more than they are losing, there has been less reason to look at referees. His consistent support of Suarez when the Uruguayan was heralded as the devil's diving spawn has paid off, with more sympathy afforded towards the league's best player -- even if that was lacking on Thursday. He also praised Howard Webb ahead of the game with Manchester United this past January -- a clever response to Sir Alex Ferguson's doubts over Suarez's diving.

The remarks after City are more impactful given the respect he has otherwise shown to officials. It will tell his players -- publicly, at least -- that their issues were not the main reason for defeat, and that they can travel to a difficult ground and get a good result.

The Football Association has asked for explanation after the comments about Mason and friends. It will not help his case with the authorities, but Rodgers will hope he can point to victory for Liverpool -- confident, galvanised, assured Liverpool -- at Stamford Bridge as reason enough.