Liverpool excellent in defeat, but must accept it
The Etihad Stadium: Abandon all hope, ye who enter here. The prematch mumblings were of Manchester City's magnificent home record and how the opposition simply doesn't have a chance under the neon blue lights. Six goals past Arsenal and Tottenham, four against Manchester United: Teams big and small disintegrate on the outskirts of Manchester. It is as though this stadium has been guarded by dragons, surrounded by a moat with flesh-eating piranhas and encased in a towering inferno.

But Liverpool did not disintegrate. Liverpool stood firm and made the Etihad appear mortal, more mortal than it has in the league this season. Granted, Brendan Rodgers' side became the ninth team of nine to be beaten there -- confirmation of the 2-1 defeat coming after an engrossing game of football -- but this was the closest City have come to losing their perfect home record, bamboozled by another fine showing by the away side.

- Rodgers blasts refereeing »

This could have been, and should have been, the first game for Liverpool to show that they can reproduce that White Hart Lane showing both in performance and result; this was never to be a 5-0 whitewash, but a point at the Etihad would have been close enough. There may be no dragons, but there are plenty of top-quality players with a manager who believes in attacking football.

If the 5-0 win against Tottenham provides the prototype Liverpool road performance, and if they can replicate it for the rest of the season, they will come close to winning the Premier League. A bold claim, but one Liverpool should believe to be true, and belief is half the battle. Thursday's match had the feeling of two heavyweights exchanging haymakers, the bell prematurely ending a contest that still had plenty left to give.

Against City, the intensity was there; the midfield ran endlessly, the forwards endeavoured and Luis Suarez solidified his position as one of the best players in world football. But unlike the Spurs result, the finishing was askew Thursday: While Jordan Henderson slotted brilliantly past Hugo Lloris and Tottenham, Raheem Sterling blazed over the bar from six yards away; the unlikely finish of Jon Flanagan could not be replicated by Glen Johnson, who just had to hit the rebounded ball straight into the net. Philippe Coutinho, after one fine finish that led to the first goal in the 24th minute, couldn't make it two from 12 yards.

Still, with a one-goal lead, the brief becomes even simpler: Do not concede. Martin Skrtel and Simon Mignolet must not have understood. It is when considering the defence that Liverpool will feel most aggrieved. They matched City throughout and repelled an irresistible attacking force (even without Sergio Aguero), doing exactly what was required of them; then came two bad decisions and three unlikely points flittering away from the grasp of Liverpool.

Alvaro Negredo, Samir Nasri, Yaya Toure and David Silva are hard enough to stifle without battling against personal incompetence. Skrtel's steadfast belief that the penalty box is a wrestling ring, and the award of a set-piece initiates a Royal Rumble, eventually cost his side; the decision not to attack the ball -- and instead attack the strong, determined, aerially superior Vincent Kompany -- was curious. On the stroke of half-time, Mignolet made the first real mistake of his Liverpool career, but his timing could not have been worse. It was not his fault alone -- the decision of the outfield players to simply not defend a City attack with a few seconds of the half remaining was as baffling as Mignolet's decision to punch it into his own net.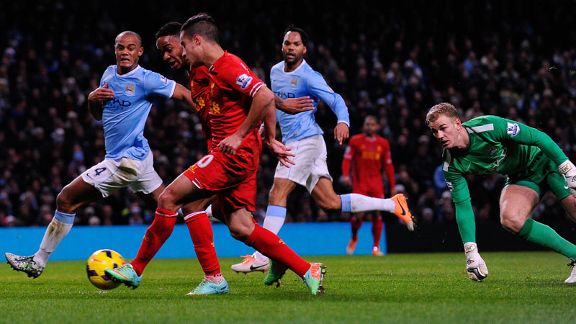 GettyImagesPhilippe Coutinho broke the deadlock at Manchester City.
The calls of Liverpool being proud and heartened by their performance, at the stadium where nobody wins anything ever (almost), are well-intentioned. But with just three days until they visit Chelsea, Rodgers must ensure his squad regards things with such positivity.

There was a lot to be positive about. The carousel of Suarez, Coutinho and Sterling was magical; the three are forming an almost telepathic understanding that leaves defenders bewildered. A couple of passes, seemingly to simply retain possession, suddenly springs into wonderful movement with one of the three wriggling free from the attention of everyone on the pitch and in the stands. With running from Henderson and Joe Allen from deep as well, it offers something few teams can cope with, including City.

That is how the first goal came about, after all. Inoffensive passes suddenly put Liverpool on the offensive and left both Sterling and Coutinho free on the left, allowing the Brazilian to score. Later that half, with the score 1-1, it happened again -- the trio twisted and turned, flicking and frolicking, to allow Coutinho a one-on-one with Joe Hart. A good save, a bad miss.

Despite that, and despite Sterling's blatantly onside run being flagged as offside, and despite the aforementioned misses and misdemeanours in the second half, they lost the game. To lose to City is expected by most, but to lose it because of self-infliction is something different. Liverpool should be proud but regretful; it should be positive but wary. This could have been a result few expected, but then, it should have been a result few expected.

City were excellent, too, of course -- something that cannot be understated. And with that, knowledge should come from Liverpool, and any other observers, that this performance still demonstrates that Liverpool are competitive in the Premier League. This is a club that has not finished in the top four since 2009, one that has finished eighth and seventh in the past two seasons, but now possesses a style of play capable of being so much more. Of the sides in direct competition for Europe, the title and the universe, it has failed to produce any kind of showing against only Arsenal. To produce performances at Goodison Park, White Hart Lane and -- most impressive of all -- the Etihad demonstrates Liverpool can be considered among contenders at the higher reaches of the league.

But just as no titles are awarded on Christmas Day, no points are awarded for valour. Liverpool produced a performance but not a result. If they can marry the two -- as they did at Spurs -- against Chelsea and beyond, then it will be they who are spoken about in hushed tones, as City have been this season.