Festive period points would be a holiday bonus
Christmas came early for Liverpool fans this week as the bore draw at the Emirates on Monday night guaranteed that the Reds will be looking down on the rest of the Premier League when they open their presents on Christmas morning.

Brendan Rodgers' men have done incredibly well to get to top spot -- they were seven points off the lead with a vastly inferior goal differential after the loss to Hull a few weeks back -- but it's fair to say the really hard work starts now.

I don't want to kill anybody's buzz, but it's unlikely that Liverpool will retain top spot for too much longer. Indeed, it's quite conceivable that, in a few days' time, they might not even be in the top four. That's a worst-case scenario, of course, and, if that is the situation, there should be no cause for panic and it wouldn't suddenly make Liverpool any less of a contender. In fact, it should be taken in exactly the same way as going top of the league -- with a large pinch of salt.

- Rodgers: Suarez best in the world
- Pellegrini plans more twists

Things are so bunched up at the summit of the table that league position means very little right now. The difference between first and fifth can often depend on what your next fixture is, and up next for Liverpool is the toughest test in English football; a Boxing Day trip to Manchester City. The big-spending Mancunians have a perfect home record and have already destroyed Arsenal, Tottenham and Manchester United on home soil. Basically, it doesn't get any tougher than a trip to the Etihad Stadium.

After that? Liverpool have to deal with the small matter of trying to inflict a first-ever Stamford Bridge defeat on Jose Mourinho. So, all things considered, without wanting to sound too defeatist, the odds would suggest that Liverpool's stay at the top could well be short-lived.

That's not to say they can't get back up there in the weeks and months ahead, though. After all, many thought after losing top spot to Arsenal a couple of months ago that Liverpool would not top the table again this season, yet here they are once again looking down on the rest. It's been that kind of season.

I'm sure Rodgers will not be getting too high about being top, and, if a couple of defeats over the next few days should relegate his side a few places, he will not get too low about that, either. As they say, it's a marathon, not a sprint.

The fixture list plays a large part in league positions when things are as tight as they are, so Liverpool fans shouldn't worry too much about whether they are first, second or even fifth or sixth (as long as the point differential is small, obviously). The fixtures are working against them now and league position might suffer as a result, but, in a few weeks' time, it will be someone else having to deal with the tougher games.

Going top of the table was obviously a nice boost for the confidence of everyone connected to LFC, but there are no prizes handed out for being league leaders at Christmas, and all it proves is that the Reds are well on course for the top-four challenge they hoped to make when the season kicked off in August.

A defeat or two in the next couple of fixtures doesn't change that and, for that matter, nor would a couple of victories, although, should that happen, even I would find it difficult to downplay talk of the title!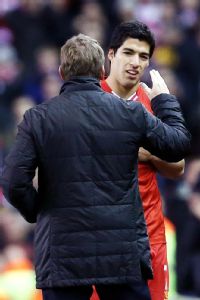 Jan Kruger/Getty ImagesLuis Suarez has soared to new heights under the watchful eye of Brendan Rodgers.
Overall, Rodgers has Liverpool progressing nicely, and, even if they slip down the table a few places over the holiday period, it shouldn't change anybody's perception of the side and their chances of qualifying for the Champions League. With almost half the season gone, Liverpool have given themselves a great chance of fulfilling their ambitions for the season, and, no matter what happens in the next two fixtures, they will still be well in the hunt for the top four at the end of them.

What's more, they'll go into the second part of the season having gotten five of their six most difficult away fixtures out of the way and knowing that almost all of their main rivals still have to visit Anfield.

Things have gone about as well as any LFC fan could have realistically expected, not just in terms of their own results but also in the failings of others. Liverpool's away form has been up and down, however, and it is certainly possible they could get a drubbing on Boxing Day. City have proved several times already this season that, when they get it right, they can completely overrun anybody, and, should that happen, Liverpool would be wise to simply forget it and move on to the next one.

You know something, though? They could just as easily go to City and win. It would certainly be seen as an upset, as City's home record is phenomenal, but there's absolutely no reason Liverpool shouldn't believe they can go anywhere and win. After all, they have Luis Suarez.

With the stand-in captain in such incredible form and Manchester City missing their own South American talisman, Sergio Aguero, that levels the playing field somewhat. It's a pity Daniel Sturridge is unavailable as he was fantastic in this fixture last season, but his absence perhaps helps Rodgers in one respect as it removes any real tactical dilemma he would have about getting both his star forwards into the starting XI.

Playing two up front away from home against a top side is not something you see too many managers do in modern football, but, with Sturridge out, Liverpool's team more or less picks itself, and there's been a nice balance with the 4-3-3 employed of late.

Further cause for optimism is that Liverpool have played very well against City since Rodgers took over the reins from Kenny Dalglish. They were unfortunate to be held to two draws last season despite dominating both games.

Individual errors cost the Reds on both occasions, with Martin Skrtel's underhit back pass at Anfield and Pepe Reina's needless charge from his goal at the Etihad handing City two points they didn't deserve.

Given how his side performed in both those encounters -- and taking into account Liverpool's explosive form of late -- Rodgers will no doubt be quietly confident of getting something out of the game on Boxing Day, although I'm sure that he would happily take a point if it were offered to him now. Perhaps Manuel Pellegrini would, too?

After all, Liverpool go into the game in sensational form, having scored 17 goals in their past four games. In addition to imperious Suarez, the Reds have Raheem Sterling, Joe Allen, Philippe Coutinho and especially Jordan Henderson performing to a very high standard and full of confidence.

So this is a tough game for City, too, let's not forget. With both sides in such rampant form, it promises to be a real Christmas cracker.