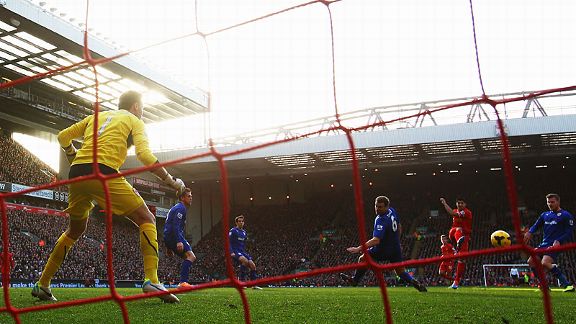 GettyImagesLuis Suarez puts Liverpool in front against Cardiff.
Luis Suarez may have shortchanged himself. Two hundred thousand pounds a week doesn't really seem enough when he's delivering performances like this week after week. Liverpool may have made him their highest-paid player ever, but in this kind of form he's worth every penny and then some.

Cardiff City became the Uruguayan's latest victim as two goals and an assist from Liverpool's man of the moment ensured this game was basically over by halftime. The visitors kept plugging away and "won the second half" as Liverpool took their foot off the gas, but the 3-1 scoreline was the least the home side deserved, having also struck the woodwork on three occasions.

- On-song Suarez downs Bluebirds

Suarez is the focus of attention every week these days, but after he signed that new contract the day before the game, the eyes of the football world were on Liverpool's talismanic number seven. As ever, he didn't disappoint.

It was far from a one-man show as Liverpool played some wonderful football at times -- especially in the first half -- but Suarez was at the hub of everything they did. He had already gone close early on with a shot into the side netting before he opened the scoring with a typically brilliant volley, finishing off a move he started himself.

His second goal was a beauty too, but it was nothing out of the ordinary for Suarez. This was just an average day at the office; he's doing this kind of thing every week now. He has scored at least twice in four consecutive matches and has a remarkable 19 goals in 12 games this season.

I don't remember ever seeing anything like this, and I'm wondering when was the last time a player in England had that kind of a record over a dozen games. Even if someone managed to equal that kind of strike rate, you can be sure he didn't produce the quality of goals that Suarez has managed.

It's not just the number or quality of goals he's scoring, though. He's creating them for others too and is generally just wreaking havoc every time he steps onto the field. It's an absolute privilege to watch; he is an incredible talent but also a great teammate, and he's now taking on leadership responsibilities as stand-in skipper and inspiring his younger teammates on to greater things.

The assist for Raheem Sterling's goal against Cardiff spoke volumes about where Suarez is right now mentally. He could have just gone through and scored himself as he had only the keeper to beat, yet he opted to tee up his young teammate instead. That's why Suarez was a logical choice as captain (later unselfishly handing the armband to Daniel Agger when he was brought on as a late substitute). As incredible an individual talent as he is, Suarez is first and foremost a team player. No one was more delighted than Suarez when Jon Flanagan found the net against Tottenham last week, and he clearly wanted to get Sterling on the score sheet as it is to the benefit of the team if the youngster's confidence remains high.

Sterling has scored three goals in his last four games, and each one has been laid on by Suarez. The forward's form has taken a massive upturn since the first of those goals, late in the win over Norwich City, and he was once again excellent against Cardiff. The injuries to the likes of Jose Enrique, Daniel Sturridge and Steven Gerrard could have seriously weakened Liverpool, but the truth is that they are not actually missing any of them at the moment. Those who have come in all had something to prove and are proving it in some style.

Flanagan had a slightly uncomfortable start to the game as Cardiff attacked regularly down his side, but he quickly settled down and was enjoying another fine performance before he was strangely substituted for Martin Kelly early in the second half. Many inside Anfield were shaking their heads at that one, but presumably it was more about getting Kelly some game time than a reflection of "Flanaldo's" performance, which was again impressive and almost yielded another goal when he was denied by the post in the first half. Enrique's absence is not being felt, and that is great credit to Flanagan.

Sterling too has rediscovered his mojo and is currently having left-backs on toast. Incredible to think that it was only a few weeks ago he was struggling so desperately against Hull City because he's a completely different player now. Confidence plays such a huge part in a footballer's performance level.

Joe Allen is another who had it all to prove. He has bounced back superbly from that horrible miss at Goodison Park, and it's surely only a matter of time before he starts finding the net regularly. Against Cardiff he was repeatedly getting into great positions in the six-yard box, but the ball just didn't fall to him. Even when Sterling tapped in the second goal, it was noticeable that Allen was right up there alongside him having run the length of the field in support. His ability to play box to box is proving to be a real asset, particularly when allied with the tireless Jordan Henderson, who is adding creativity to energy and blossoming into a fine all-round midfield player.

There still seems to be some doubt as to whether Henderson will make England's World Cup squad this summer. Perhaps he should just drop the Jordan from his name, invent a Brazilian grandmother and simply go by Henderson; on this kind of form he would fit in better with the "Samba Boys" than with Roy Hodgson's dour setup anyway. Tony Cascarino got away with doing something similar, so it's got to be worth a try!

Henderson, Allen, Sterling and Philippe Coutinho have all dazzled in recent weeks and appear to be growing in confidence all the time. Having Suarez doing the incredible things he has been doing must make it easier for his teammates, and he is helping to bring the best out of everyone right now.

It's just wonderful to watch, and while the Reds now have two incredibly tough fixtures to negotiate, neither Manchester City nor Chelsea will be relishing facing Brendan Rodgers' side, especially with "captain fantastic" in this kind of form.

Oh, and did I mention that Liverpool are now top of the league? Merry Christmas!