Will Luis Suarez sign a new contract at Liverpool?
A few eyebrows were raised earlier this week with the news that Liverpool managing director Ian Ayre had flown to Spain to open contract extension talks with Pere Guardiola, the agent of star striker Luis Suarez. It's obvious why Liverpool would want to get a deal done, but having tried so desperately to engineer a move away from Anfield last summer, why would Suarez, looking for an exit, make things even more difficult for himself by extending his contract? What's in it for him?

• Rodgers hoping for long Suarez stay

Well first and foremost, I'd imagine a huge fat pay rise would be in the offing. Comparatively speaking, Suarez is extremely underpaid right now. I'm aware of how ridiculous it sounds to suggest that someone who has a reported salary of around 100,000 pounds per week is underpaid, but it's relative, and in relative terms, Suarez is not being paid the going rate for a player of his incredible talent and consistent level of production. Liverpool are currently getting wagyu steak at corned beef price.

Most Liverpool fans would put the Uruguayan in the top three players in the world, and even those who disagree would struggle to put up a convincing argument that he's not in the top 10 at the very least. Yet he isn't even one of the three highest earners at Anfield, let alone the world. Suarez is currently paid less than half of what the likes of Wayne Rooney, Sergio Aguero, Yaya Toure and numerous other Premier League stars are picking up, so yes, he is underpaid and were he to move anywhere else, he would be able to double his present salary and then some.

Liverpool value Suarez at an equal or even higher price than what Real Madrid paid for Gareth Bale, but with just two years left on his present contract, they would not be in a strong enough bargaining position to make the kind of demand for Suarez that Tottenham did for Bale should Real Madrid come calling at the end of this campaign, particularly if the player is pushing for a move as he did last summer.

With a freshly signed contract extension though? Well that would change everything, especially if there was a release clause in there for a set amount that is agreeable to both parties. That would provide a clarity that was not there last summer. It would most certainly not be a guarantee of Suarez staying though. Don't forget, Bale signed a new deal at Spurs but was on a plane to Madrid a year later.

In an ideal world Liverpool would surely prefer Suarez to extend his stay at Anfield without the safety net of a release clause, but the likelihood of that happening would appear fairly remote. Guardiola may have dropped the ball last time, but what's that old saying in Tennessee? "Fool me once, shame on … shame on you. Fool me … you can't get fooled again."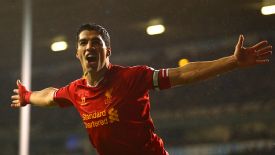 GettyImagesLuis Suarez bagged a brace for Liverpool in their win against Tottenham.
So an exit clause is something that Liverpool may have to live with if there is any chance of Suarez signing a new deal, but that is only one of the obstacles that will have to be overcome. After agreeing on a suitable exit clause, doubling his salary would be the next logical step in persuading their star man to pledge his future to the club, but simply throwing money at this problem isn't going to solve it as it's much more complex than that. If it were simply a matter of finance there would be no issue, a deal would have been done already. This isn't a Christian Benteke situation for example, where a player demands a move for "footballing reasons," is then offered a whacking pay rise and decides he's happy enough after all.

No, money is not a big motivating factor for Suarez. He was prepared to move to Arsenal last summer because he wanted to play in the Champions League, not because he was looking to line his own pockets. Liverpool would have more than matched whatever salary Arsenal would have offered, but money has never been the primary concern of Liverpool's magnificent No. 7.

So with that in mind, why would he sign a contract extension at this point when Liverpool are still far from guaranteed a top-four finish with so much of the season still to play? The pay rise would be nice, of course, but I'm sure he can get by on a measly 100,000 pounds a week until next summer when he could then reassess his options, of which there will surely be many given the incredible level of performance he has shown this year.

Staying at Liverpool may even be his preferred option at that point -- and hopefully it will be -- but that will depend greatly on what happens between now and May. Should the Reds qualify for next year's Champions League that should make it easier to persuade Suarez to remain at Anfield, but an approach from Real Madrid would still surely turn the player's head. What if Madrid or a club of similar ilk were not interested though? It's difficult then to imagine a scenario where Suarez would push for a move elsewhere when he could fulfill his ambitions at Liverpool. But then at the beginning of last summer, I couldn't have imagined a scenario where Suarez pushed for a move to Arsenal, so you never know what is around the corner.

Keeping hold of Suarez was the best piece of business any Premier League club did last summer. His goals and performance level are proof enough of that, but if further evidence is required then you need only look at how Spurs have fallen apart since Bale flew the nest. Suarez may well fire Liverpool into the top four (perhaps even higher) and then still look to move on to Madrid or Bayern Munich, etc. In that regard, nothing has changed and it is therefore still just a marriage of convenience between player and club at this time.

The bond between fans and player, however, has been largely unaffected. Very few players could do what Suarez did and still retain the affection of the crowd, but then there are very few players like Suarez. When he's playing for your team, it's nigh on impossible to hold a grudge against him as the guy just gives everything he has every time he steps onto the field, and that kind of total commitment earns you a lot of leeway with supporters. Being as incredibly special as Suarez clearly also helps, obviously.

Should he help the team return to the Champions League, then perhaps he will decide that Merseyside is indeed where he belongs. It is not something he should give up lightly, as the Uruguayan has an opportunity to leave a lasting legacy at the club. If he were to stay at Anfield for a few more years performing at his current level, he would almost certainly go down as the best player to ever wear the red shirt. He is unquestionably that good.

Last summer Liverpool held all the cards, but by their own admission things would be different 12 months down the line. So the question facing Suarez now is should he sign an extension to his present deal and double his present salary but in the process, risk pricing himself out of a possible move (should he desire one of course) if nobody is prepared to meet whatever buyout clause is in the new contract? Or should he wait, play out the season and then see how the cards fall? If he wants to stay, the new contract would still be forthcoming, but if he decides he wants to move on, things would be much easier for him to do that with just two years left on his deal.

The encouraging thing for Liverpool supporters is that Suarez does genuinely seem happier than ever; he's playing the best football of his career and he's talking of possibly even winning the title this year. It's unsurprising then, that LFC are trying to strike while the iron is hot and tie him down to a new contract. He may even sign it too -- I personally doubt it, but stranger things have happened -- but unless there is an absence of an escape clause, then forgive me if I don't take that as a pledge of undying loyalty to the cause and a commitment to remain at the club for the foreseeable future. It would be strictly business, on both sides.

I have no issue with that; what will be will be I guess. Of course I'd love nothing more than for Suarez to decide he wants to spend the next few years and more playing at Anfield, but I'm not going to get my hopes up. I'm just going to enjoy watching him in the red shirt for as long as it lasts, as what we are seeing at the moment is something incredibly special.