Result finally follows performance in Reading win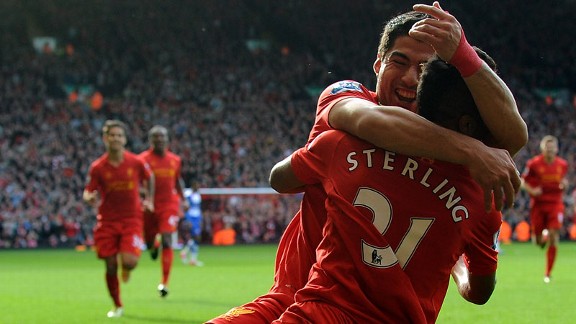 GettyImagesRaheem Sterling netted early for Liverpool in the 1-0 win at Anfield
After a familiar narrative came an unfamiliar conclusion. Liverpool played well, created a number of chances and subsequently missed them -- but this time they left Anfield with three points; the first time they have done that this season, and only the third time this year.

Brendan Rodgers' side have not done things easily for the majority of the season, and so it proved again against Reading. Raheem Sterling's 29th-minute strike was just reward for an impressive opening half-hour, the goal a perfect summary of Liverpool's dominance in the first half. That should have proved the catalyst for a controlling performance from the Reds, something the Anfield crowd have longed to witness this season. Instead, it was ultimately the slender difference between the two sides. Liverpool were never quite on the ropes, but Reading did prompt a few worried glances at the scorecard.

- Sterling work sees Reds past Royals
- Blog: Effort alone not enough at Anfield
- Sterling making giant strides

Liverpool still await a home performance they can enjoy throughout; a showing in which every intercepted pass isn't followed by a biting intake of worried breath; 90 minutes when every opposition attack isn't viewed through trembling fingers. Liverpool are yet to enjoy a two-goal lead at Anfield this season, their profligacy in front of goal refusing to dissipate.

It's not just the mental well-being of the supporters that healthy leads protect, but those of the playing staff, too. It's harder to swagger looking backwards. Less energy is expended when running on multi-goal cushions, as well. Rodgers is a firm proponent of letting the ball do the work; it becomes easier to keep it in cruise control.

But enough. Liverpool did enough. Enough is good enough when trying to build momentum ahead of three difficult league games, including trips to local rivals Everton and leaders Chelsea. Enough is more than enough with no victories at home this season. It's a result both supporters and players will have enjoyed once the full-time whistle went, with hindsight their aide. Football is dictated on fine margins. After no victories in their first five league games, Liverpool are now unbeaten in three and have kept clean sheets in their past two home outings.

Rodgers will have also enjoyed the result. He may have even enjoyed the game. Some of the finer aspects were lacking; the midfield three lacked cohesion, all looking tired and lethargic at times. The perils of international football show once more -- Steven Gerrard, Nuri Sahin and Joe Allen spent midweek in Poland, Hungary and Croatia, respectively. The introduction of Jonjo Shelvey, unsurprisingly, gave a bit of acerbity to the midfield.

But Rodgers won't be too worried about the subpar midfield performances. He has options there, with Shelvey and Jordan Henderson easily utilised if it needs freshening up. It is the defence and attack that have given him food for thought, and often left him ravenous. Saturday provided a bellyful. In defence, Martin Skrtel and Daniel Agger looked to edge nearer to the standard expected of them; Andre Wisdom continues to grow at right back, and Glen Johnson continues to be the most underrated defender in English football, at left back no less.

It was an afternoon when the attack clicked into place too. Though Luis Suarez was culpable for missed chances once more, his link-up with Sterling was sumptuous and surreptitious; Reading's gaze had barely readjusted when the ball found Suarez's feet, and Sterling was already free with the ball in his path. It was the bamboozling duo that gave Liverpool their goal. Suarez's deftness of touch was matched by Sterling's fortitude in front of goal. Perhaps the chances are falling to the wrong forward.

Liverpool needed a result over a performance. That's what they received, with a good performance thrown in for good measure. Rodgers will know it wasn't perfect, but no one expected it to be eight league games into his tenure; that level of perfection -- or control, as Rodgers would see it -- may only come when his side have the benefit of time. Time and a two-, three-, four-goal cushion.

Until then, he'll build momentum any way possible -- and he won't be complaining if the next three league games end in narrow Liverpool victories. Nor will the supporters, especially with Everton at Goodison Park next up.