In praise of Brendan Rodgers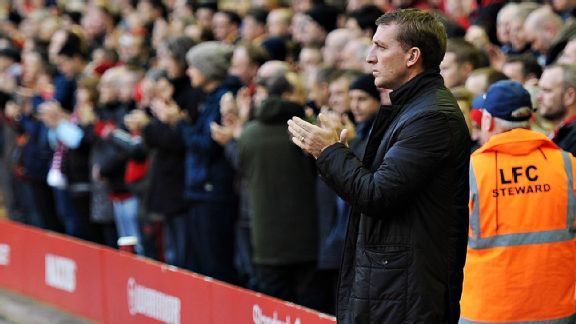 John Powell/Liverpool FC/Getty ImagesIn season two, Brendan Rodgers has led Liverpool to within two points of leaders Arsenal a week before Christmas.
Brendan Rodgers has a lot to be thankful for this Christmas. His Liverpool side are second, he manages one of the world's absolute best in Luis Suarez and he even had the honour of hearing his name sung -- loudly, with actual meaning -- around White Hart Lane on Sunday.

But most of all, he should be thankful he has a job at all.

This is not to suggest Rodgers' work at Anfield has been unsatisfactory over the past 18 months. On the contrary, it is to recognise how it could have been very different for him and Liverpool in a season that has witnessed clubs become tetchy at the first sign of discontent.

- Usher: Rodgers' win could be watershed moment
- Report: Napoli interested in Agger

Little did he know -- though most could have guessed -- that he shook the skeletal hand of a dead man after his side's 5-0 win over Spurs, with the guillotine already being prepared for Andre Villas-Boas. But while the Portuguese's head fell, Rodgers keeps his high above water.

He keeps it high in general, and so he should. A cursory glance at what Liverpool have achieved this year reveals the improvement that he has instigated: His side have scored 79 league goals in 2013, playing some remarkable, ingenious football to achieve such a figure. After years of decline and misdirection, there is a tentative optimism about what he is doing at the club.

What it is cannot be truly explained. Rodgers has got his talented, if slightly stretched squad, within two points of leaders Arsenal with Christmas a week away. He has done so by implementing a style of football that -- at times -- is joyous, relentless and of a higher quality than anything else in the past two decades. Though there have been instances of his side possessing a soft underbelly and Rodgers himself showing tactical naivety, they have decreased as his reign has progressed. Progression is the key word: Progress, with both results and playing style, is now tangible.

Rodgers, with the January arrival of Daniel Sturridge, Philippe Coutinho and a new-found confidence in his own role, set high expectations of his own going into this season after losing just two of the last 16 games; that his side have exceeded them after 16 games of this season confirms how well this season is going.

Yet it could have been Rodgers who stood on the touchline that Villas-Boas did on Sunday, his jaw jutting out and Adam's apple bouncing like a basketball, doomed. Villas-Boas was the fifth Premier League manager to be sacked this season, and the second in two days to lose his job for failing to meet expectations set by his own performances last season.

It is a season that has seen pressure build unfairly. Even Manuel Pellegrini and Jose Mourinho, top four with Manchester City and Chelsea, have been questioned for the lack of spark their sides have shown at times. Only David Moyes has been truly given amnesty for his poor performances on the basis his CV came with Sir Alex Ferguson's reference on the bottom.

It should demonstrate to Rodgers just how important it is that he is doing what he is doing, how well he is doing it and why he must continue doing it.

Not that Fenway Sports Group would have necessarily considered his position if it were Liverpool -- and not Spurs -- who sat in seventh, five points adrift of Champions League qualification. Indeed, that Spurs dismissed Villas-Boas with the league campaign far from over, even after a five-goal home defeat, is silly. But football is fundamentally silly, and there is no guarantee of sanity from anybody who runs a football club, not anymore. The stability that Liverpool is currently enjoying is worth a few extra points alone.

Rodgers should look at Villas-Boas and realise how fine the margins can be between the perception of success and failure -- six points, to be exact. Though there is a feeling the sword Villas-Boas fell upon was sharpened by off-the-field differences, few clubs are harmonious behind the scenes.

There are a lot of similarities between the pair. Both were hired in the summer of 2012 on three-year contracts and both were tasked of replacing popular managers who had brought relative success the season before. After Kenny Dalglish took Liverpool to two cup finals and Harry Redknapp was denied Champions League football by Chelsea's win in Munich, both Rodgers and Villas-Boas had work to do in order to win over the substantial doubting contingent.

The comparisons between the managers and their clubs continued into this summer. Suarez and Gareth Bale stood, mannequins imperfect and perfect in the shop window, waiting to be bought. For Bale, it had to be Real Madrid; for Suarez, it could be anyone but Liverpool. But while Spurs chairman Daniel Levy stalled in an attempt to drag every last euro from the Spanish club, Liverpool's hierarchy refused to contemplate selling their star player. While Villas-Boas and his transfer moguls had 80 million pounds to rebuild, Rodgers and his committee had an 80 million pound player to build around; the result is evident.

How the managers dealt with their respective summers is what separated them then, and what ultimately separates them now, with one remaining in employment and the other jobless with a reputation (unfairly) in tatters.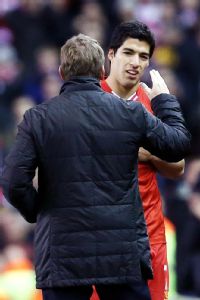 Jan Kruger/Getty ImagesLuis Suarez has soared to new heights under the watchful eye of Brendan Rodgers.
Rodgers deserves a lot of credit for Liverpool's season -- more than he is currently receiving. This is a side who has not finished higher than sixth since 2009 and a squad that was filled with the overpaid and overrated upon his arrival.

The presence of Suarez is pointed to as a contributing factor to Liverpool's improvement, but it should be recognised how Rodgers has helped make him a better player: the Uruguayan is now more focused, more tactically aware, more confident in pulling off the improbable and impossible; he no longer buzzes around Andy Carroll with his neck craned toward the sky, but rather finds himself with the ball as much as he wants. The reaction from Rodgers in the aftermath of Suarez nibbling Branislav Ivanovic's arm also gave him the authority and respect possibly lacking previously.

It is not all down to Suarez, as the first five games of the season showed, with the striker suspended. Though Liverpool are undoubtedly a better side with him -- and awesomely so -- Rodgers showed his inventiveness in his absence with a rigid set-up in the opening three games. All of them ended 1-0; all of them showed Rodgers deserved credit in the dugout. When Suarez returned, the implementation of a 3-4-1-2 was another example of his flexibility.

It was a flexibility that Villas-Boas lacked throughout the season, but particularly on Sunday. His insistence to play a high line despite the presence of Michael Dawson in the back four, and despite Raheem Sterling's pace combined with the ingenuity of Coutinho and Suarez with space behind, proved costly over and over. Rodgers also instructed Jordan Henderson to bustle beyond Suarez and catch out the Spurs' defence -- never will the midfielder enjoy so much space again. Rodgers reacted, as Villas-Boas reclined in his seat.

He still makes mistakes, as any young manager would. It does not help that most of Liverpool's defeats can be attributed to mistakes by him, whether it was by team selection or tactical hubris. For all his sound showings, playing a two-man midfield against Southampton last season and using four centre-backs against the same opposition at Anfield this season, were both defeats that he could be blamed for. His record of three wins against top-six opposition must also improve, though a 5-0 rout away from home is a good way to begin that improvement.

But the development he has shown as a manager in 18 months, and subsequently the development of his squad, is praiseworthy -- even more so given the pressure he and his contemporaries face. In a season where City, Chelsea and United are adapting to new regimes, and where Spurs must now do the same, Rodgers had no choice but to take advantage.

He will know that the instability of others can only be fully capitalised upon with stability from his own side. He simply must continue to do that, and deserves recognition for doing that so far in a season with more pressure than ever.

Indeed, in the piranha tank of Premier League management, he should be praised for reaching Christmas with a few minor scratches. He should also be thankful, for it can change within months, days, hours. Just ask Villas-Boas.