Spurs' stability of recent years offers Liverpool motivation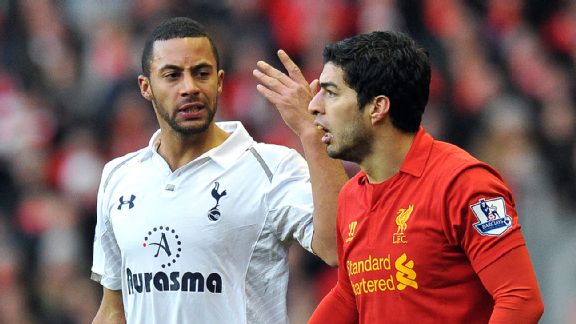 Paul Ellis/AFP/Getty ImagesLuis Suarez and Liverpool hope to get the better of Mousa Dembele and Spurs on Sunday.
Robbie Keane, Aaron Lennon, Luka Modric, Charlie Adam, Benoit Assou-Ekotto, Sebastien Bassong, Rafael van der Vaart, Gareth Bale, Martin Skrtel, Roman Pavyluchenko.

This is not the second verse to a Billy Joel song, no matter how melodic it sounded in your head (no, not "Piano Man" or "Uptown Girl," it's really quite obvious). In a fixture that was first played in 1909, in more than 110 years of football, these are the players who have defined Tottenham versus Liverpool.

All are recent, all are remembered. This game has become a small rivalry the past few years, not because of geographical location or ideological differences, but because Tottenham are relentless in their troubling of the Merseyside club. Of those names and protagonists in this fixture, all of them have aided Spurs in some way. Goals, red cards, 20 million pound transfers: A potted history of Liverpool's decline the past five years is permeated by Spurs lurking, a Nosferatu-like figure waiting to strike at the most opportune time.

- Usher: Question over Reds' midfield
- Report: Sandro: Coutinho like Ronaldinho

Liverpool have lost seven of the past 11 meetings against Spurs in all competitions; they are defeats which, on reflection, could be considered as decisive results.

In November 2008, unbeaten Liverpool -- playing excellent, dominating football -- arrived at White Hart Lane. Spurs, bottom of the Premier League, had recently appointed Harry Redknapp as manager, who had taken to the role in his top, top manner. What followed was a 70-minute annihilation; Dirk Kuyt put Liverpool ahead before they hit the woodwork three times, carving through Tottenham. Yet Spurs regrouped and would somehow, some way, eventually win 2-1 with a Pavlyuchenko own goal.

The final league table would show that Liverpool lost the league by four points, not three. It would also confirm that the Tottenham defeat would be one of only two that season. But after eight wins in the opening 10 games, this defeat at the 11th hour troubled Liverpool; the self-doubt and the questions returned. "You ain't title contenders, ain'tcha?" came the not-so-terrific voice from above. Though Liverpool would dispose of bottom-half Bolton and West Brom, something changed within the squad's mentality. They would draw seven of their next 10 games.

No matter. After losing the title by such a fine margin the season before, Liverpool traveled to north London on a blistering opening weekend. Revenge -- and probably an industrial-sized, cartoon air conditioner, too -- was on the mind. Spurs were to be the first team of the procession toward Liverpool's title in what would truly, undeniably, without any hint of sarcasm, be Liverpool's season. But Assou-Ekotto did something he would never do again, and hammered a 30-yard screamer past Pepe Reina; Jamie Carragher broke Skrtel's jaw; Bassong scored the winner, and any belief melted away.

Though certainly not the only reason for Liverpool's seventh-place finish in a season that was meant to end with them as champions, to begin with such a chastening defeat set the pattern of underachievement and disappointment.

And so it has continued, with Spurs taking Liverpool's optimism and turning into pessimism. Goals from van der Vaart and Modric denied Kenny Dalglish's side Europa League football in 2011; a few months later, with Liverpool buoyant over life under Dalglish and a summer of 100 million pound investments, they were embarrassed 4-0. Even last season after eight unbeaten early in Brendan Rodgers' reign -- a run often overlooked -- Liverpool lost despite a gallant effort against Bale and friends.

There is no real logic to Spurs' dominance over Liverpool and their penchant to make things go wrong when everything appears to finally be going right.

There is temptation to point toward Spurs' stability. The November 2008 defeat came in Redknapp's third game in charge; nearly three years later, with wise spending and a Champions League campaign behind them, they were beating a side who were onto their third manager, soon to be fourth.

Whatever Spurs' hold over Liverpool -- maybe it's just one of those things in football, like goals against former clubs, or Steve Coppell's bi-weekly job change -- Rodgers must reverse it on Sunday. He started well enough last season, the 3-2 win against Andre Villas-Boas' side as thrilling as it was wholly undeserved; for Liverpool, who won three points through fortune, it was a nice shake-up from years gone by.

Suggesting this is an important game for Liverpool offers nothing insightful. Placed five points behind leaders Arsenal, and three ahead of Tottenham, this is obviously a fixture of high importance. Yawn! Liverpool have to get a positive result in this game. Double yawn! Liverpool especially have to win because Manchester City and Chelsea await just after Christmas. Wins equals points, and points most definitely, in this manic league, equals the prize of Champions League football. This is nothing the world doesn't already know.

The fact that this game comes against Spurs provides a warning from history, but also offers motivation. Stability is important when aspiring toward an ultimate aim, as the meetings between these two sides have shown recently. Of the two sides that line up on Sunday, Liverpool are more stable. Both appointed new managers in summer 2012, and both have performed good and bad -- but with the departure of Bale, and the retaining of Luis Suarez, there would appear more coherence on Merseyside. There were certainly no rumours and reports of Rodgers' demise, unlike Villas-Boas a fortnight ago, unfairly made to defend his job security in public.

From that base of (relative) stability, Rodgers can build. After just two wins against the league's top six in 15 attempts, this could be the third. It could also prompt further instability at White Hart Lane. There are two ways to become stronger in this league: Strengthen your own team and weaken others. Victory on Sunday could, in theory, do both.

Piece by piece, Liverpool are improving the aspect that became so woeful under Roy Hodgson and Dalglish. The mentality is improving, as evidenced by Liverpool not suffering back-to-back defeats under Rodgers. They are scoring more goals and, until the latter portion of this season, were keeping more clean sheets. The heavy home victories also point to an improvement against the lesser sides at Anfield.

The next step, if Liverpool are to progress further under Rodgers, is to beat the sides in direct competition for the top four. He will have three opportunities in two weeks starting Sunday; failure to do so will raise questions once more, even if they shouldn't. Wins, however, stabilise and strengthen his position further. Ironically, it may be their poor record against Spurs since 2008 -- moving from bottom to a genuine top-four contender in that time under Redknapp -- which shows how significant that can be.