A question of quality and quantity in Reds' midfield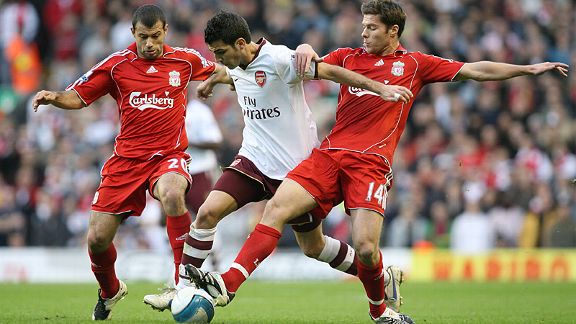 PA PhotosXabi Alonso and Javier Mascherano in Liverpool's "best midfield in the world" as the old Anfield song claimed.
In 2007, Liverpool fans had a song that paid homage to the "best midfield in the world." While the validity of that boast was questioned by some outside of Anfield, the mere fact that such a claim could not be immediately scoffed at was evidence enough of the undoubted quality that Liverpool possessed in the middle of the pitch.

As the song explained: "We've got Xabi Alonso, Momo Sissoko, Gerrard and Mascherano-oh-oh." Quite a quartet, wasn't it? Liverpool reached the final of the Champions League that year, largely on the back of the strength of their midfield, as well as a solid back four. To put it in some kind of perspective, the side that lost to AC Milan in Athens in 2007 had a front three of Jermaine Pennant, Dirk Kuyt and Bolo Zenden. You might want to read that last sentence again just to let it sink in.

- Walsh: Gerrard injury may prompt criticism

Lucas Leiva would arrive to further bolster the midfield ranks that summer, but he was little more than an afterthought in his early years and was some distance behind the others. And to be brutally honest, if those players had remained at the club, he'd still be some distance behind most of them. The one exception would appear to be Mohamed "Momo" Sissoko, currently without a club after being released by Paris Saint-Germain.

Given his less-than-stellar final year at Anfield and the way his career has gone since his departure, it's easy to forget just how good Sissoko was at one time. Certainly, the Sissoko of 2006 vintage would be a huge asset to Liverpool's present midfield, but for whatever reason the 2013 version is struggling to find a home, despite being only 28 years old.

The Mali international was a revelation after joining Liverpool from Valencia, and his monstrous display in the FA Cup final win over West Ham is often overlooked due to the heroics of Steven Gerrard. That game is understandably known as "the Gerrard final" and yet -- the captain's goal heroics aside -- Sissoko was comfortably Liverpool's best player over the 120 minutes. With players dropping like flies due to cramps, Sissoko's incredible stamina and running power kept Liverpool in that game. He was everywhere, and at just 22 he appeared to have a big Anfield future ahead of him. Circumstances would dictate otherwise.

The following season, Momo suffered two serious injuries, and his role as the midfield enforcer was taken on by Javier Mascherano, signed initially on loan from West Ham United in January 2007 before making the move permanent the following summer. Mascherano's quality meant that the young Mali international was never able to force his way back into the side. There's no shame in that, as there probably wasn't a defensive midfield player in the land who could have kept Mascherano on the sideline at that time. Except Hayden Mullins, of course, and even he must have been wondering exactly what Alan Pardew was thinking with that one.

West Ham's loss was Liverpool's gain, but it spelled the end for the popular Sissoko. In the limited appearances he did make, the African was never able to reproduce the form he'd shown in his first season at the club, and eventually, in January 2008, he moved on to Juventus.

The combination of the tigerish Mascherano with the imperious Alonso and the rampaging Gerrard was the envy of Europe, so much so that within a few years the biggest clubs on the continent would come calling to lure two of them away from Merseyside. To this day, Liverpool fans still lament Alonso's departure to Real Madrid, and the grieving period had barely begun when Mascherano also flew the coop to join Barcelona a year later.

Liverpool have never been the same since their engine room was dismantled by Spain's "big two" and while there were obviously numerous other factors in their decline, when you look at the present side it's obvious that the midfield has been hit the hardest. In fact, you could probably argue that some areas of the current side are at least equal to (and arguably stronger than) the side that almost became champions of Europe in 2007. Try to make that argument about the midfield and you'll be laughed out of town.

Even at the age of 33, Gerrard is still better than many of his peers, but he's understandably not the player he was back in '07. That is highlighted further by the drop in quality around him and, privately at least, in his quieter moments, he must surely wish he was still lining up alongside Mascherano and Alonso as opposed to Lucas and Jordan Henderson.

The captain is the sole survivor at Anfield from that "best midfield in the world" chant of 2007, and as 2014 approaches Liverpool would struggle to lay a definitive claim to having the best midfield in their own city. Even with everybody available, Liverpool's midfield is a pale shadow of the heady days of '07, but with Gerrard now injured and Henderson also struggling to be fit for the weekend's trip to Tottenham, Liverpool's resources are being stretched to a breaking point. It's no longer just an issue of quality, as quantity is now a problem, as well.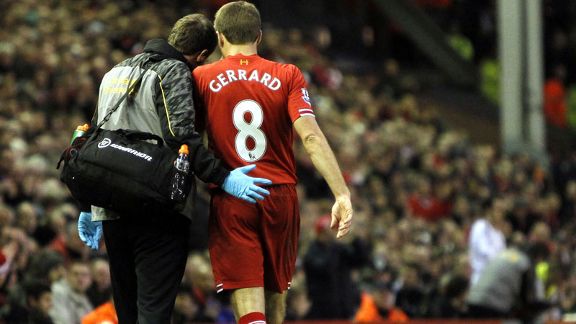 PA PhotosSteven Gerrard pulled up and was replaced against West Ham.
A lack of depth is a concern in most positions for Liverpool, but the middle of the pitch is the area of Liverpool's squad that is most threadbare. Brendan Rodgers went into the season with just four natural central midfielders (plus youngster Luis Alberto, who is more of an attacking player than an out-and-out midfielder). Sometimes you can get away with that if you have a promising youngster or two knocking on the door of the first-team squad, but that isn't the case at Liverpool. There is nobody knocking on the door yet, although Jordan Rossiter offers huge promise and has been performing well for the under-21 side. He's only 16 years of age, but given another injury or two he would appear to be next man up.

It was therefore a definite gamble by Liverpool to not strengthen their midfield options last summer -- particularly given the sale of Jonjo Shelvey -- and surely this is something Rodgers will have to address when the transfer window reopens in a few weeks.

It's not that Lucas and Joe Allen are poor players, far from it. Lucas will probably be playing for Brazil at next summer's World Cup, while Allen is showing some good form of late and will hopefully continue to do so. Along with Henderson, they are good players. Very good, even. Top-class, though? No, not even close. Not yet anyway. Allen and Henderson still have time on their side to elevate their game to that level, but right now they aren't there and Lucas appears to have gone backward since his knee injury.

Ask yourself this: If Liverpool were to put their entire squad on the transfer market this January, what level of club would pursue their midfielders? That's perhaps an overly simplistic way of looking at it, but it's a valid question.

Even at his advanced age, Gerrard would still no doubt have some very good sides interested in him, but would any of the other midfielders be able to do any better than Liverpool? Let's face it, Real Madrid and Barcelona are not going to be beating the door down to pilfer any of Liverpool's current midfielders. I mean, why take the "Welsh Xavi" when you have the real thing?

So no, none of Liverpool's midfielders would have better offers if they were on the open market, but when you look at other areas of the side that's not the case. Simon Mignolet, Glen Johnson, Daniel Agger, Luis Suarez, Philippe Coutinho and Daniel Sturridge could all probably move on to Champions League teams or title contenders in this country or abroad, while the same may also be true of others. Who'd be in for Lucas, Allen, Alberto and Henderson, though?

You need squad depth, of course, and I'm certainly not advocating the sale of all of Liverpool's present midfield players. The way you get squad depth is not by going out and purchasing "squad players" as Liverpool did last summer, by Rodgers' own admission; rather, it's through bringing in players who are better than those you already have, thereby relegating those players from the team to the bench. It's a simple concept, but it's one that a succession of Liverpool managers have failed to grasp.

If Rodgers could invent a time machine and transport Liverpool's 2007 midfield to the present, the Reds would immediately become title favourites. Not only would they have that great starting midfield, but the bench would be strong, too, with the likes of Allen and Henderson battling it out to make the 18-man squad. Liverpool tried to address this issue last summer with the failed attempt at luring Henrikh Mkhitaryan to Anfield, but when that didn't materialise they did not appear to have any fallback option and instead looked to strengthen other areas of the side and completely neglected the middle of the park.

Having now had several months to put their collective heads together, hopefully January will see Liverpool's much-talked-about transfer committee rectify the mistakes made last summer and give Rodgers the players he needs to maintain his push for a top-four finish. That means players for the first 11, not squad players or ones for the future. Liverpool spend far too much time worrying about a future that never comes instead of focusing on their present needs.

Most would agree that Liverpool's biggest need at present is greater midfield quality. Even before Gerrard's injury, it was clear that this was the area of the side most in need of January reinforcements, but unless there's another Mascherano kicking his heels in Alan Pardew's reserve side right now, Liverpool aren't going to be able to get players of the standard they had back in 2007. Finding players to improve on what they currently have, however, would appear to be an attainable goal, but to do that the transfer committee will have to do a much, much better job than it did last summer. A top-four finish may depend on it.