Gerrard injury may prompt unfair criticism of Rodgers
It was inevitable, they said. Punting the ball toward goal for the thousandth time in six days, Steven Gerrard felt a twinge, a pull, a problem for Liverpool -- a two-second movement which is expected to result in up to six weeks on the sideline.

It was inevitable. Gerrard is now 33 years old and has played more league football for Liverpool than most. Last season, he started 35 Premier League games -- a joint-high for his career -- and did not miss a minute until April 27, with Liverpool already 4-0 up against Newcastle. It became one of the season's most prevalent questions: Why would Brendan Rodgers persist with Gerrard for so long in games that had seemingly been won long ago?

- Scans confirm Gerrard injury blow

This season, he has been ever-present, even in the League Cup. He was afforded a half-hour's rest against Fulham and four minutes against West Brom, but both were planned. His 35 minutes in Liverpool's 4-1 win over West Ham on Saturday were most certainly not, signaled by the twirling of the fingers, the universal sign of take me off, or my leg might fall off.

It was inevitable, comes the anguished howl. Inevitable! A player of his age playing so much football could only end with a long-term injury and leave Liverpool without him for a crucial period. There will be enthusiasm to wag the finger toward Rodgers, who usually stands stoically on the side as Gerrard launches into an 88th-minute tackle; there will be regret that the manager did not take Gerrard off in this game and that game, that the industrial-sized cotton wool remained untouched.

For now, the fingers are misplaced. There is no evidence of Gerrard's playing schedule being a direct result of the injury. Not yet, anyway. Though it does not offer much of a headline, hamstrings can twang regardless of playing three-in-six, six-in-three or one-in-60. That he is now 33, and coming toward the end of his career, also makes it more likely for the Liverpool captain to suffer such an injury.

And that he is 33 and Liverpool captain should also temper some of the criticism about his continued presence in the midfield. Every player usually wants to play every minute, but the club captain is one whose desires must be catered to more than most. That may appear weak management, but such is the pressure of managing a club desperate to get back into the Champions League, and it is also a necessary risk assessment.

Though taking Gerrard off with the score line comfortable would allow Joe Allen and Luis Alberto playing time, not every player can build up match fitness with cameos from the bench, nor do some players respond by playing 60 minutes instead of 90. After the defeat to Hull, there was never a doubt about Gerrard's inclusion against Norwich; after the positivity of the Wednesday night hammering, to change the front six against West Ham would have been as vicious as the shellacking of the East Anglians.

Rodgers, in what appears a default position for any Liverpool manager in the past decade, is damned if he does and damned if he doesn't.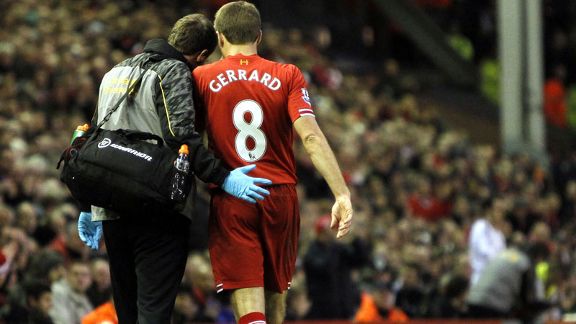 PA PhotosSteven Gerrard pulled up and was replaced against West Ham.
With every point essential to their top-four aspirations, very few games are ever truly won before they are over -- the departure of Gerrard for Lucas Leiva against West Ham was not an issue at 2-0, but the necessary reorganisation after the substitution was made apparent when it became 2-1. Lucas would eventually settle alongside the excellent Allen and provide the platform for the 4-1 win, but it could have been different if not for the away side's inability to play football in the 18-yard box.

That is not to absolve the club entirely from criticism -- criticism which will be far more forthcoming if the hamstring injury is revealed to be through unintentional design rather than bad luck. Criticism comes with the fact that Gerrard could have been substituted this season for some below-par performances, most notably at Arsenal. The midfielder did not make a compelling case for total inclusion at the Emirates, with Mikel Arteta providing a better performance in every department. Gerrard struggled with the pace of the game and alongside Lucas gave Arsenal little resistance.
s
But that is the wonder of Gerrard, who can rummage through barren land and still find a mountain of gold. Even in a deeper position, he can change a game, with six assists so far this season -- a joint-high with Mesut Ozil. Much of that is attributed to Gerrard's set-piece deliveries, arguably the best in the league: He fires and fizzes the ball into the box, flummoxing defenders and finding advancing teammates.

Liverpool will now have to do without those deliveries for six weeks, a time when they travel to Tottenham, Manchester City and Chelsea. Though Allen and Lucas will deputise -- and showed glimpses of doing well together, albeit late against a tiring West Ham side -- the added worry of Jordan Henderson's potential injury limits the midfield options even more. The absence of Gerrard will be evident, if only when he isn't there to stand over dead balls.

The midfield of Liverpool is the devil's favourite dinner-table discussion, one not worth repeating again. Whether Lucas, Gerrard, Henderson -- or how Rodgers utilises them in their respective positions -- are culpable for some of the showings in the centre, it does not matter now. The trip to Spurs will probably see a new midfield entirely of Allen, Lucas and Alberto; Iago Aspas could also return off the front man, the position he started for the opening three league games. The return of 3-5-2 could also be an option for Rodgers; the triangle may not be flipped, but tossed aside completely.

Injury to Gerrard is never a good thing for Liverpool, especially with such a difficult, season-defining schedule imminent. But the responsibility upon Lucas, Allen and even Alberto could mean more long term than how Gerrard's absence impedes the short term.

If that does not happen, Rodgers should expect criticism, but it may not be entirely deserved. That will not excuse any potential struggles ahead, however, after entering the season with just four midfielders. Though it's uncertain whether that was Rodgers' decision or the decision of the transfer committee, these are the players he has at his disposal -- it is for him to have them playing coherently, if nothing else.

If not, then eyes will fall upon the calendar, waiting for Gerrard to return -- and any chance of his being substituted or rested upon his return will evaporate for a good while longer.