Rodgers with point to prove as fate faces him with Reading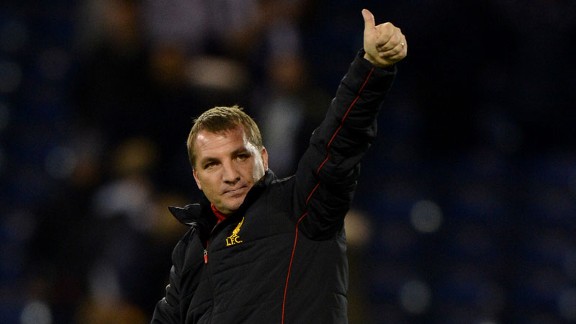 PA PhotosBrendan Rodgers had a tenure to forget during his stint as Reading boss
An extemporaneous glance of this weekend's fixture list would see Reading's trip to Anfield barely register on the radar. Two struggling sides on a miserable Saturday afternoon fails to whet the most ravenous appetite, particularly with just one league win between them all season. But woven beneath the surface is tale of revenge, a desire to right the wrongs of the past two years and career paths ready to career into each other on Saturday.

- Mourinho: Sahin will cost Liverpool

If Tarantino made football, it would look like this. Maybe. For Liverpool, their FA Cup third round exit to Reading in January 2010 was the moment the slide became irreversible for Rafael Benitez. Struggling to make the top four and with knives out, sharpened and set to plunge, a defeat at home to lower league opposition was a blow not even Benitez could recover from. From the elation of a 4-0 drubbing of Real Madrid to embarrassment against Reading - a lot changed in nine months for those who made football decisions at the club. A lot has changed since then, too.

It would be droll to suggest Reading's victory at Anfield proved the catalyst for what has followed on Merseyside over the past three years. Shane Long's extra-time header sunk morale that little bit lower, but the Royals cannot be blamed for the depths of which the mismanagement at Liverpool Football Club fell. Those wounds are self-inflicted, the healing process now a rebuilding job that could take as long as the construction of La Sagrada Familia.

It's a contrast to the three years Saturday's visitors have enjoyed. Across the dugout from Benitez that night was a virtual unknown. Softly spoken, intelligent and with a respectful restraint towards both success and setbacks, Brian McDermott had not envisioned that night at Anfield when he joined Reading as chief scout ten years previous.

In charge as caretaker, that night was a catalyst for both McDermott and his football club; they would go on to reach the FA Cup quarter finals, move from 21st to ninth in the Championship and hand McDermott a full-time contract. A play-off final defeat came in his first full season; automatic promotion would follow a year later.

It is here where the tale takes that little, devilish twist: McDermott was only handed the keys after Brendan Rodgers failed to make the desired impact at the Madejski Stadium. It is a rare phenomenon when the manager of Liverpool welcomes a newly-promoted side with something to prove. Rodgers never endeared himself to the Reading supporters, it seems, after taking over from the quiet, reserved Steve Coppell; Rodgers' exuberant, talkative style in stark contrast, as was Reading's residency near the foot of the table.

It can be argued Rodgers was never given a chance at Reading, that he took over a team that had lost three of its best players in the wake of a failed promotion bid the season before. It's also fair to say six months was not an ample amount of time to allow Rodgers to impart his beliefs on to the club, particularly when trying to lower a Premier League wage bill. The response will always be that his successor has taken Reading back to the highest level of English football. It is hard to argue against.

"It was a difficult time at Reading because they'd just missed out in the play-offs," said Rodgers when the inevitable question of his spell at Reading was asked. "It proved to be a difficult six months, especially with what I was trying to implement which was always going to need that wee bit of extra time."

"But I came away from that and learnt from the experience and reflected upon it. It prepared me going forward and I was able to take those things into the rest of my career. It allowed me to be much more clinical in my work when I arrived at Swansea, and thankfully it's gone quite well from there."

There is no need to rewrite history. Reading did flourish after his departure, but so did Rodgers. It was his Swansea side who beat McDermott's Reading in the play-off final; point well and truly made. Though there's no malice from Rodgers towards Reading, he will want to accentuate how far his career has come; he will want to dominate the away side, and see his Liverpool team pick up their first league home win of the season against the club who relieved him of his managerial duties just a week before Christmas.

Rodgers will want to prove a point to other people, as well. There can be no ignoring Liverpool's meagre points tally so far this season, irrespective of promising performances. Victory against Reading is essential. There is a fine line between a lot of things in football: a win sees Liverpool unbeaten in three and mid-table; anything less makes it one win in eight league games.

Those fine lines make themselves known in the discourse about his time at Reading. It raises similarities with his start at Anfield: a lack of communication with those in charge regarding transfers and a necessity to juggle a wage bill; a dedication to change the way his side played, regardless of results; a poor home record, seeing just one victory in four months. Even Rodgers' own words on needing time at Reading resonate with the mantra at Anfield.

He will get that time from the Anfield hierarchy - but he must start producing results to accompany the promise, starting on Saturday. Victory against Reading would give him personal pleasure, but professional relief - three points is a must with Everton, Newcastle and Chelsea upon the horizon. It's showtime.