No room for Liverpool slip-up against old friends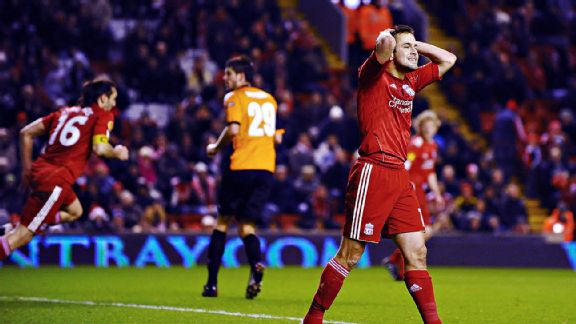 Paul Ellis/AFP/Getty ImagesWhile at Liverpool Joe Cole never seemed to capture the same form he had at Chelsea.
Since their return to the Premier League, West Ham United has become something of a retirement home for Liverpool's unwanted misfits. He may not be their favourite opposing manager, but perhaps Liverpudlians ought to be a little more appreciative of Sam Allardyce when he takes his place on the Anfield touchline this Saturday. I mean, it's not as though there was anybody else hammering down Brendan Rodgers' door to take Joe Cole, Andy Carroll and Stewart Downing off his hands.

- Walsh: Suarez owns the show at Anfield
- Report: Rodgers: Suarez can be Anfield legend

Taking over three huge contracts that Liverpool were desperate to offload was a generous enough gesture from 'Big Sam', but handing over well in excess of 20 million pounds on top was almost 'Chelsea-like' in terms of its generosity. He may have rubbed Kopites up the wrong way in the past, but the man is clearly trying to make amends now!

None of the expensive trio ever lived up to their billing, salaries or indeed transfer fees following their moves to Anfield. Cole didn't even command a transfer fee, but even 'nothing' appeared to be too much considering the complete lack of impact he made in his time on Merseyside. It began badly with a harsh sending off against Arsenal on his Liverpool debut, and things didn't get any better for the former Chelsea man after that. I don't think I've ever seen a player's performance levels drop off a cliff in such a sudden and dramatic manner as Cole's did when he left Chelsea to join the Reds. It was as though he turned into an old man overnight.

At Chelsea he always looked to be a quality player and he was regularly a thorn in Liverpool's side. Chelsea fans loved him and were sorry to see him depart, so hopes were understandably high when he arrived at Anfield in 2010 on a five year, extremely lucrative 'Bosman' transfer. Yet it quickly became apparent that Cole did not come 'as advertised'. He couldn't run, for one thing, which is something of a problem when you have been earmarked to play in a wide attacking role. For the most part Cole was utterly abysmal in a red shirt. Ironically, one of the few highlights came when he scored in a 3-2 win at the Boleyn Ground last season. A few weeks later he had returned to the Hammers on a free transfer. West Ham and Chelsea fans love him. Liverpool fans? Not so much.

Andy Carroll is a different case. It didn't work out for him either but the circumstances were different to that of Cole and -- unlike Cole -- he's still a relatively popular figure with a sizeable portion of the fanbase. The one thing they have in common is that both were hampered by injuries during their time at Liverpool. Indeed, Carroll was injured when he arrived and his first season at Anfield was a virtual write off. His second season was up and down. There were some notable highs, such as a winning goal in an FA Cup semifinal win over Everton at Wembley, followed by a superb strike at the same venue against Chelsea in the final. There were plenty of lows too, with his nightmare return to Newcastle perhaps being the worst, when he was heckled by the fans he used to stand among, missed an absolute sitter and was booked for diving.

He ended that second season on a high, however, with a thunderous performance against Chelsea in the final home game of the campaign and he looked to have finally settled. Sadly for him, the change in the Anfield manager's seat ended any hope Carroll had of establishing himself at the club as Rodgers clearly didn't fancy him. On his day Carroll can be a fine player, but he can't seem to stay fit. From the little I've seen of the Hammers, Carroll might be as important to them as any player is to a Premier League team. With him they're a real handful, without him they've looked toothless and have struggled to score goals.

Carroll's absence has made things difficult for Downing, too. He seems to have disappeared off the radar completely since leaving Anfield. Has he made any kind of significant contribution at West Ham yet? Hopefully he won't choose this Saturday to remind everybody what he is capable of, but football does often tend to throw up those kind of things and with that in mind, Downing would be the player that most concerns me ahead of Saturday's Anfield clash. He 'shushed' the Kop after scoring for Liverpool, I dread to think what he'd do if he bagged one as an opposing player.

The Hammers have more reason to be worried than the Reds do of course, but it all depends on which Liverpool side shows up. The team that embarrassed themselves against Hull are more than capable of losing to anybody, but then if Luis Suarez is in the kind of mood he was in on Wednesday night, then it will be a tough afternoon for the West Ham back four. Perhaps Rodgers can somehow convince Suarez that Norwich are the opposition every week? That would appear to be Liverpool's best hope of cracking the top four.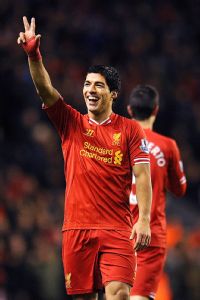 Andrew Powell/Liverpool FC/Getty ImagesAnother match at Anfield bodes well for Luis Suarez's scoring chances.
Suarez has scored an incredible ten goals in just four Anfield appearances since returning from suspension, including two hat-tricks. Away from home he hasn't had the same impact -- the team are not performing anywhere near as well on their travels -- but he's still found the net three times in five road games. At Anfield, however, he's been unstoppable and unless West Ham can figure out a way to slow him down, it could be a very difficult afternoon for them.

They'll take some hope from last season's fixture, when James Collins produced arguably the performance of his life in shutting out Suarez as the Hammers held Liverpool to a goalless draw. James Tomkins was equally impressive as West Ham defended superbly that day. Given their struggles to find the net, logic would suggest that they will need a repeat performance at the back if they are to cause any kind of upset this weekend.

For Liverpool, anything less than a win is unacceptable. The result at Hull was a huge setback and they cannot afford any more slip-ups ahead of the taxing run of fixtures they face later this month. As ever, Suarez carries most of the team's attacking burden on his shoulders, but it was somewhat encouraging to see Raheem Sterling get his name on the scoresheet against Norwich. Suarez is simply incredible but he cannot be expected to do it all on his own and it's imperative that the likes of Sterling contribute too, so hopefully that goal will help him rediscover the spark he had when he initially burst onto the scene a little over a year ago.