Luis Suarez owns the show at Anfield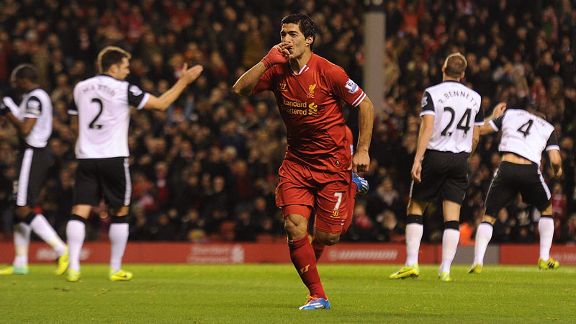 GettyImagesIt was the Luis Suarez show at Anfield; the Uruguayan helped himself to four goals.
Amazing, fantastic, incredible. Wonderful, astounding, outstanding, preposterous. Splendid, splendiferous, supreme, superb. Top notch, different gravy, one of a kind, world class. Unique, oblique and magnifique. Implausible, improbable, impossible.

There are no words in this language, or any other, to describe what Luis Suarez did against Norwich. This may sound like hyperbole -- it probably is -- but watching him dance under the Anfield floodlights can do that to a person. He is the most hyperbolic footballer in the Premier League, maybe even the world -- Lionel Messi dribbles, Cristiano Ronaldo powers, but Suarez explodes heads at a far more regular rate.

- Liverpool 5-1 Norwich: Suarez on song

This was the best individual performance this season in the Premier League. It was the best individual performance Anfield had witnessed in years, maybe even decades. Fernando Torres has glided under those same bright lights, his hair waving in time with his limbs; Robbie Fowler has felt the warmth of the Kop, the warmth of grown men and growing children pouring love from every pore, after scoring four at home to Bolton almost 20 years ago (and Middlesbrough later that same year).

Torres had his kid-like enthusiasm and Fowler played as if he still stood on the Toxteth concrete, but this was something else. To say Suarez stole the show would not be fair as it was always firmly in his possession.

First, the Uruguayan approached a bouncing ball about 40 yards out and swung his boot at it, sending the ball high then low, slow then quick, over John Ruddy. It was not as spectacular as his goal from the halfway line at Carrow Road two seasons ago (which says more of Suarez himself than this goal) but, much like that goal, this was no speculative roll of the dice -- Suarez knew what he wanted to do, knew how he wanted to do it, and did so, seemingly with the power of thought alone.

His second -- a boring dart to the near post and a neat finish with his instep -- already placed Liverpool beyond the reach of Norwich, but the party trick was yet to follow. His third goal, and third hat trick against Norwich, defies any explanation. Here follows futility not seen, well, since Norwich's defence walked onto the pitch on Wednesday: a ball that was not under control became so in an instant as Suarez controlled it, flipped it over a despairing Leroy Fer and kept it moving until volleying it beyond Ruddy.

Euphoria, disbelief, incredulity. With his fourth, a free kick that is now becoming trademark, came confirmation that this would be a night never forgotten by those fortunate enough to clasp eyes upon it.

So much has been said of Suarez, both good and bad, both deserved and undeserved. But this is something that has not yet been said, but needs to be: Suarez is one of the finest players on the planet, and one of Liverpool's best players in the past 20 years. Only Steven Gerrard's longevity and trophy collection relegates him, surely.

Suarez discombobulated Norwich. The most impressive aspect of it is that, maybe, he was not at a level of tenacity, needle and nutmegging previously seen. He did not run a marathon, nor did he leave the pitch with his shirt sweat-laden. He didn't have to. He was presented with four moments to win the game and delight the world -- three of them were impracticable, and yet somehow he managed it. After worries about Daniel Sturridge's injury and what that means for Liverpool's ability to score goals, Suarez showed he is capable of filling the void alone for now.

There were 21 other players on the pitch, of course, and Brendan Rodgers' focus and assessment cannot just stop at the highlights of Suarez's best bits, a fine bottle of chianti and a hot bubble bath. Liverpool may have struggled without him, as unlikely as that seems after a 5-1 victory. Before his first goal, the home side were flat; indeed, Norwich played with an unexpected enterprise, hoping to capitalise on a defence that had conceded six goals in the previous two games.

Liverpool's play was introverted, even after Suarez's opener. The control that is so frequently searched for by Rodgers was absent with Joe Allen and Jordan Henderson both appearing unsure in their midfield roles; both, it would appear, have qualities better suited to playing alongside each other with Steven Gerrard. But no matter, mainly because of Suarez, but also with some nice touches from Philippe Coutinho and a liberated Raheem Sterling whose endeavour -- if not, always, his final product -- was promising.

The second half was much better from Liverpool as a collective, such are the curiosities of football. With a three-goal cushion, their passes were sharper and more accurate; their movement off the ball much better and inventive. Gerrard moved forward and joined attacks, offering an extra man, and went the width of a post from a special goal of his own. Sterling, playing against tiring legs, relished the space and was a constant outlet on the right-hand side -- his goal was deserved. The only sobering moment of a gleeful second half was Norwich's goal, and another clean sheet muddied by poor defending, with Daniel Agger losing Bradley Johnson.

Liverpool will have to improve in order to give Suarez and the footballing world what they deserve -- one of the finest players in the world on the top European stage. But to focus on that right now would do a disservice to Suarez, 11 goals in four games against Norwich and 13 league goals in just nine games this season.

The reception he was given as he departed, even by those with faces wrinkled and hands withered, suggests he is one of the club's finest ever strikers. That, more than any dictionary definition or multisyllabic word, reveals what a player he is.