I'm sure there are some in the Liverpool camp who will see Wednesday night's home match against Norwich City as an opportunity to make amends for the horror show at Hull last Sunday. They're mistaken, as it will take a lot more than beating Norwich at Anfield to make amends for that completely unacceptable -- not to mention inexplicable -- display against Steve Bruce's men.

The Hull defeat means the Reds are at a huge crossroads in their season right now. Having made a good start, Liverpool have recently started to stutter somewhat (taking just eight points from the last six games) and instead of looking up at Arsenal, many fans are now anxiously looking nervously behind at the posse of clubs gathering within a three point radius. With some hugely difficult fixtures on the horizon Liverpool simply cannot afford any more of the kind of slip ups they had last weekend, or they will quickly find themselves back in the kind of position they've occupied for the previous four years.

- Walsh: Sturridge injury reveals shortcomings
- Philippe Coutinho fit for Norwich clash

Any team can have a bad day of course, and Liverpool had a truly wretched one at Hull, but good sides bounce back from them immediately and Liverpool could not have wished for a better fixture to do that than at home to Chris Hughton's strugglers. It's imperative that the Reds rediscover some form and collect maximum points, so the visit of Luis Suarez's favourite opponent could not have come at a better time.

Suarez has two hat tricks against the Canaries and seven goals from his last three meetings with the Norfolk side. With Daniel Sturridge out the onus is once again on the supremely talented Uruguayan to carry the goal-scoring burden, and while he is more than capable of doing that, it would be nice if others helped him out.

What happened last weekend was in stark contrast to what we saw from Liverpool the last time they were rocked by the news that they'd be without one of their star frontmen for an extended period of time. When Suarez was hit with a 10-game ban following his infamous nibble on Branislav Ivanovic, Liverpool didn't feel sorry for themselves, they went up to Newcastle and won 6-0, showing the kind of character and defiance that was sadly missing at Hull.

The absence of Sturridge is naturally seen by fans as a huge blow, but within the camp it should be seen by certain players as a huge personal opportunity. Last weekend Victor Moses and Raheem Sterling were both handed the chance to kick-start their season and both failed miserably. They may live to regret that, as with Philippe Coutinho now fit to return it seems likely that one or both of Sterling and Moses will find themselves back on the bench.

Rodgers certainly has his work cut out compensating for the absence of Sturridge. There is no obvious solution as -- even at their best -- none of the potential replacements are remotely close to the level of Sturridge, and Iago Aspas is the only one that even plays in the same position. The fact they are all struggling to find any kind of form merely exacerbates the problem. It comes to something when some fans are wondering if it's possible to cut short Fabio Borini's loan at Sunderland.

For Liverpool to continue to average the two points per game they probably need to secure a top-four finish, somebody needs to step out from the shadows to help to fill the enormous void left by the crocked Sturridge. None of the candidates inspire any great confidence but all are better players than they have been showing, so hopefully one will emerge as a legitimate option for Rodgers until either Sturridge is fit to return or the cavalry arrives in January as it did last year.

But who will it be? Not even Rodgers will know the answer to that question yet. He'll know who will get first crack at it -- as will we once we see the lineup he selects for the Norwich game -- but he will not know whether that player is capable of grasping the opportunity handed to him until the game gets under way.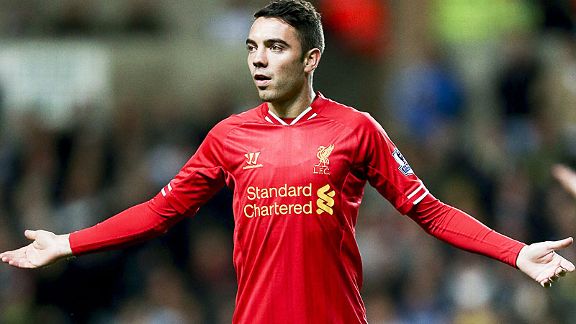 APIago Aspas was an unused substitute for the 3-1 defeat at Hull.
Aspas was brought in to provide cover for the forwards so in theory he should be the one to come into the team; otherwise what was the point in spending 8 million pounds on him? Unfortunately he has been out injured for a couple of months and may not even yet be fit enough to start a game; he was an unused substitute for the 3-1 defeat at Hull. Prior to his injury, the former Celta Vigo man had looked completely overawed by the pace and physicality of the Premier League, but having had some time away from it maybe he'll come back stronger and more prepared.

Perhaps I'm clutching at straws here, but it's also worth pointing out that in the brief minutes they had on the field together during preseason, Aspas and Suarez appeared to be on the same wavelength and linked up well. Sturridge was missing for most of the preseason fixtures and as a result of that Aspas played as an out-and-out striker, and while it has to be taken into account that it was just preseason, he looked quite accomplished in the role. When the season began and Sturridge returned, Aspas was asked to drop off and play deeper and simply wasn't up to the job. Perhaps he'll do better if pushed right up top with Suarez buzzing around him.

If he's physically up to starting the game I'd like to see the Spaniard given an opportunity to play in his best position, but if this game has come too soon for him then Moses would appear to be the most obvious choice to start the game in a 4-3-3, alongside Suarez and Coutinho. Who knows, perhaps Rodgers will spring a surprise and bring in someone out of left field, such as Jordan Ibe. He'd be hard pushed to offer less than Sterling and Moses did last weekend, that's for sure.

Who to select in that forward line is not the only decision Rodgers has to make, though; he has some tough choices to make at the back and few would complain if he elected to shake up his midfield too. There are far too many players either out of form or operating in a comfort zone and we are no closer now to knowing what Liverpool's best central defensive partnership is than we were in August. Rodgers needs to work that one out quickly as the team are leaking goals at an alarming rate and without Sturridge they can no longer rely on simply outscoring the opposition.

That should not be a problem at home to Norwich, but then it should not have been a problem away to Hull either. This is a huge week in Liverpool's season; it's the first time they've faced any real adversity, and it's time for players -- and manager -- to stand up and be counted.