Sturridge-less Liverpool fall to defeat at Hull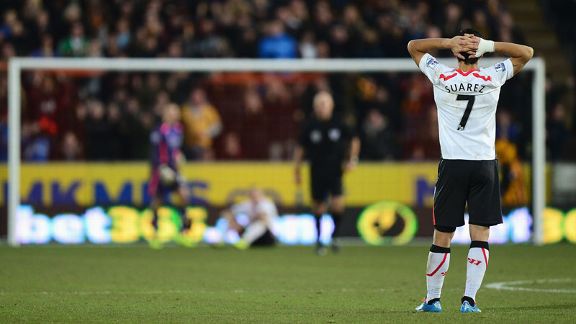 GettyImagesLuis Suarez reacts to Liverpool falling 3-1 behind against Hull.
"We'll get over this disappointment very quickly," manager Brendan Rodgers said after seeing Liverpool defeated 3-1 at Hull City on Sunday afternoon. The same Hull City, let's not forget, which had been beaten at home a week earlier by 10-man Crystal Palace. Getting over it "very quickly" might not be the right course of action; being miserable, frustrated and angry about it for some time might be, as perhaps then the Reds will be less inclined to turn in such a lifeless, disinterested performance.

Rodgers and the players should not be just putting this one to bed, shrugging their shoulders and thinking: "Ah well, we've got Norwich at home on Wednesday, win that one and we're back on track." No, they should stew over this loss, feel suitably ashamed and let it eat away at them so much that it breeds a resolve deep within that there will be no repeat of what happened at the KC Stadium.

- Reds' Rodgers voices squad concerns
- Sturridge sidelined for up to two months

Victor Moses had bemoaned his lack of opportunities earlier in the week, and that's understandable; he did not come to Liverpool to sit on the bench, and he'd had opportunities to go elsewhere and play every week. His frustration at not playing regular football was perfectly natural. However, if you are going to talk the talk, you have to walk the walk on the pitch. After this showing, if Moses finds himself back on the bench, he has only himself to blame.

That said, if Raheem Sterling is selected ahead of him, Moses may have just cause for complaint. Much like Moses, the youngster has struggled to force his way into the side thanks to Rodgers' abandoning the 4-3-3 system in order to accommodate his two best players -- Luis Suarez and Daniel Sturridge -- in a front two.

Sunday's confirmation of an injury blow to Sturridge -- combined with a slight knock to Coutinho that meant he was named only as a substitute -- opened the door for both Moses and Sterling to state their case for a regular starting place, but if anything, they showed exactly why they haven't been seeing much action.

They weren't alone in performing poorly by any means (only Simon Mignolet and Jon Flanagan should be immune from criticism), but they were the two players with the biggest points to prove, and both spectacularly failed to do so.

Unfortunately for Rodgers, he may need to persist with one or both, as he isn't exactly blessed with many better options. The absence of Sturridge is a huge blow to Liverpool, as the quality of the front two is the biggest reason that the Reds went into the weekend sitting in second place in the Premier League table. The absence of Sturridge is probably the biggest reason they ended the weekend in fourth.

It's difficult to imagine the side performing this badly with both Sturridge and Suarez on the field, but that is something Liverpool need to get used to very quickly, as the England striker is expected to be sidelined for up to two months with an ankle injury. He's scored 11 goals in 14 games across all competitions this season, and those are big boots to fill. However, that should not be used an excuse, as the side Rodgers sent out against Hull should have had more than enough to win the game.

But the Reds simply never looked like forcing the issue, and in fact played the second half in second gear, as though it was only a matter of time before a goal arrived. In truth, one Moses effort aside that was superbly saved by Allan McGregor, Liverpool never looked like scoring, and Hull were worthy winners.

Alarmingly, only three points now separate the Reds from ninth position in the table. That's the kind of damage a result like this can do. I keep making the same point: It's OK to draw at Everton and lose at Arsenal if you are winning the games you are supposed to win; games such as this one. When you don't win those games, that's when you give yourself a problem, and that's what Liverpool have done with this disappointing display.

It's not just that Liverpool lost; it's the manner of the defeat.

It doesn't matter who you are playing -- with the possible current exception of Fulham -- if you show up to a Premier League fixture with the wrong attitude, then you can quite easily lose, no matter who you are. The stench of complacency surrounding Liverpool's performance at Hull was overpowering, yet these players haven't achieved anything yet; they've made a decent start to the season in terms of collecting points, but no more than that. That league position might not look so good in a few weeks once those difficult away fixtures start coming thick and fast -- Tottenham, Man City and Chelsea lie in wait in December.

The one tiny crumb of comfort is that there is an ideal opportunity to get back on the horse this week, as struggling Norwich City have to visit Anfield on Wednesday, whilst the Reds have another home game next weekend against West Ham United. Liverpool should win both games, but then, they should have beaten Hull City.

With no Sturridge, others are going to have to step up, as Suarez cannot be expected to do it all on his own. A number of attacking players at Anfield have points to prove. It's high time they started proving them.