Flanagan takes old-fashioned way to first team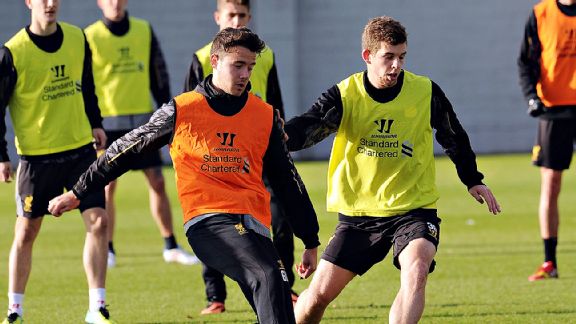 Andrew Powell/Getty ImagesJon Flanagan, right, has won a place on Liverpool's first team in large part because of his hard work on the training pitch.
It's becoming increasingly difficult for young players to come through at the top clubs in the Premier League. It may be easier than ever for young footballers to gain the trappings and financial rewards that come with being a professional at a big club, but actually becoming a first-team regular is unquestionably harder than it has ever been.

There's more money in the game than ever before and also far more media coverage, meaning some young players are set for life before they've even played 30 senior games. Further down the scale, if you look at some of the players in the youth ranks at a club such as Liverpool or Manchester United, they're like mini-superstars.

-Toure: Man City must regret my exit
-Walsh: Sturridge - The man who can do no wrong

Some have tens of thousands of followers on Twitter, many of whom are continually telling these lads that they are the next Steven Gerrard or the new Ryan Giggs (even worse than that is when the player himself retweets it). Under-18 players are regularly interviewed on the club website and TV channels, while many of the games they play in are now televised live by the club.

The profile of the youth-team footballer in 2013 in greater than it's ever been, and the days when the first time supporters heard of a young player was when he was handed a first-team debut are long gone.

Yet for most of these lads, this is probably as good as it's going to get. Over the last decade Liverpool must have brought in at least 50 players under 21, yet none were able to become a first-team regular. Some played occasionally, some never made it out of the reserves and others never even made it into the reserves!

A lack of quality explains why most didn't make it, whilst others perhaps had the talent. but not the mentality (yes Anthony Le Tallec, I'm talking about you). A strong mental approach is the most important attribute a young footballer can have. All have ability; they wouldn't have gotten to the level they have without it, but the ones who will go on from there will be the strong characters, those with the determination to succeed and who will make the necessary sacrifices in order to do so. Once you think you've made it, you're in trouble.

There's a strong argument to be had that today's young players have it too easy and as a result they aren't as hungry or as determined as they need to be. This is one of the reasons manager Brendan Rodgers was so keen to have ex-LFC players come in and mentor the young players at the academy.

I've spoken recently with two former Reds who progressed from youth system to first team who both said the same thing; the overwhelming majority of kids coming through now don't have the same focus, mental strength and most important, the hunger that is needed to make it. Both also conceded, however, that it's far more difficult for these lads to break into the first team than it was for them due to the various distractions today's generation faces and the sheer number of young players being brought in from elsewhere, be it from other English clubs or abroad.

If you are a 16-year-old local striker trying to make the grade at Anfield now, to even break into the under-18 side you'd be competing against Jerome Sinclair and Sergi Canos. Sinclair was signed from West Brom while Canos was recruited last summer from Barcelona.

And if by some chance you managed to leapfrog them in the pecking order? Then you'd find German youth international Samed Yesil blocking your path to a place in the under-21 side. After that, you're almost home free as there's only Daniel Sturridge and Luis Suarez to get past. The competition is even more ferocious at other top clubs, so is it any wonder fewer and fewer young players are coming through?

The good news for aspiring footballers is that you can become an extremely wealthy young man without becoming a first-team regular. Raheem Sterling is set for life already after the contract he signed last season, whilst recently we all had a good chuckle about Andre Wisdom getting his Porsche stuck in a puddle of mud. That was funny until the reality of it actually hit home . . . "Wait, Andre Wisdom drives a 100k Porsche?" He's Liverpool's third-choice right back -- perhaps even fourth now given Jon Flanagan's impressive re-emergence on the scene -- and at best he'd be fifth-choice centre back, and that's depending on whether you put him ahead of Martin Kelly and Tiago Ilori.

It's more difficult than ever before to become a first-team regular, but it's much, much easier to reap the rewards that previously would only be on offer to those who did actually make it.

Given how the game has gone with the crazy contracts and clubs falling over themselves to secure 'the next big thing' and then to pay him far more than he's worth just to keep him out of the clutches of rival clubs, you can almost forgive some of these young players for thinking they have made it when they haven't.

With fame and fortune handed to them on a plate, less and less of today's young hopefuls are showing the kind of hunger and total dedication required to make a manager of a top club sit up and take notice.

How refreshing it was, therefore, to see Flanagan step into the cauldron of a Merseyside derby and handle himself with such assurance and poise. Flanagan is a fine example to all aspiring young footballers as things have been far from easy for him, but he's shown great perseverance and determination. He looked to be on the verge of 'making it' at 18, but then just as quickly went to being on the brink of being completely forgotten at 20.

Brendan Rodgers didn't seem to fancy him much -- understandable in the sense that Rodgers seems to like wing-backs rather than the more orthodox 'overlapping' full-back such as 'Flano' -- and he barely featured in the first-team squad at all last season. The writing looked to be on the wall for his Liverpool career, yet here he is, starting games for the first team away at Arsenal and Everton, performing well and looking as if he might get an extended run in the side due to Jose Enrique's injury layoff.

Flanagan (@jon_flan93 on Twitter) has worked his way back into contention against all the odds and that is great credit to him. Many had written him off and he'd slipped way down the full-back pecking order. Fellow young defenders Wisdom and Jack Robinson were recruited on loan by Championship teams but, remarkably, there was very little interest in Flanagan.

Hard to believe when you consider how well he did when Kenny Dalglish first threw him in at the deep end. He was man of the match on his debut against Manchester City and his performances in the handful of games he played at the tail end of the 2010-11 season suggested a bright future for both him and the equally impressive Robinson.

Injuries to Glen Johnson and Martin Kelly had opened the door for them, but the return to fitness of the senior men the following season -- combined with Enrique's signing -- meant reduced opportunities for the young scouse duo. Flanagan only made a handful of appearances, the last of which came against Blackburn Rovers where he endured a nightmare evening. He looked nervous, overly aggressive and at times panic-stricken and was unrecognisable from the confident, steely 18-year-old of a year earlier.

That was to be Flanagan's last Premier League start before Rodgers surprisingly brought him in from the cold against Arsenal over 18 months later.

He earned that chance ahead of others because of how hard he's worked in training. Rodgers, Gerrard and Sturridge have all spoken in glowing terms about what a great attitude Flanagan has in training, and for me it was telling when Gerrard revealed that the entire team gave the youngster a standing ovation when he returned to the dressing room after excelling in the 3-3 draw with Everton. Those players knew how hard he'd worked to get there and were obviously thrilled for him.

There are young players at Liverpool with more talent than Flanagan, (I've been championing the cause of Ryan McLaughlin, for example), but unless they can match his determination and work ethic on the training field every day, then they are unlikely to earn the trust of Rodgers in the way 'Flano' has done recently. It's taken a long time to earn that trust, but he's done it by showing up to work every day and doing things the right way. Whilst the odds are still very much against Flanagan becoming an established member of the first team, it's always nice to see hard work being rewarded.

There is always a danger when a young player receives as many plaudits as Flanagan has since the derby --it could go to their head and have an adverse effect their performances. Having been in this situation before, however, Flanagan should be far better equipped to deal with all the praise he's had this week and he will be doubly determined to maintain the standards he has set.

And if and when this possible run in the first team comes to an end, surely this time there will not be any shortage of clubs on the phone to Rodgers wanting to take the young full-back on loan. Flanagan will be hoping it doesn't come to that, but if it does it won't be for a lack of trying.