Sturridge: The man who can do no wrong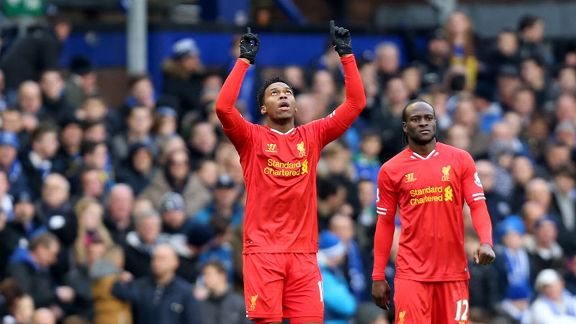 PA PhotosDaniel Sturridge came off the bench to make it 3-3 against Everton.
Daniel Sturridge has done very little wrong since his transfer to Liverpool last January. Aside from his evident talent and goalscoring ability (which now stands at 22 goals in 30 games), he is a player developing an instinct of scoring goals that matter. His late equaliser against Everton now rests alongside his winner against Manchester United as goals to both salvage points and pride. Sturridge scores important goals at important times.

The goal at Goodison Park, which sent the home support into apoplectic combustion, possibly hinted at something even more than that. As Sturridge jogged onto the pitch with 79 minutes played, as a substitute to shift the game's momentum, he found himself in a rare position since moving to Anfield: firmly out of favour with Brendan Rodgers after playing for England against Germany on the previous Tuesday -- in a friendly, no less -- despite a thigh injury. Only ignorance of who made that decision for Sturridge to play for England stopped Liverpool supporters being similarly frustrated with the striker -- they simply blamed Roy Hodgson in what is now presumably a reflex action following his six months at Anfield, a time period when he could be blamed for a lot.

- Sturridge Defends England Decision
- Rodgers criticises Sturridge fitness

But yet it was Sturridge who wanted to play for England despite his niggles, even though his reasoning of needing more minutes on the pitch with the national team was sound. That led Rodgers to believe he was not ready to face Everton and therefore the manager placed him on the bench -- a win-win situation for the Northern Irishman, who flexed his authoritative muscles and also provided Liverpool with a genuine top-class option from the bench.

And as Sturridge leaped higher than all on Saturday to glance home, careering along the touchline and towards the Everton support before anybody really understood what had happened, realisation eventually set in. Sturridge has not only done little wrong since arriving, but he can actually do no wrong at times most crucial. Everything he does, with the grand scheme of football in mind, is right. Not even Midas saved his side a point on enemy territory -- though, in the interest of mythical balance, things didn't turn out brilliantly for the gold-fingered galoot in the end.

His efforts in front of goal -- Sturridge, not Midas -- lend to this theory. There have been no major misses of Joe Allen's ilk, leaving all silent and solemn; there have been no misdemeanours on or off the pitch that have punished his club, and no fighting or biting to give all at Anfield a headache. Even after risking his fitness ahead of a Merseyside derby, it was he who stood, mobbed, as a crucial part of the team.

Such influence cannot be underestimated. Of the many, many aspects of Liverpool's demise in recent times, the correlation between losing winners and losing matches is one of the strongest. Only Steven Gerrard and Daniel Agger remain as players who have won more than two trophies with Liverpool, with alumni like Jamie Carragher, Sami Hyypia, Xabi Alonso, Javier Mascherano and Dirk Kuyt all missed for their minds as much as their footballing ability.

That is not to say winners are judged by the medals in their top drawer alone. But then, what is a winner, exactly? It is a term that does not really have a definition; instead, instinct dictates whether they are winners. Kolo Toure, with his unbreakable determination, is a winner; Mamadou Sakho, who spent his teenage years with Parisian expectation upon him, is a winner. Luis Suarez is most definitely a winner, scampering across every tuft of turf and terrorising at every turn.

Sturridge also appears a winner. He is not in the mould of Gerrard of the 2000s, grabbing games by the unmentionables and penning the narrative as the game progresses. Instead, it is his confidence, self-belief and -- though it will not necessarily make him popular on Merseyside -- his insistence to play for England shows that he is a winner. Especially with a World Cup just over six months away.

Sturridge's defiance and Rodgers' disappointment is known because both have spoken about it in the warming aftermath of a last-gasp derby equaliser. Whether Sturridge would have been so forthcoming with his opinion in defeat (and whether Rodgers would have been so forthright with his) cannot be said. But Sturridge can say it because, like the majority of his career at Liverpool, everything was all right -- just best not to contemplate Liverpool's result had he been fully prepared and available for the entire 90 minutes.

He may not want to make a habit of it, of course. The row of club versus country is as old as any other in football.

But there is no row where Liverpool are concerned, a club that sees supporters unfurl a banner "We're not English, we are Scouse" to replicate a chant routinely bellowed by their away following. Liverpool and England -- the establishment, the status quo -- have never had a good relationship. Gerrard plays too much for England; John Barnes, Steve McManaman and Michael Owen with his straw hamstrings all played too much for England.

There is unrealism with regards to international football. Granted, clubs pay their wages, as the defence often states -- but playing at a World Cup is still an important accolade for most players. Sturridge wants to be there, but his fine club form will not be enough for Hodgson to select him, so time on the pitch with England is vital. Gerrard, an automatic pick and captain of the side, had injections. Though clubs may not appreciate international football, players do.

There would be temptation to claim Sturridge was simply fortunate to be the player who equalised, but not so. The last time Rodgers placed him on the bench and brought him on -- against Chelsea in April -- he was magnificent. Given 45 minutes to prove the manager wrong, he did so despite being deployed in a restrictive right-wing position, scoring within seven minutes and creating Suarez's equaliser. The goal and assist were ample reward for a showing full of endeavour.

The striker came to Anfield with a sour reputation but has proven that to be false since joining Liverpool. Self-belief has been misinterpreted as arrogance, while a determination to play football has been misconstrued as a player never truly happy. Sturridge is likeable. He is a good talker and sometimes sounds like an erudite NFL star -- intelligent and coherent yet still opinionated and honest, a fine blueprint of the modern footballer.

That should not change because of his desperation to play for England. Worries over his fitness are fair, as are questions as to why he was allowed to play by Hodgson and his staff. But Sturridge is not an isolated incident and the issues between clubs and international associations are decades-old -- it is something that must be considered between them instead of the burden falling upon the player.

There may be moments Sturridge's decisions do not pay off, but not now. Any worries over Sturridge playing for England will subside if he keeps scoring. The worry should come when he no longer has the desire to do all he can for both club and country. Given how well he has married talent with train of thought at Liverpool, it is difficult to imagine him stopping.