Mirallas' escape from red shows need for technology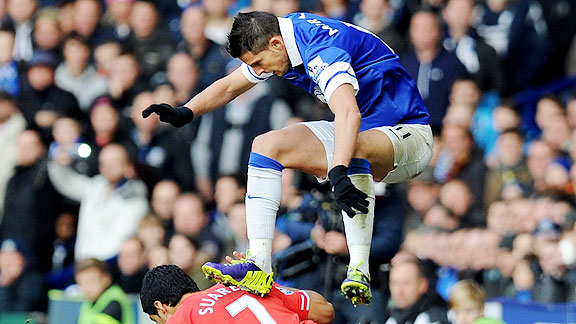 John Powell/Liverpool FC/Getty ImagesEverton's Kevin Mirallas was not sent off after making this challenge on Luis Suarez.
"This is not your father's Merseyside derby" screamed the title of my pre-match blog as Brendan Rodgers prepared to take his Liverpool side across the park to face neighbours Everton. The logic was sound; Roberto Martinez's arrival at Goodison Park would ensure the Blues would adopt a more serene approach to this fixture than we've seen in most previous encounters. It would be one for the purists and the physical stuff that has been a feature of this fixture would be left in the past, where it belongs.

Unfortunately nobody bothered to tell Kevin Mirallas.

- Walsh: A derby day to remember
- Brewin: Managers make for breathless derby

Both Luis Suarez and Jordan Henderson were left bloodied and bruised following reckless, dangerous challenges by the Belgian, yet he somehow escaped fitting punishment from referee Phil Dowd and was also defended by his manager who bizarrely seemed more concerned with complaining about a non-existent Steven Gerrard elbow. It seems that in the world of Martinez, jumping with your arm raised but not making any contact with the opponent is a more serious offence than smashing an arm into someone's face and leaving them with blood pouring from an eye. It would also appear that Dowd also lives in that world.

While Liverpool only have themselves -- and specifically Joe Allen -- to blame for not putting the game away, the part Dowd played simply cannot be ignored either. While Everton's second half display meant they were well worth a point and they may even feel they should have won based on chances created, had Dowd done his job properly then the Blues would have been a man down and trailing 2-1. It's difficult to imagine them coming back from that, and after what happened in this fixture last season (Suarez having a last second winner incorrectly chalked off for offside) Rodgers has every right to feel aggrieved.

There have been some truly horrendous errors made by officials in recent weeks and I have to wonder whether we are at all-time low in terms of the quality of referees. Referee's supremo Mike Riley last week apologised to West Brom following the ludicrous penalty decision that cost them two points at Stamford Bridge recently, and if that is to become a trend, then Riley's phone-bill will resemble a Premier League players pay-slip.

Of course, referees are only human and they will make mistakes. I don't think anybody is suggesting otherwise. Sometimes you need to view an incident from five different angles and in slow motion to be able to see clearly what happened, and in those situations most people accept that it's a difficult job and you can't expect them to get everything right. It's when they've got a perfect view of something and get it so badly wrong that it becomes so unacceptable. These fellas are professionals now, they're handsomely paid for what they do and it's a full-time profession. So how come they seem to be getting worse and not better?

This weekend saw two of the worst decisions of the season so far as Mirallas was allowed to stay on after his horrific lunge at Suarez, while poor old Wes Brown was dismissed for a perfectly good tackle. I have every sympathy for Brown and Sunderland: his dismissal was an awful decision and he has every right to feel hard done by. It wasn't two-footed, it wasn't high and he won the ball. It was not even a free-kick, let alone a sending off.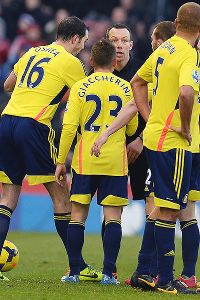 Andrew Yates/AFP/Getty ImagesSunderland players were in disbelief after referee Kevin Friend sent off Wes Brown against Stoke.
While I'm not going to defend referee Kevin Friend for what was a terrible error of judgement, what I would say is that when officials make that kind of call, it's based on the instruction handed down to them that any kind of dangerous challenge needs to be eradicated from the game. Sometimes they'll incorrectly view a perfectly good challenge as being dangerous and a player will find himself on the wrong end of a harsh decision, simply because officials are so keen to not miss a bad one.

Mark Halsey was rightly pilloried last season for failing to dismiss Wigan's Callum McManaman after his horror challenge on Newcastle's Massadio Haidara. Martinez, of course, was McManaman's manager that day, and he downplayed that incident too. Halsey was demoted to the Championship the following week and I'd expect the same fate to befall Mr Dowd, otherwise, serious questions need to be asked.

What happened to Brown was a referee making a bad decision for the right reason if you like. While his judgement as to what was a reckless challenge was terribly flawed, the judgement that a red card should be awarded for a reckless challenge was not. What happened in the Merseyside derby, however, was an official being completely negligent in his duty to protect the players.

Challenges such as the one Mirallas inflicted on Suarez are the very reason why the laws were changed and referees were instructed to come down hard on those who commit such offences. Dowd was on the spot and had a clear view of it. Not only that, if there was any doubt in his mind as to how bad it was, then the two significantly sized puncture wounds in the knee of Suarez should have quashed those doubts. If a player has a wound such as that on his knee and he hadn't gone to ground in making a challenge, then clearly the tackle on him had to have been knee high and therefore dangerous. It's an open and shut case; there is no room for interpretation and Dowd should be punished for his error. Suarez is incredibly fortunate he didn't suffer serious injury and I would expect that Rodgers will be having a chat with Riley this week.

This is not just about one incident and one official making an error, it's happening far too often and with so much at stake financially these days it should not be allowed to continue. Clearly there is no quick fix to suddenly raise the standard of refereeing, but something has to be done to help them in situations such as the Mirallas and Brown ones. The obvious solution is technology, as in both of those instances the game had been stopped and it would have only taken a few seconds for a fourth official to watch a couple of replays and advise the referee as to what his course of action should be. Viewers watching on TV could see after the first replay just how bad the challenge on Suarez was, yet a clearly hesitant Dowd stood there for at least a minute before making his judgement. One word in his ear piece from a colleague watching a monitor and the correct call could have been made.

In an ideal world I would not want video technology, but in Premier League terms this is far, far, far from being an ideal world and it's getting worse. If referees weren't so dreadful, it would not be needed. But it's becoming more and more obvious by the week now that many of these officials are simply not fit for purpose. The technology is there and it's used in other sports to great effect so maybe it's about time football followed suit.