There have been many occasions when this question has been asked in the corridors of Anfield over the past few years, years that have petered out and even washed away before April showers, but never has it seemed more apt than now: What's the point?

After six goals -- all from set pieces -- brought one of the most engrossing, entertaining, breathless Merseyside derbies in a generation, what's the point? What's the point in trying to analyse, to pull and tug any semblance of sense from this 3-3 draw, to reach any conclusion other than Everton and Liverpool cannot defend set pieces? This was 90 minutes to leave heat maps cold, to take tactical counters and chew them up into an indistinguishable mush before spitting them across the Goodison Park pitch.

- Brewin: Managers make for breathless derby
- O'Farrell: Everton youngsters shine in derby

Nearly 40,000 people left that same stadium Saturday uttering the same words. Some tried to reason with the result, others felt it was a severe injustice. But ultimately, Liverpool had thrown away a 2-1 lead only to grab a point as stoppage time approached when most other teams would have curled into a ball and accepted an unfortunate afternoon. Try to speak of Luis Suarez's magnificence and try to whisper of Joe Allen's unbelievable miss. None of it, truly, matters. Not yet anyway.

Alas, Brendan Rodgers and Roberto Martinez are not granted the same freedom. Rodgers will have to analyse and attempt to make some firm conclusion of that game, but still the overriding one remains as it has all season. Liverpool cannot defend set pieces.

But they can certainly take one. This is a club that once had a fanzine titled Another Wasted Corner. The curse of the curling dead-balls is no more. Poor defending from Everton aside, Liverpool took advantage. The first goal required Philippe Coutinho to persevere with the loose ball; the third goal depended on Daniel Sturridge to rise, higher than Everton Valley, to nod past Tim Howard. The second was simply Suarez, a player who delights in being a figure of annoyance, one who leaves opposition fans hoarse with constant boos and hisses, the perfect pantomime villain who deserves his own stage.

It is a rarity in football for hyperbole not to take charge; it ultimately leaves the reality far less interesting. Yet here, in the derby that was supposed to launch a new generation of rivalry, it was true. This was supposed to be the derby of difference, something that has not really been seen before.

How true it proved. Liverpool passed the ball. Everton passed the ball. Neither was afraid to succumb to the inevitable roughness and rowdiness of a derby game either. Balls went long to Romelu Lukaku and Suarez; feet went high, hard and in places they shouldn't. The decision to not send off Kevin Mirallas was a typical derby decision: one half agreed, the other did not. Jack Rodwell's redemption comes two years too late.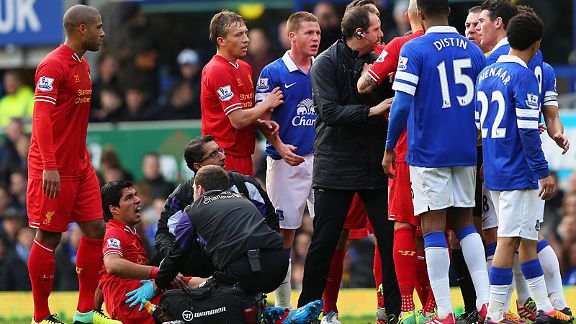 GettyImagesLuis Suarez gets treatment while players argue over Kevin Mirallas' challenge.

But though there were elements of derbies of the past decade, this was refreshing. Both sides looked to play football. At times, it was naive -- something that will no doubt infuriate. But still, two young managers of two big clubs went toe-to-toe and sent out their players to win by being the better footballing side. Just don't try it every game for the sake of the city's fingernails.

This was the dichotomy both teams faced: how to impose its style of play in a game so traditionally frantic without seeming as if there is no real plan. It is a fine line, one that was frequently tread and almost certainly overstepped, but wallowing in such misery is futile.

Misery will still reside with Liverpool. There will be efforts to approach the negatives of the 3-3 draw, set pieces aside. But they are accompanied by positives.

Playing Jon Flanagan at left back was a curious choice, but he was magnificent for Liverpool, playing as any Scouser would, the embodiment of what has made this game so special. The decision to take off Lucas Leiva with the game in the balance (though it rarely wasn't) and replacing him with Sturridge was wonderfully attacking, maybe too much so. But Sturridge ultimately saved Liverpool a point.

Such was the game's pattern that players like Coutinho and Suarez could operate and do well in space, but there was also the necessary needle of Lucas, Martin Skrtel and Daniel Agger -- though Agger's needle was maybe not as sharp as required against the monstrous Lukaku. This mix made the game so excellent to watch and one that saw reason and reckoning tossed to the wolves.

There will be resentment with the away side over how it, once again, lost its way in the second half. There will be anger -- combined with apoplexy -- over Allen's miss at 2-1, a truly pivotal point of the game. There will be disappointment that this game did not propel Liverpool to the top of the Premier League, if only for long enough to tell their neighbours of the fact before Arsenal's probable return.

But in the immediate aftermath of a derby that ends 3-3, the finest one in a generation, what's the point? Liverpool fans unfurled a giant banner before kickoff with a birthday cake to celebrate Everton's 18 years without a trophy. Neither team will have to wait that long, surely, if they continue like this -- set-piece defending excluded.