Liverpool await the Rodgers-Martinez derby
The simple 10-minute stroll from Anfield to Goodison Park, from Liverpool to Everton and red to blue, has hardly changed in over a century.

Walking down Walton Breck Road and veering right onto Sleepers Hill, the metal labyrinth of back alleys and tightly-knit terraced houses are as they were years before. At the bottom of the hill is Anfield Road; at the bottom of Anfield Road sits Walton Lane and an evangelical church -- Stanley Park Church -- that has stood there more than 100 years. Walton Lane, flanked by Stanley Park to the right, leads a straight path to Goodison Park, the home of Everton, just as it has since 1892.

-Rodgers 1-on-1 with ESPN FC's Roger Bennett
-Skrtel determined to keep place in starting XI
-O'Farrell: Martinez can make derby history

Not much has changed since then. Cars populate the roads and fashion has moved from gentlemanly to downright grody, but the premise remains the same: red and blue, Liverpool and Everton, a city divided.

But change is now afoot. For the past 11 years, the final destination has always been a stadium with the seemingly indelible stamp of David Moyes upon it. "Everton are the people's club, the people on the street support Everton," Moyes said within days of his 2002 appointment. A slogan was born, so, too, was a new-found mentality. Those three words adorn t-shirts and mugs that are sold in the shadows of big, blue banners with the same wordage pinned on the stadium; of the paraphernalia that surrounds Goodison Park, those words are far more prominent than their motto of Nil Satis Nisi Optimum.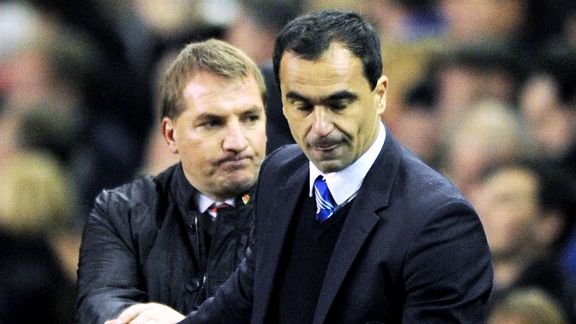 Chris Brunskill/Getty ImagesWill Roberto Martinez, right, bring a softer tone to the Merseyside Derby when he faces Brendan Rodgers Saturday at Goodison Park?
A club's identity being dictated by a manager is nothing strange and Merseyside is no different. Hackneyed monikers aside, Joe Royle's Dogs of War and Rafael Benitez's Rafalution are just two examples of how a manager can impact the philosophy of a club.

But Moyes, in his 11 years at the club, revolutionised and radicalised Everton's thinking. After spending the majority of the 1990s in a relegation fight, they found a manager who could redefine what they were. They became plucky, a team that relished disparity and adversity and a club that sought to challenge both.

As a by-product, as part of the collateral, the friendliness between themselves and Liverpool degenerated further. Maybe the relationship between the sides was already collapsing, but nevertheless, a higher intensity of hatred manifested.

Though Everton were regarded as the 'Mersey Millionaires' in the 1960s, they were now the paupers of Merseyside -- something Moyes would often remind the world of as derby day approached -- and that meant disparity, adversity and the unwavering commitment to challenge both.

That is not to say hatred between the clubs did not exist before Moyes' appointment or that the change in the rivalry should rest at his feet alone. But something, somewhere, changed; the words became more barbed and more acerbic more often. The label of the 'friendly derby' which television companies are desperate to sell has been undeserved for a while, Everton's marvelous efforts following last year's Hillsborough Independent Report notwithstanding. It was a rare show of compassion in a conflict that lost it years before.

The needle between the sides, and between Moyes and Liverpool, was reflected on the pitch. Five different Liverpool managers faced Moyes' Everton, yet the games largely followed a similar pattern. Boots flew high and bones were bruised hard as a constant soundtrack of grunts and grimaces played in the background.

In the first Goodison fixture after Moyes' arrival, a 2-1 Liverpool win under Gerard Houllier in April 2003, the Daily Telegraph reported: "Everton finished the game with only nine men, David Weir and Gary Naysmith having each been sent off for a second bookable offence during the last nine minutes of an often bitter contest in which most of the rough stuff came from the home side."

It was only after that win -- 34 games into the season -- that Liverpool went above Everton in the table. Everton still remained just four points from Champions League qualification with a team that included journeymen such as Steve Watson, Naysmith and Scott Gemmill. That they would finish seventh that season demonstrates Moyes' capability of getting the best out of what he has to work with.

Even when Everton's personnel changed for the better, stud remained glued to shin on both sides. Liverpool's 3-1 win at Goodison Park in December 2005 had 20 of the 22 starters as full internationals (Tony Hibbert and Stephen Warnock the unfortunate exceptions), but it was a bruising encounter with little effort to play the football expected of such talent. Three months later, at Anfield, a similar level of quality played out a 3-1 home win with nine bookings and two red cards.

There is nothing to sneer at -- the intensity in which this fixture has been played has led to glorious throwbacks, a reminder of what football should be about in its basest sense. This is no attempt to portray Everton and Moyes as footballing Neanderthals, either -- Liverpool played an enormous part in those games which left thousands wincing. The decision to play Salif Diao instead of Xabi Alonso by Benitez in December 2004 demonstrates how both teams were willing to throw haymakers.

But after 13 years (indeed, maybe even longer when considering Walter Smith, Howard Kendall, Royle et. al.), the Merseyside derby may take a different approach. Enter Brendan Rodgers and Roberto Martinez.

Everton and Liverpool both possess fine players but, crucially, now possess managers who like to play attacking, expansive football. For the first time, certainly in the Premier League era, the two clubs share similar footballing fancies; both intend to maintain possession, control the game and build towards something special in the future.

This is something Rodgers must contemplate ahead of the game. The strangeness of the sport has led him to being a relative veteran of games with both Manchester United and Everton given the managerial movements. In his previous two encounters of a Merseyside derby, he was tentative and allowed the experienced Moyes to dictate the pattern of both games.

Yet Rodgers will also know that Liverpool and Luis Suarez were an errant linesman's flag from three points at Goodison Park last season; he will know of Everton's desperation for a point in May to essentially confirm finishing above Liverpool for the second straight season. This fixture comes when both sides eye Champions League qualification with Liverpool just three points ahead of Everton -- that Martinez, in his first few months, has navigated Everton so close to the impressive Liverpool highlights how well he has started on Merseyside.

The change is exciting. The top eight contains three big local rivalries in Merseyside, Manchester and North London. The upturn in quality from Tottenham and Manchester City has led to games between Spurs and Arsenal, and City and United, to be far more competitive with league positions under genuine threat. With the improvement in both Liverpool and Everton this season, it appears the pattern is set to be followed.

It is far too simplistic to equate the unquantifiable asset of local pride with flying tackles and Scouse snarls, but the majority of Moyes' reign saw that as the overriding prize. Rarely did the teams face with important league positions or trophies at stake. Interestingly, of the league encounters, it is difficult to recall a Liverpool defeat in such games -- March 2005 and March 2012 as obvious examples -- even though Everton would eventually finish above them.

It should lead to an open game, one that could potentially suit Rodgers' Liverpool. Indeed, the games against Martinez's Wigan were open last season too, and that led to 3-0 and 4-0 victories. But Everton possess a higher calibre of squad than Wigan did, with players who can harm Liverpool. Both managers could also decide to make this a typical Merseyside derby, however, and instruct players to continue their predecessors' work of bone, metal and visceral shouting. What would be more sagacious, and what would be simply more fun, are two entirely different things.

Off the pitch will be interesting, too. Can the dislike Everton had for Houllier, Benitez and Kenny Dalglish truly be replicated after two games against Rodgers? And what of Martinez, the affable Spaniard who talks well of Liverpool, when he stands in the dugout facing the cluster of Liverpool fans opposite?

On Saturday, Liverpool fans will walk the same walk they have for years and decades. They will pass the back alleys and tightly-knit terraced houses, the evangelical church and Stanley Park. They will end at Goodison Park; the house of Martinez instead of Moyes, where Everton await. This is the Merseyside derby, but maybe not quite as we know it.