Nigeria hero Moses still odd man out at Anfield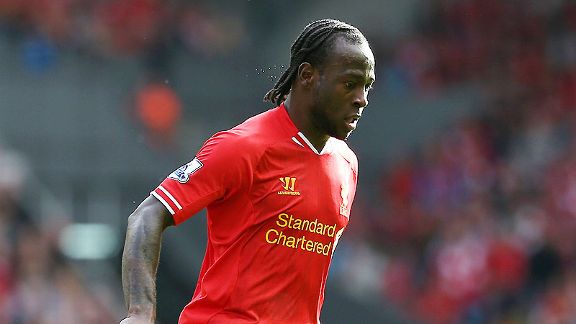 Clive Brunskill/Getty ImagesChelsea's Victor Moses has not impressed on loan at Liverpool.
On-loan Liverpool winger Victor Moses is probably on cloud nine right now after his penalty kick set Nigeria on their way to a 2-0 victory over Ethiopia Saturday that booked the Super Eagles' place at next summer's World Cup.

Moses is the toast of his nation after helping them to qualify for Brazil 2014 and he is now a key man for the Super Eagles. This is in stark contrast to his club situation, however, where he once again finds himself as something of a bit-part player.

It's the Merseyside derby this weekend and barring injuries, the former Crystal Palace and Wigan Athletic winger will surely be once again watching from the bench with little hope of breaking into the first XI.

It wasn't supposed to be that way. Moses left Chelsea in search of regular football having found himself way down the pecking order and playing for his third manager since joining the Blues only 12 months earlier. He had several offers but having witnessed how Liverpool had helped to re-ignite the spluttering career of his friend and former Chelsea team-mate, Daniel Sturridge, he opted for a switch to Anfield. With the Reds not being blessed with great quality or depth in wide areas, it looked like the perfect landing spot for a talented winger.

From Liverpool's point of view, they needed attacking re-enforcements and players who could provide that individual spark, and time was running out before the end of the transfer window. Having failed to sign all of their top attacking targets, to then be able to land a player such as Moses on a 'try-before-you-buy' deal with very little initial financial outlay, was something of a no-brainer for manager Brendan Rodgers, who probably couldn't believe his luck.

Even from a Chelsea perspective, this looked a good deal. Having Moses playing regular football at a high-profile club was good business for them. It protected the player's transfer value, it kept him in the shop window and they also saved money through not having to pay his salary whilst he watched from the stands. Everyone's a winner, right?

Not quite. In fact, at this stage the move isn't really benefitting any of the interested parties. There's still plenty of time for the situation to change, of course, but it would be surprising if Moses isn't beginning to wonder at least a little, whether he made the right decision back in August. It's not that he has been a disappointment -- he's actually done OK in relatively limited opportunities -- but he appears to be a victim of circumstances at the moment.

While he's a versatile performer capable of filling a number of roles, it's clear he looks at his most comfortable when operating from wide areas. His Liverpool debut came on the left wing and he marked it with a goal and a lively performance against Swansea City. Unfortunately for Moses, that game saw Philippe Coutinho suffer a shoulder injury that would sideline him for several weeks and influence Rodgers into a tactical re-shuffle that didn't help the on-loan Chelsea man.

Moses lined up on the left once more against Southampton at Anfield in Liverpool's next game, but a poor team performance combined with the impending return of Luis Suarez after suspension convinced Rodgers to depart from his usual 4-3-3 formation, a formation that perfectly suits the skill-set of Moses, and experiment with a 3-4-1-2 that doesn't.

In the absence of Coutinho, Moses was asked to play in the No. 10 role behind the front two. He didn't embarrass himself by any means; he showed some flashes of ability here and there, but did not really influence games to the level you need from a player in such a key position. I mean, he wasn't exactly Steve McManaman, was he?

It would be unfair to expect him to be, though; he wasn't brought to Anfield to be a No. 10 and should therefore not be judged as one. As a left wing, he's done relatively well; he just hasn't had too many opportunities in that role due to circumstances largely beyond his control.

He scored at Swansea from that position, went close to another against Southampton and looked lively when he was moved back there in the second half against Newcastle at St James' Park.

Unfortunately for Moses, with Coutinho now back and Rodgers understandably playing with a front two, it's difficult to see where he will fit into the side unless there is either a change in system or injuries to some of the forward players. Even when Rodgers switched back to a 4-4-2 for the win over Fulham, Moses couldn't get into the side as Coutinho is clearly the number one choice to play on the left and from a tactical standpoint Jordan Henderson is a more natural fit for the role tucked in on the right, providing an extra body in the middle of midfield when required.

There simply doesn't appear to be any place for Moses in the first XI at the moment, and Liverpool's lack of cup games complicates things further for those who find themselves out of the team. There are no Europa League games in which to catch the manager's eye, and Moses in particular is suffering as a result of that. It's unfortunate as he is clearly a talented player who needs games to further his development -- hence the loan from Chelsea, and he could certainly be forgiven for thinking that this wasn't really what he signed up for.

As has been proved on countless occasions though, things can turn around very quickly in football. It could just take one lucky break for Moses -- or an unlucky break for someone else -- for him to get back into the side and prove his worth. Right now though, it's difficult to see what role he would fill and who should make way for him.

The uncertainty over what Rodgers feels is his best formation muddies the water further for Moses. The three-at-the-back system freezes him out completely as he's competing with Coutinho and Henderson for one spot in the side. 4-4-2 gives him a shot at forcing his way in, as although he is still behind Coutinho and Henderson, at least there are two places up for grabs which doubles the chances of him getting in.

Moses is a lot nearer to Liverpool's first team than he would have been to Chelsea's had he remained at Stamford Bridge, but essentially he's traded a place in the stands for one on the bench, and that's not what anybody had in mind when the deal was made back in August.

While his prospects are looking somewhat bleak at present, the nature of football means that Moses will almost certainly have an important part to play as the season progresses. Whether it's injuries, loss of form to others or the manager rekindling his love for the 4-3-3, at some point Moses will be called upon and the rest will then be up to him.