Rotation, rotation, rotation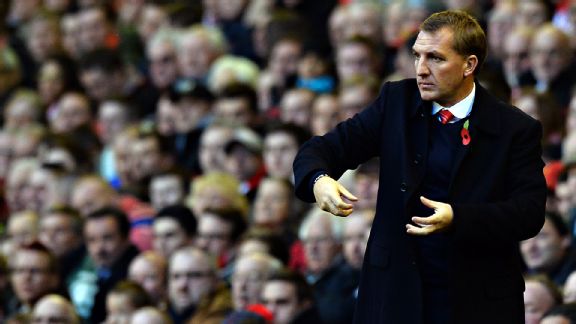 Paul Ellis/Getty ImagesA fixture-heavy December will test the depth of Liverpool manager Brendan Rodgers' squad.
Rotation, rotation, rotation. On the hefty list of things people just don't get in English football -- zonal marking, two holding midfielders, waiting for contact in the penalty box -- rotation is the one that has gradually seeped into the collective understanding. Not playing the same 11 players every week is no longer regarded as heresy, but rather an intelligent approach to protect players' well-being and maximise squad strength.

- Usher: Are Liverpool title contenders?
- Report: Cissokho hopes for Liverpool stay

That explains why, this week, Liverpool manager Brendan Rodgers faced little opposition (former midfielder Jan Molby aside) after admitting he is ready to shuffle his starting 11.

Breaking the radio silence of international week, Rodgers said, "The players are working very well and very hard on a daily basis, but I need to give oxygen to some players so they can see a light at the end of the tunnel. It is important that I use the players well."

A brief glance since Rodgers took over at Liverpool would suggest he's been dishing out oxygen freely. He has kept an unchanged league side on just seven occasions, never managing to do so in three consecutive games.

There are mitigating circumstances, of course, including transfer activity and injuries. If not for Kolo Toure's unfortunate knock against Notts County in August, Martin Skrtel's inclusion against Manchester United -- the only change from the previous league game against Aston Villa -- would have been unlikely.

But it also demonstrates how the club has been in a constant state of transition since Rodgers' arrival -- if anything, the frequency of change simply highlights Rodgers' experimentation, as players like Nuri Sahin, Suso, Raheem Sterling, Andre Wisdom and Jonjo Shelvey have been considered and subsequently deemed too young, inexperienced or not good enough.

The reference to rotation is curious given that Rodgers has been a regular advocate of it, albeit forced on occasion. It may highlight that he now is happy with his settled squad, that he no longer must rely on the wild card of youth as he did at the start of last season. It also demonstrates the flexibility of the side he has built, vibrant and exciting, with the potential to switch shape with a sagacious nod from the sideline.

One of Rodgers' key objectives, under duress of Fenway Sports Group, was to trim the squad size (and, by association, the wage bill) -- although he used 28 players last season in the league, seven of those were under 21 and an eighth was Andy Carroll. This year, he has already used 22, but only Jon Flanagan, a surprise inclusion against Arsenal, would be considered detached from the regular squad.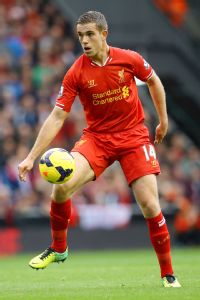 Clive Brunskill/Getty ImagesJordan Henderson is one of four players to have appeared in all 11 league matches this season for Liverpool.
Yet Liverpool's success this season, which has taken them into second, has been reliant on a core of consistently good players. Daniel Sturridge, Steven Gerrard, Simon Mignolet and Jordan Henderson have appeared in every league game so far this season, while Luis Suarez and Glen Johnson would have done likewise if not for suspension and little nagging injuries, respectively. These six have produced fine performances -- to varying levels of ability and impact -- throughout. Skrtel, Toure and Lucas Leiva -- nine appearances from 11 -- have also impressed this season, particularly the central defenders.

Less impressive have been the performances of those on the periphery. Sterling, who has started just one league game this season, has frustrated with his tendency to play without the desired intensity or intelligence; on-loan Victor Moses has struggled to find his best position in the side, while Iago Aspas -- before his torn thigh muscle -- showed little in his six showings to excite.

This is a worry for Liverpool. Of the 21 outfield players used this season, 10 of them are defenders, with Wisdom now on loan at Derby County. Although Liverpool have showed their capability of playing three central defenders and two wing-backs, the lack of depth in the attacking positions -- and furthermore the lack of form from those options -- could be troublesome.

Rodgers will rotate. Indeed, with eight games between Dec. 1 and Jan. 1, Rodgers must rotate. But to do so successfully and maintain their challenge for Champions League qualification, he will rely upon players whose Liverpool careers have either stalled or not started well.

It is too early to write off these players and render them useless and a hindrance to what Rodgers wants to achieve, but recent history is against them. One of football's most frequent narratives is of the player who promised so much but delivered little -- yet the story of those who promised little but delivered a lot is becoming rarer. There will always be examples of yesteryear like Ian Rush, who took 10 games to score the first of his 346 goals for the club.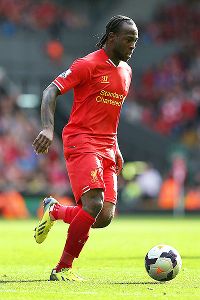 Clive Brunskill/Getty ImagesVictor Moses is one of the players expected to see more minutes in the near future.
But that devilish concept of modern football has altered that. Wicks are burned down quicker, patience is a virtue no longer allowed; for better or worse, instantaneous results are needed. In the past decade, few Liverpool players have enjoyed successful careers after slow starts: Peter Crouch took 21 games to score for his new club but ultimately enjoyed three good seasons while, from the current squad, the season-by-season improvement of Johnson, Lucas and Henderson has been documented. They are exceptions, however, rather than a rule that starts Charlie Adam and ends at Bolo Zenden.

This is the pressure Rodgers will put on himself and his team, the pressure to make the peripheral attacking players worthy of allowing Suarez, Sturridge, Henderson, Gerrard and Philippe Coutinho to rest. There is pressure to remind everybody why he paid 15 million pounds for Joe Allen, a player whose early-season form from 2012 is readily forgotten. There is pressure to use the strength and pace of Moses in the correct way, to nurture Aspas in a front two and cater to his space-making ability. Pressure, also, to ensure Sterling -- a victim of overhype and unfair expectation -- continues to improve his game.

The theory is that these players can ably replace those who have impressed so much this season. Allen can play in as either the deepest midfielder or further forward, meaning he could replace either Lucas or Gerrard -- but his efforts after his shoulder injury have clouded what he did before. Sterling could be capable of replacing the invention of Coutinho or industry of Henderson, but they are the two facets of his game that need marked improvement; Moses, meanwhile, is possibly too versatile for his own good. Aspas has not been played in a front two before, and an extra body alongside him may help, but it is unlikely he could sufficiently fill a Suarez-Sturridge void.

There are few better managers in the Premier League to coach improvement, as evidenced by what Henderson became last season. There is hope midfielder Luis Alberto, fleetingly promising, can follow that. But it would be a considerable achievement to ensure Sterling, Aspas and Moses in particular are worthy of replacing Coutinho, Suarez and Sturridge.

Unfortunately for Rodgers, with six months and the majority of season-defining games remaining, he doesn't have another choice but to try.