Are Liverpool title contenders?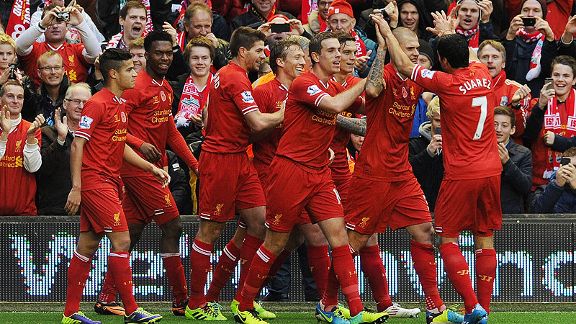 Andrew Powell/Liverpool FC/Getty ImagesA solid start has lifted Liverpool to second in the table through the first 11 matches.
With almost a third of the season gone, it's definitely a case of so far, so good for Liverpool. While the fixture list has been relatively kind to Brendan Rodgers' side early on, and there are much sterner tests to come in the weeks and months ahead, the results of Liverpool's rivals show that even the so-called "easy" fixtures still need to be safely negotiated, and you can't just automatically mark those games down as a surefire three points.

- Walsh: Credit Rodgers for solid start
- Report: Rodgers: 'Sterling has Liverpool future'

For example, Manchester United lost at home to West Brom while only an absolutely farcical penalty decision spared Chelsea the same fate last weekend. A week earlier, Jose Mourinho's side were beaten at Newcastle, a result few saw coming. Manchester City have already lost on the road at Cardiff City, Aston Villa and Sunderland (as well as suffering a more "acceptable" loss at Stamford Bridge), and Tottenham have surprisingly been beaten at White Hart Lane by both West Ham and Newcastle. Last weekend, Everton failed to beat manager-less Crystal Palace, the weakest team in the division.

They are all games that you'd have expected those "bigger" teams to be winning, yet they didn't. Had Liverpool suffered results such as those, many fans would have seen that as all the evidence they needed to write off any top-four hopes. With good reason, too; as in previous years, if you suffered too many of those kind of results, you couldn't recover from them, as the competition at the top was so fierce. This year? It looks as though things are different; the top sides are unexpectedly dropping points all over the place.

All of that would appear to cancel out the whole "easy start" argument, and it's therefore far too simplistic to put the lofty league position of Liverpool -- and Arsenal for that matter -- solely down to their comparatively "soft" fixture list. Many of the "easy" games are proving to be anything but.

The performances against the top sides by Newcastle, West Brom and Southampton, for instance, would suggest that Liverpool's start wasn't actually as easy as it initially appeared anyway. While losing at home to Southampton is never going to be seen as anything other than a poor result for Liverpool, the performances so far from Mauricio Pochettino's side are making that loss look less and less shocking by the week. Southampton are a much better side than many people thought. Just ask Manchester United, who also failed to beat them.

What we've learned so far is that all of the teams at the top end of the table -- including Liverpool -- have their flaws, and at this moment in time, there appears to be no clear favourite in terms of a potential title winner. Arsenal have been the best so far, but who would have predicted that back in August? Especially after they lost at home to Villa on the opening day.

My feeling before a ball was kicked was that Chelsea and Manchester City would be fighting it out for the title, as they appear to have the strongest squads on paper. Yet having watched both of them fail to convince, it's becoming very difficult to make a case that they are superior to anyone else at the moment. City are travelling about as well as Dennis Bergkamp on a long haul flight, and every time I watch Chelsea play, I find myself thinking, "Why aren't you better than this?"

Tottenham are having real problems scoring goals and Andre Villas-Boas does not appear to know what his best team is. Their results have not been good so far, and while I expect them to eventually turn it around given the undoubted quality they have, there is no guarantee that they will find any consistency. Even with the brilliant Gareth Bale last year, Spurs could not crack the top four, so it's far from a given that they'll be able to do it this year.

Arsenal have done well, but their loss at Old Trafford was entirely predictable and they are far from invincible. Same with Manchester United, who have now put some wins together but still don't appear particularly fluent; they look as though they could suffer another "shock" defeat at any given moment.

It's early, of course, and I'd expect the likes of Chelsea, City and Spurs to get their act together eventually, which is why it's imperative that Liverpool continue to make hay while the sun shines. There's a real opportunity to put points on the board while others are showing such inconsistencies, but you would have to assume that one or more of the other contenders will go on a long, unbeaten run at some point during the season, and that may be enough for them to break away from the pack.

I'm encouraged by what Liverpool have done so far, but I'm equally as encouraged by what we are seeing from everybody else. This is the most wide-open league in years; there are no clear favourites and it's not too much of a stretch to say that any one of six teams -- including Liverpool -- could potentially win it.

That being said, I'm not willing to buy into Liverpool as serious title contenders yet -- it's a massive leap to go from seventh place to first and I don't know the last time that happened -- so a place in the top four has to remain the goal for the time being. The more I see of everybody else, though, the more difficult it is to keep looking at things from that modest perspective.

On the one hand, I look at the undoubted flaws in Liverpool -- highlighted in the disappointing showing in their biggest game of the season to date at the Emirates a couple of weeks ago -- and think, "There's no way this team could win the league." On the other, I see everybody else dropping points and showing massive inconsistencies, and I think, "Are they actually any better than Liverpool?"

The statistics since Jan. 1, 2013 up until now would certainly suggest that Liverpool can hang with anyone. Whether you look at points, goals scored, goals conceded, goal difference, whatever, Liverpool's numbers are up there. Form guides mean very little in general, but when it's taken over a relatively long period of time, such as 10 months, it's certainly worth taking into account.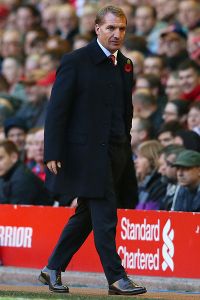 Alex Livesey/Getty ImagesBrendan Rodgers maintains that the goal is to finish in the top four, but should the Reds continue their good form, the Reds' boss could change his title contender tune.
Rodgers won't talk about Liverpool as title contenders, and most of the players won't, either. That's a prudent approach, as there's no point getting ahead of yourself and inviting added pressure; let everyone else talk about the title and just concentrate on racking up wins and trying to stay under the radar as much as possible. I'd expect those at the club to continue talking about not looking too far ahead, publicly targeting the top four and saying nothing about title challenges. Perhaps surprisingly, the majority of fans are also going down that road, too.

Over the last 10 months, Liverpool's form and results are such that they should not be feeling inferior to anyone, and yet very few Liverpool fans see their side as genuine title contenders. Or at least, if they do, they are unwilling to say so. Perhaps it's a natural defence mechanism to guard against disappointment?

It's hard to disagree with that approach. It's been so long since Liverpool won the league, and there have been so many letdowns any time the side have threatened to make a run, it's only natural that Kopites are going to err on the side of caution. This current side can look like world beaters one week and then lay an egg the next. The consistency is definitely improving, but it's not there yet. It isn't there for anybody else, either, with the current exception of Arsenal.

So are Liverpool genuine title challengers or not? In theory, there's no reason why they shouldn't be seen as such, and their results in 2013 speak for themselves. In reality, a team that has finished seventh, sixth, eighth and seventh doesn't usually suddenly jump to first without spending an awful lot of money to get there, so from that perspective, a title challenge seems unlikely.

Winning games in August and September is one thing, being able to do it in April and May in the pressure cooker atmosphere of a title race is another thing entirely, and most of this Liverpool squad do not have experience of being in that position. There is no telling how they would react to it, and that is as big a reason as any why the Reds -- along with Spurs -- would have to be classed as outsiders should they find themselves in such a situation.

Nevertheless, with almost a third of the season completed, Liverpool are only looking up at Arsenal, and they are looking down on everybody else. If the Reds are still just a couple of points off the top after two-thirds of the season, then that may be the time to reassess those goals, and it may well be time to dream. For now, it's probably right that the top four is the aim, and with that in mind, Liverpool have made the ideal start and are on course for where they need to be. If everyone else continues to trip themselves up, however, then who knows.