Focus deserves to be on Rodgers after solid start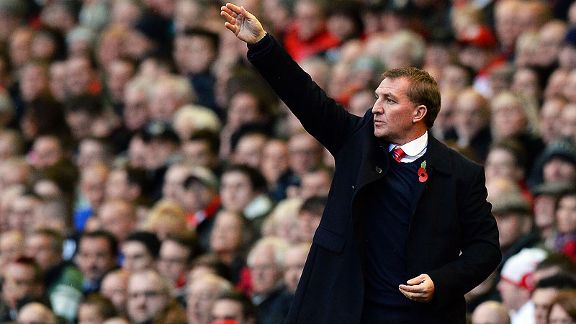 Paul Ellis/AFP/Getty ImagesBrendan Rodgers has guided Liverpool to second place in the Premier League table through the first 11 games.
Liverpool's fine start to the season, their best since 2008-09, has led to praise being flung in scattergun style.

Praise is tossed towards goalkeeper Simon Mignolet, who, true to form, dives to his left and pushes it away; praise is given to Martin Skrtel for his improvement, Steven Gerrard for his passing in midfield, Glen Johnson and Jordan Henderson for their endless running. Praise, and so much more, is lavished upon Daniel Sturridge and Luis Suarez for both their individual impact and collective devastation on defences.

Obscured from view, dodging the spotlight, is manager Brendan Rodgers. Given all that was said about his propensity for talking too much, this is quite the deviation from preconception -- but then, preconceptions have been regularly shattered during his 18 months in charge at Anfield.

- Usher: Set pieces performances outpacing
- Report: Allen to fight for his place

With 11 league games played, this is the period when questions are raised about the validity of judgment. Can 11 games sufficiently decree those worthy of a title challenge? Is 990 minutes, plus stoppage time, enough to say with surety that Crystal Palace are already relegated? Surely, after just three months of football, Aaron Ramsey cannot be fully confirmed as king of the world.

Maybe. That the top eight sides are separated by six points acknowledges that the beginning of this season is stranger than most. But this is the season of transition and change -- of opportunities aplenty -- and it is almost a third completed already. The league season might not offer concrete evidence of anything, but positions are merited nonetheless.

For more tangible validation of Liverpool's league season so far, context is king and Rodgers is the crown jewel. The season might be only 11 games through, but the good performances his side have produced reflect the progression they have made under him. Second might be a slightly false position come the season's end, but the points-per-game ratio -- 2.09 -- correlates with the past 12 months. In the 29 league games of 2013, Liverpool have the fourth-best record, having won 16 of them; they have scored more goals than any other team and have the second-best defence in that period.

Proof, therefore, that the start to the season is not that surprising. Proof, if any is needed, that Rodgers has spent the past nine months answering qualms, allaying intense fears and shattering those pesky preconceptions.

As Liverpool entered 2013, there was a real fear that the malaise had transformed into permanent incompetence, with the legacy of the previous regime -- Tom Hicks, George Gillett and supporting cast -- too powerful to reverse. The end of Liverpool as the world knows it, no more than a shirt-selling operation to foreign lands. The Summer 2011 purchases by the new regime, Fenway Sports Group (FSG), did little to help: In 2012, Liverpool lost 17 of their 39 games, albeit with two cup finals and a managerial change to skewer the figures.

Rodgers could have hidden behind the turmoil. In a position far bigger than he had previously held, he could have blamed previous managers and owners -- as previous incumbents in the role had not been shy of doing -- for Liverpool's worst league start in more than a century. He could have noted the necessity to play Raheem Sterling and Suso, two inexperienced teenagers, either side of Suarez, with Jonjo Shelvey behind them. But Rodgers, if nothing else during his first few months at Anfield, was honest; he accepted criticism and recognised the industry required to take Liverpool back into the Champions League.

Liverpool ended 2012 ninth in the Premier League on 28 points having won just seven of their first 20 games -- a win rate he has already matched in mid-November this season. The difficult opening period to his management should always be acknowledged, so, too, that such strife could return.

But Liverpool are second after 11 games this season, and 2013, so far, has been one of their best years in recent times. Rodgers deserves credit for that. He has been aided by some wonderful signings by the clandestine transfer committee and -- despite what appears daily rancour towards Boston -- FSG have started to build a club structure which, by no means perfect, is better than anything previously. But after a difficult start, Rodgers has established himself as one of the league's most exciting, interesting coaches.

Assessment of Rodgers and his Liverpool side is not to cast judgment unfairly or hastily, but the reality is that he is nearly halfway through his three-year contract at the club, and a decision on his future -- to renew or not to renew -- must be imminent.

Liverpool's form is not solely down to Rodgers, but he has utilised the talent at his disposal wisely. Suarez is now more focused, a great goal threat and very much a controlled tempest most of the time; Sturridge, meanwhile, has been managed wonderfully -- his confidence is reflected in the ease of his play and he is a player who, for the first time, is guided by somebody with full belief in him. Philippe Coutinho, 21 years old and with a lifetime in Brazil and Italy (via a brief stay in Spain), has settled into English football wonderfully.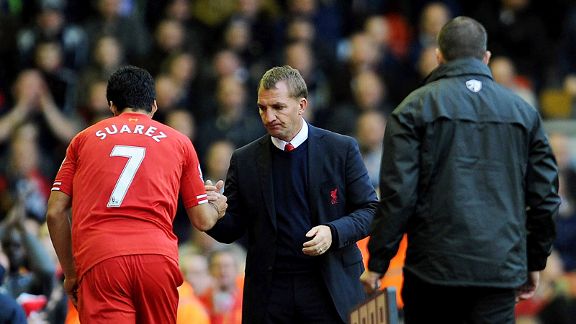 John Powell/Liverpool FC/Getty ImagesRodgers has managed to bring the best out of Luis Suarez since the Uruguayan's return from suspension.

Other players have thrived with Rodgers' management. Johnson is one of the league's best right-backs, while Henderson is improving with every game (albeit after almost being sold to Fulham by Rodgers, admittedly). Gerrard and the now-retired Jamie Carragher also welcomed Rodgers into the club and fully supported his methods.

There is no doubt he has a good squad -- better than the one he took over, although that is by default after the departures of Joe Cole and Andy Carroll. But he does have the squad playing some of the best football the club has seen in years: incisive passing, magical movement and individuals that can illuminate the old stadium with the flick of a boot. He does so with interesting tactical choices, not merely constrained to the 4-3-3 that he was expected to play. Preconceptions be damned.

This is a man who has introduced 3-4-1-2 from nowhere and then, against Fulham, brought back the wonderfully retro 4-4-2. Both ensured Suarez and Sturridge played together; both ensured Liverpool, under Rodgers' design, added to their burgeoning reputation as one of the most attractive, intelligent sides in the league.

Rodgers still has much to prove. A trophy or Champions League football would be a start. And though his man management of Henderson, Sturridge and Jose Enrique has been fantastic, he does struggle to hide disdain of players after bad performances. Skrtel and Sebastian Coates were not seen after the FA Cup exit to Oldham -- though Skrtel now returns, redeemed once more. Shelvey was his great hope before being tossed to Swansea as his great dope, while Suso merited a start at the Britannia Stadium against brutish man-giants Stoke City and was hardly seen again since.

Some of his signings -- again, with understanding that some were made in consultation with the transfer committee -- have been odd. Oussama Assaidi is still regarded as an Anfield mirage by many, the unlucky Fabio Borini now warms Sunderland's bench and Joe Allen remains waiting for his opportunity. This summer, Iago Aspas' seven million pound move leaves many brows furrowed. His flexibility and ability to tinker with in-game tactics can also lead to overthinking at times, and it also raises questions as to whom the real Rodgers is and what his ideal Liverpool side will play like.

But despite apparent issues with the side, Rodgers has been at the club for just 18 months. And while focus, rightly, falls upon the razzmatazz of Suarez, Sturridge and Coutinho, Rodgers has done remarkably well to take Liverpool to this point so soon. He made mistakes early in his reign, as did the club, but he has recovered from them. It is telling that he has not lost two consecutive league matches since taking charge.

That is not to say there are no problems at the club. Two fundamental positions -- defence and midfield -- still need tweaking, their balance and best combinations not quite realised yet. But still Liverpool sit in second with 11 games played. That there could be more improvement from Liverpool is exciting; with that improvement expected of Manchester City, Manchester United and Chelsea, it will be vital.

But Liverpool are where they are right now on merit after 18 months of good work from Rodgers. Now, he must maintain it. The hardest part has not yet begun.