Liverpool's set-piece performance outpacing perception
Mention corner kicks to any Liverpool fans and the chances are that their first reactions will be a grimace, followed by a rant about how inept the Reds are -- at both ends of the field -- in this aspect of the game. Kopites generally feel that almost every other goal conceded by their team comes from a set play -- and for as long as I can remember, Liverpool fans have bemoaned their own set pieces as being a complete waste of time. Indeed, one of the club's first fanzines was called "Another Wasted Corner." That was as far back as the 1980s, and very little has changed in terms of fan perception.

Were Liverpool really so bad at corners, though? Probably not; it just felt like it. When you see so many corner kicks failing to clear the first man or being comfortably plucked out of the air by the opposition goalkeeper it can certainly give the impression that your team never even bothers practising them.

Equally, when a high percentage of goals conceded seem to come from corner kicks, it's easy to draw the conclusion that your team must be terrible at defending them. Perhaps other clubs suffer from the same failings, but fans naturally tend to focus almost exclusively on what their team is doing.

-Gerrard shrugs off Fergie comments
-Henderson eyes World Cup spot
-Wisdom puts Porsche in ditch

For example, without the benefit of statistics, who other than Norwich City supporters would know whether they were any good defending corners or not? (For the record, based on the last year or so, they are actually incredibly good at it!)

I'm sure that this bemoaning of the attacking and defending of set pieces is not exclusive to Liverpool supporters, but it's hard to imagine any other set of fans -- other than Arsenal, perhaps? -- who have less faith in their ability to capitalise from a corner kick. It was different when Sami Hyypia was in the side; the Big Finn always provided some hope that he could get his bleached blonde bonce on the end of something. He was usually good for a handful of goals a year, but when he departed many Liverpool supporters' faith in their team's ability to score from corner kicks left with him.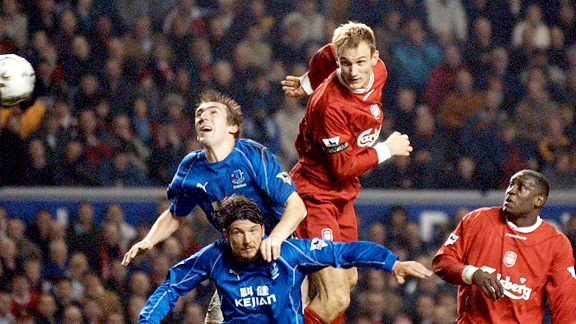 Paul Barker/AFP/Getty ImagesSami Hyypia's ability on set pieces is a wistful Liverpool memory.
Aside from the occasional flash by Martin Skrtel, Liverpool have rarely threatened from corners or free-kicks from a wide area since Hyypia left in 2009. In fact, there have been times when an argument could have been made for simply keeping all the defenders and avoiding the risk of a speedy counter attack, as often there appeared to be more chance of the Reds conceding from one of their own corners than scoring.

Jamie Carragher scored a header from a corner on his Premier League debut in 1997 and then remarkably played 507 more league games without repeating the feat even once. Daniel Agger isn't known for his aerial prowess in the opposition box, while the forwards fared little better. The Andy Carroll experiment didn't yield the expected results in this area and even the giant Peter Crouch wasn't particularly effective when attacking corner kicks in a Liverpool shirt. And the less said about Fernando Morientes the better.

Most fans put these failings down to the corner takers rather than the players in the penalty area hoping to get on the end of them. Liverpool have had numerous players capable of putting 60-yard cross-field passes on a sixpence such as Xabi Alonso, Fabio Aurelio and of course, Steven Gerrard. Yet when it came to taking corners that accuracy didn't appear to translate for some reason.

Most Liverpool fans I know would not have Gerrard anywhere near corner kicks and for several years, it's been a regular bugbear. They want him either on the edge of the box waiting for a shooting opportunity or attacking the ball with his head (an under-utilised part of the skipper's game). Many Liverpool fans are actually of the opinion that Gerrard's corners are rubbish!

It was therefore interesting to hear Brendan Rodgers waxing lyrical last weekend about his captain's dead-ball ability. "His delivery is as good as it gets," he said. "There is no one that delivers a ball like Steven Gerrard. After I came in and assessed the team, I said to the players that I felt they were not utilising the quality of his delivery during games. Every week he delivers the ball precisely, I tell him where to put the ball and he puts it there. I've asked the other players to be more aggressive in attacking the ball."

Could that be it? Is it not the taker that has been the problem, but the lack of anyone to really go and attack the ball? I'm not buying it completely -- I'd say it's probably both. But surely with a little more work on the training ground this is something that can be improved upon? It does appear to be getting better this season, and, by my reckoning, in the Premier League Liverpool have scored five goals so far either from free-kicks or corners. That's almost one every two games, which is a more than acceptable return if it continues.

Only three have been conceded (four if you include the Capital One Cup loss to Manchester United). Liverpool are not doing too badly in either category, although obviously the sample size is still relatively small with just 11 league games played.

Simply looking at who has conceded the most and the fewest goals from set pieces doesn't give a true reflection of a team's ability in that facet of the game, anyway. For example, it's fair to assume the team at the bottom of the table will be giving away a lot more corners than a team at the top. So even though they may concede more goals from corners, it doesn't mean they are necessarily worse at defending them. Similarly, the best sides will win more corners than a struggling team and should in theory score more goals from them as a result.

It's fair to say that I'm not a huge stats fan. Don't get me wrong, I'm not stuck in the dark ages, and I'll gladly concede that there is a place in the game for statistical analysis. It's just that as a fan I don't want to get too wrapped up in all of that as I believe it can detract from the actual enjoyment of the game.

When I'm on my way home from the game with my dad, the conversation goes along the lines of "I thought Lucas was class today, Dad, what do you reckon?" and him replying with "Yeah, he got stuck in didn't he? His passing was good, too."

It's not going to be "Did you know that Lucas had a 93 percent pass completion rate today, Dad? 72.3 of those passes went forward too, which is actually the third-highest for any player operating as the 'midfield pivot' all season." "Yeah, son, and did you know he won six of the seven tackles he attempted? He only won 38.4 percent of his aerial duels though, which was somewhat disappointing as it's 49 percent below his career average."

I'm not belittling the importance of statistics -- I just feel that some statistical categories are clearly far more relevant than others and in general I'd prefer to leave that sort of thing to those who put greater stock in all things numerical than I do. I do take a passing interest, but tend to pick and choose which statistics I pay attention to. I came to this conclusion several years back when I discovered that Phil Babb had the highest pass completion in the Liverpool squad despite unquestionably being the worst passer at the club. Knocking the ball 5 yards square to Neil Ruddock 20 times a game may give you a high pass completion rate, but it doesn't mean you can pass!

For some aspects of the game, however, you cannot get a true picture of what is happening without the relevant statistics and also a comparison with how your team rates in relation to the rest of the league. Set-pieces are a prime example of this. I've been trawling the Internet this season looking for statistical evidence for corners and free-kicks, both defending and attacking. It's been obvious from watching Liverpool in recent years that they aren't very good in this department, but I wanted to see how they compared to everybody else. Perhaps surprisingly, in most aspects of set play conversion/prevention, Liverpool are around the league average.

I've seen various league tables using different criteria relating to set pieces, and none suggest Liverpool are anything other than middle of the road. Everything I've seen has the Reds hovering around between upper and lower midtable -- kind of like the West Bromwich Albion of set pieces, if you like. That said, while the statistics may paint a different -- and more accurate -- picture, it certainly feels as though in recent years most of the goals Liverpool concede tend to be from set plays, and that very few of those they score come from that route.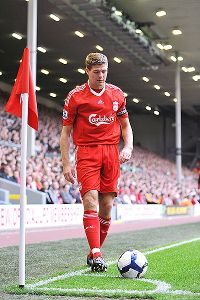 John Powell/Liverpool FC via Getty ImagesSome Liverpool fans don't like to see Steven Gerrard take corners or free kicks, but he has manager Brendan Rodgers' backing.
With that in mind, one of the most pleasing aspects of the 4-0 win over Fulham last weekend has to be that two of the four goals were "bread and butter" set-piece goals: one from a corner and one from a free kick, both expertly delivered by Gerrard.

Two weeks earlier, Liverpool also scored four goals at Anfield. Three were absolute crackers but the other once again came from a perfectly delivered Gerrard free-kick (converted by Luis Suarez). This is a hugely encouraging -- and some would say unexpected -- development if it continues, as if you can regularly get these "cheap" goals it can make a vital difference to your league position.

Chelsea and both Manchester clubs regularly seem to be able to get those kind of goals when they need them, and the statistics back that view up as all three generally rank highly in terms of set-piece conversion. We've seen it so many times -- a corner is floated into the box, the ball gets sucked in by the gravitational pull of John Terry's forehead and all of a sudden Chelsea are in the lead.

As for Manchester United, they scored a ridiculous amount of goals from corners last season and they always seem to manage a set-piece goal when they play Liverpool. It's a huge advantage to have, as often the games between the top sides are so tight that it takes a set piece to decide the outcome. If you excel in this area, you will always have a chance in close games. The opposite end of that spectrum is Arsenal, who generally have to rely on scoring "proper" goals to win and rarely seem to pose much of a threat from corner kicks, for example.

From the evidence so far, there appears to be very little between most of the teams at the top this season, so any slight advantage could prove to be hugely significant. Liverpool probably get more of those 'cheap' goals than Arsenal, but if they could match what Chelsea and Manchester United have been doing over recent years that could prove to be the difference between the Europa and Champions League places.