Rodgers finding the formula of Liverpool's comeback success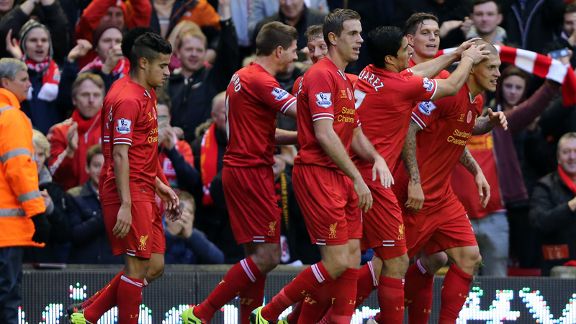 GettyImagesLiverpool celebrate en masse following Martin Skrtel's goal against Fulham.
In his news conference before Liverpool's meeting with Fulham, Brendan Rodgers brought out the abacus. Despite a 2-0 defeat to Arsenal the previous week, he remained unperturbed, comforted by simple mathematics. "If you look at where we're at, if you're averaging two points a game, you would like to think you would get into the Champions League," said the Northern Irishman. "Come Saturday, if we can get another three points -- which we'll be fighting hard for -- that would put us above that."

For the first time this season, Rodgers explicitly confirmed what everybody already knew: Champions League qualification is imperative to Liverpool. It the ultimate aim of this season. All fleeting discussions about a surprise title challenge, of waking up one morning in May and suddenly discovering they're champions, is a quaint distraction to reality.

Liverpool got their three points on Saturday against Fulham which they did fight hard for, even if they didn't really have to against the ramshackle Cottagers. It does not require a calculator to understand where it places them with 11 games played: second in the league on 23 points, right on track for what is required of them.

Since 2009 -- the year Liverpool finished second, and also the year they last qualified for Europe's top competition -- no side has required more than 73 points. That was Arsenal's tally last season, a season when the top seven broke away from the rest of the league; seventh-placed Liverpool finished with 61 points, while eighth-placed West Bromwich Albion ended with 49.

The gap in quality was apparent, not to mention numerically tangible. Results against the "bottom 13" could be regarded as 78 points already pocketed -- a figure that eroded with every draw or defeat.

Of those 78 points Liverpool were expected to win, they dropped 27. Arsenal dropped just 16 points against teams eighth and below, while Tottenham lost 21. Manchester United, remarkably, dropped only nine points and won home and away against every side from Fulham (in 12th) downwards. Only Everton had a worse record against the bottom 13, but their magnificent home record steered them into sixth.

Not that Liverpool are targeting sixth this season. In the rhetoric of Liverpool learning how to beat the so-called smaller teams (smaller teams, of course, including European Cup winners Aston Villa, as well as such well-supported teams as Newcastle United and Sunderland), simple mathematics demonstrates there was still improvement needed this season. Though Liverpool did hammer, batter and embarrass sides last year by threes, fours and fives, it was not done consistently enough.

In this new-found numeric mindset of Rodgers, he will appreciate their record so far this season. Just seven points dropped from a possible 27 against sides who finished eighth or below -- for a manager suddenly keen on extrapolation, that would only be 18 points dropped throughout the entire season.

But football is not played on paper, certainly not graph paper, and you cannot map out the future with a compass and ruler. Besides, this is a different league this season, as evidenced by Southampton -- one of the sides Liverpool have dropped points to -- sitting in third. The gap has been shortened, stuffed with wads of cash by the new television deal.

Southampton spent over 30 million pounds on three players with Champions League experience, while Swansea yet again did their summer shopping in La Liga, with Vitesse striker Wilfried Bony also thrown in. West Bromwich Albion reinforced heavily on deadline day; Norwich brought in some interesting signings from abroad; even newly promoted Cardiff City, with the towering trousers of Vincent Tan, made big summer moves.

This makes results against these sides harder, but concurrently makes the manner in which Liverpool have yet again started to dispatch of them even more impressive. After the grinds -- refreshingly resolute but also so necessary -- against Stoke, Aston Villa and Sunderland, free-flowing football has returned.

There will be cries of West Brom and Fulham having been easy games, but the fact that West Brom won at Old Trafford and should have won at Stamford Bridge contextualises their Anfield humbling.

There is less defence for Fulham -- something that will be said about their defence all season, you fancy. They were as poor as Liverpool were magnificent on Saturday, granted. But still, Martin Jol's side were defeated from the moment the ball found the boots of Luis Suarez, Philippe Coutinho and Steven Gerrard as realisation quickly hit that the home side were of the mentality to toy with them. There was a clear fear in Fulham, an acknowledgement that a 2-0 defeat would be kind enough. Liverpool were not in a benevolent mindset.

There was much to like about the Fulham performance, but here is one for the arithmetic-loving Rodgers: his Liverpool side have now followed their last seven league defeats with a victory, continuing the record of not losing consecutive league matches under his reign. The mentality and desire -- to use two words Rodgers is fond of -- is apparent. From kickoff, it was evident this was regarded as an opportunity for Liverpool to do everything right against Fulham that went wrong against Arsenal.

The decision to move to a back four was part of that. Though 3-4-1-2 will almost certainly be utilised again -- as it should -- it was thought three centre-backs dealing with the half-hearted Dimitar Berbatov were not required. How right that was as the Bulgarian walked, disinterested, for the entire game. It was also thought the Fulham midfield, comprised of Scott Parker and Steve Sidwell, did not require much attention. This allowed Gerrard to concentrate on attack; where he was poor against Arsenal, he was excellent against Fulham, clearly content on the front foot once more.

But though the perpetual dancing through a statuesque Fulham XI would have brought happiness to Rodgers, the desire, effort and eagerness to press will offer more joy than anything. For the fourth goal, both Jordan Henderson and Gerrard harassed Kieran Richardson until the left-back practically curled into a ball, rocked back and forth and whispered "no more" -- he was tired of pressing, of every step being snapped at by this hungry side. The only regret of Suarez's second was that it could have been his hat trick.

Regret, too, that this did not end as five or six. This is important. "It was only Fulham" will be a much-used prefix in the aftermath of this game, but the mentality of Liverpool was impressive; their keenness to right the wrongs of last week obvious. This is a different league this season, and maybe Fulham's demise is part of that, but Liverpool are now a side capable of recovering from a defeat and doing so with confidence, attacking flamboyance and Suarez.

If it continues, then Champions League football is most definitely possible. That is a formula Rodgers can get behind.