Liverpool fire on all cylinders against Cottagers
Liverpool bounced back from last week's disappointment at the Emirates by comprehensively beating hapless Fulham 4-0 on Saturday afternoon at Anfield. To coin an old football expression, Martin Jol's men were lucky to get nil, this really was so one-sided. The Reds totalled 32 shots to Fulham's four. Premier League games don't get much easier than this one, but you have to put the work in to make it that easy, and Liverpool certainly did that.

- Report: Liverpool 4-0 Fulham

The passing, movement and inventiveness in the home side's play caught the eye, but just as important were the relentless pressing and intense work rate that never tailed off at any point during the game. Even in the closing stages, the tigerish Joe Allen, Jordan Henderson and Lucas Leiva were still closing down, snapping at opponents' heels and not giving Fulham players any time in possession. It was great to see, but begs the question: Why don't Liverpool always press the opposition high up the pitch like this?

Around this time last season, Brendan Rodgers first spoke of his "death by football" vision. He wanted visiting sides to view a game at Anfield as "the longest 90 minutes of their lives." This was as close to that as we've seen in some time: Fulham were longing for the final whistle from the moment they conceded the first goal. There are some talented players in the Londoners' squad, but they do not appear to be playing for the manager -- and the likeable Jol looks to be in real danger of losing his job, as Fulham's wretched form cannot be allowed to continue for much longer.

Things are ticking over nicely for Rodgers, however, and his side have now moved back up to second place after Chelsea were surprisingly held to a draw by a team who were hammered by Liverpool a fortnight ago. As I wrote last week, the Arsenal result was disappointing, but it will not be games away to the top sides that define Liverpool's season; it's the ones against the likes of Fulham that will determine where the Reds finish. For Liverpool to break into the top four, they have to beat the sides they are supposed to be beating, and you'd have to say that for the most part they have been doing that in 2013.

Did we learn anything new from this? I'd suggest probably not too much, as Fulham's horrific showing makes it difficult to make any judgments on Liverpool's change in formation or on individual displays. Yes, Liverpool were terrific and everybody appeared to be close to top form, but the visitors were so dire that Rodgers could have sent out his 11 players in pretty much any formation and still probably have hammered the hapless Londoners.

The 4-4-2 looked good and the football was sensational at times, but that's as much down to the quality of players as anything else. After all, West Brom were similarly outplayed two weeks ago, and they're a much sterner opponent than Fulham. Liverpool played three at the back that day, and I doubt we've seen the last of that system. Clearly, though, three central defenders against the mercurial but isolated Dimitar Berbatov was seen by Rodgers as overkill, and instead he opted for an extra man in midfield.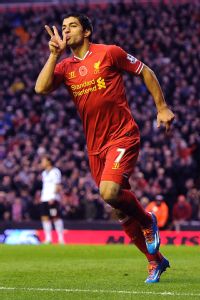 John Powell/Liverpool FC/Getty ImagesSince returning from suspension, Luis Suarez has scored eight goals in six Premier League games.
He solved the "Coutinho conundrum" by utilising the Brazilian from the left flank with licence to move inside. This was a return to the setup that Liverpool had kicked off the season with, when they recorded successive wins over Stoke City, Aston Villa and Manchester United. The main difference from then to now was that the position occupied by the struggling Iago Aspas is now being filled by the best player in the Premier League. With eight goals from six games, Luis Suarez is now the league's joint top scorer, despite giving the rest a five-game start. Fulham couldn't cope with him, but when he's anywhere near top form very few can.

Henderson was terrific on the right flank and Steven Gerrard bossed things from the centre. Much has been written about Liverpool's midfield this season and there are some valid concerns about the position moving forward, but against the vast majority of teams in the league, the Reds should be fine with what they have, and -- despite struggling last week at the Emirates -- the trio of Gerrard, Lucas and Henderson has been outstanding in the past two home games.

Gerrard created three of Liverpool's four goals against the Cottagers; two of them from outstanding set-piece deliveries. One of the biggest disappointments of Liverpool's play is often the lack of threat posed from set pieces, so to score twice from dead balls will be very pleasing for Rodgers, particularly as the set pieces at the Emirates last weekend were shocking.

I was happy to see Martin Skrtel not only retain his place in the side but also get himself among the goals. He should be doing that more often and one hopes he can chip in with a couple more before the season is out. With Daniel Agger coming back into the side and Rodgers reverting to just two central defenders, it says a lot about the form of Skrtel that he retained his place over both Kolo Toure and Mamadou Sakho. Competition for places in the middle of the Reds defence is as intense as it has been in some time.

The only negative on the day -- if you can call it that -- was that Daniel Sturridge didn't get on the scoresheet. It's not a big deal, of course; he's been scoring for fun all season. But when there are goals to be had, ideally you want your strikers to fill their boots to keep their confidence up. Sturridge had some opportunities, but for once it didn't happen for him. He was poor last week at Arsenal, but there was not too much wrong with his display in this game. On another day he'd have added another couple of goals to his impressive season's tally, but that's fine; he can hold a couple back for the Merseyside derby in two weeks at Goodison.