Rodgers' dilemma about a dilemma ahead of Fulham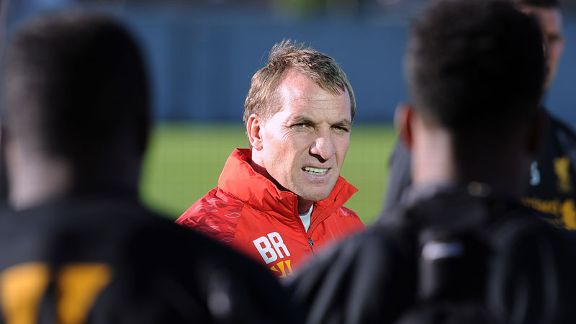 GettyImagesBrendan Rodgers may feel the urge to shake things up.
Brendan Rodgers has a dilemma over whether he has a dilemma. That statement may take a few moments to tally with; read it frontways, backways, sideways, any which way that pleases. Take every word -- study it, acknowledge it, and ultimately decide for yourselves.

That's sort of what Rodgers, and Liverpool, should do in the aftermath of last week's defeat to Arsenal. Tally with the defeat, which was so nonsensical in a number of ways; read it every way possible; study, acknowledge, and ultimately decide whether a dilemma exists or not.

It was a poor result against the league leaders, founded on a pretty poor performance. But this is the same side who, this week, travelled to saintly Borussia Dortmund and won 1-0. This is the same club who, this century, have caused Liverpool trouble more than most others.

It would be folly to suggest the Arsenal result was bad for Liverpool. It cannot be merely confined to the box marked 'These things happen in football' although these things -- going away to the league's form side with eight wins in 10 and losing -- do, indeed, happen in football.

The 2-0 defeat was firmly their fault. The midfield balance, purgatory's favourite talking point, was awry once more with Steven Gerrard and Lucas Leiva struggling. Rodgers' decision to change formation and start afresh after a tight 45 minutes was too much, too soon and the improvement would have been far better served coming from the hour mark onwards.

But then, it is Arsenal. There must be a conscious effort for all of English football not to end up splattered on the windscreen of this juggernaut bandwagon that clatters along of Arsenal being back; of Arsenal being the champions elect and causing all with fancy giant iPads, grey suits and squeaky voices of punditry to bow at their feet by the season's end. Still, they are a good side with some excellent players, a consistent top four side -- Liverpool found themselves up against a team that has discovered a phenomenal attacking verve at the beginning of this season.

With all that considered comes the dilemma: Is there even a dilemma for Rodgers and Liverpool?

Does the result against Arsenal necessitate a radical rethink? The actions at half-time -- switching from 3-4-1-2 to a four-man defence and goodness-knows-what midfield -- would suggest so. Do questions good or bad have to be asked of Aly Cissokho, Daniel Agger, Joe Allen, Philippe Coutinho, Lucas and even Gerrard? Rodgers has been reticent to change a winning team, but a losing one is another matter, especially with a bench stronger than it has been in years.

Maybe, instead, Rodgers will choose to shrug his shoulders at the Arsenal result. These things happen; 'Keep calm and carry on', as the infuriating Internet meme goes. What worked against West Bromwich Albion at home will also work against Fulham, a side of lower positioning and a far softer defensive underbelly.

That this potential dilemma comes against Fulham is a double-edged sword. Changes in selection -- or, in modern football's lexicon, experimentation -- would be welcomed against the struggling West London side, though respect must still be shown Martin Jol's abundance of attacking options. Adel Taraabt, Bryan Ruiz, Pajtim Kasami, Darren Bent and Dimitar Berbatov may not be the most industrious quintet, but any three of them, in any combination, are worthy of troubling a defence without a clean sheet since September 1.

But, that said, Liverpool should be good enough to beat Fulham at Anfield, even allowing for Rodgers to express displeasure last week through his team selection.

If Liverpool are to remain in the 3-4-1-2 formation, then Allen could replace Lucas as the pivot in midfield, losing some of the defensive solidity the Brazilian brings but improving mobility and ability to play on the front foot. Coutinho, shoulder now superglued back to body, or maybe even Luis Alberto, could combine with Luis Suarez and Daniel Sturridge; Glen Johnson, if recovered, could move to left wing-back with Kolo Toure or Martin Skrtel shifting to right wing-back. Or, most daringly of all, maybe the 3-4-1-2 could be changed with the 4-3-3 of the first five league games returning.

No doubt such thoughts have enveloped Rodgers since last Saturday. If they haven't, then they should have.

But problems would arise if this new-look Liverpool side dismissed of Fulham handsomely. With Everton -- rivals both geographically and, as things stand, for European qualification -- away as the next league fixture, there would be pressure to continue with the changed side. At Goodison Park, there would be worries of Allen's defensive capabilities and Toure or Skrtel playing right-back; concurrently, there would be revolt at the idea of changing a successful side and forcing yet another rejig of an unsettled system.

This is where the dilemma truly grinds. Fulham is just the 11th game of a 38-game season; widespread changes cannot occur after every defeat, no matter how chastening. It did, in part, work last season after the FA Cup exit to Oldham when Rodgers essentially trusted no more than 14 players for the rest of the season. But that was in February with the season over, this is in November with much still to play for, and this was a defeat to table-topping Arsenal and nothing more.

There is a wider issue to this: Rodgers and Liverpool must, at some point, find consistency in their tactics and set-up. There is a fine line between flexibility and erraticism.

That Liverpool could make so many changes -- both in personnel and style -- for Fulham is undeniably a good thing; that it could easily change yet again the following game, depending on result and coaching whims, is not so good. There are still questions about 3-4-1-2 and 4-3-3 and 4-2-3-1 and 0-10-Sturridge/Suarez. Rodgers must decide whether to concentrate on making all of them effective, or making one better, and harder to beat, than all others.

It's a dilemma for sure, both against Fulham and beyond. Jol's side could beat Liverpool of course, in which case the dilemma changes, and the playbook begins at the first page once more.