Left back in the changing rooms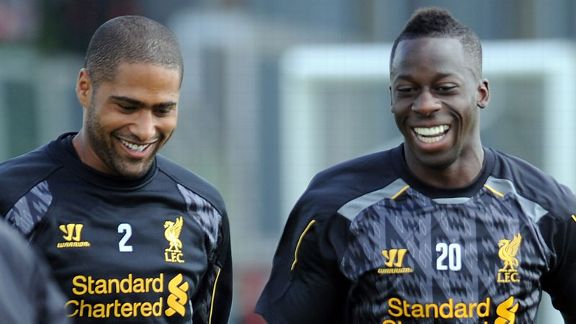 GettyImagesLiverpool loanee Aly Cissokho has not proved he can be the way forward.
Aly Cissokho's horror show at the Emirates on Saturday got me thinking: Liverpool are absolutely terrible when it comes to signing left-backs, and have been for a long time.

Cissokho is merely following a long line of mostly mediocrity, interspersed with the odd sprinkling of above averageness. If you were selecting an all-time Liverpool XI, left-back would be the most difficult spot to fill. The chances are you may even opt to play a right footed player there, such as Steve Nicol or Gerry Byrne perhaps. Alan Kennedy is the only natural left-back even in the conversation. He scored winning goals in two European Cup finals which have assured him of legendary status amongst the Liverpool fan-base, yet he was never viewed as being a great player.

While it's rare to find a team where the left-back is the undoubted star (Julian Dicks at West Ham, Stuart Pearce at Nottingham Forest and Leighton Baines at Everton are rare exceptions), it's equally rare to find one where the left side of the defence is consistently the weakest position in the team (or at least close to it) over a period of decades. Yet that's been the case at Liverpool for most of my lifetime. Even most of the Reds' great sides had average left-backs or great players playing out of position.

Joey Jones was Liverpool's left-back when they won their first European Cup in 1977. Jones was a capable player and something of a cult hero. The Kop loved him due to his incredible commitment and enthusiasm, but if you look at the 11 players who took to the field that night, Jones is the least well known outside of Anfield and clearly 'number 11' on the list in terms of talent. He joined Liverpool from Wrexham, spent three years at Anfield and then went back to Wrexham.

A year later, Liverpool retained the European Cup with a 1-0 victory over Club Brugge at Wembley. Emlyn Hughes filled in at left-back that night having played in the centre a year earlier. Hughes was a more than capable left-back and regularly represented England there too, but it wasn't his best position by any means and he was playing there because there was no better, specialist, left-back at the club.

Kennedy arrived in time for the start of the next season and nailed the position down for a number of years. He was solid and dependable and had an uncanny knack for scoring goals on big occasions. The man affectionately known as 'Barney Rubble' was a fixture in the side until 1985 when age eventually caught up with him. In true Liverpool style back then, his replacement had been signed a couple of years earlier and was now ready to step in. Jim Beglin was an accomplished performer and the position looked to be in good hands until a shocking challenge from Everton's Gary Stevens resulted in a severe leg break for Beglin in 1987 from which he never truly recovered. Beglin never played for Liverpool's first team again, and the position has been in an almost permanent state of uncertainty ever since.

The only genuine stability at the position since Kennedy's retirement has been provided by John Arne Riise, who alternated between full-back and left wing to mostly good effect for a number of years.

Compared to the rest of the team, the left-back spot has been something of a revolving door with so many players being tried out, ranging from the hopeless to the just above adequate. Even in the mid/late 80s when Liverpool were dominating English football, the left-back spot was the weakest area of the side except when Nicol was playing there. The Scot was fantastic, even winning the Football Writers' Player of the Year award in 1989, but he was so versatile he was often used in other positions and players such as David Burrows, Steve Staunton and the late Gary Ablett saw plenty of playing time on the left side of defence.

All were competent players, but -- much like Joey Jones -- in comparison with their teammates you'd have to say they were also somewhat limited. That trend continued into the 90s as Graeme Souness brought in West Ham hardman Julian Dicks, with a significant sum of money plus Burrows and Mike Marsh going in the opposite direction. Dicks was highly rated but he had discipline and weight issues and despite his undoubted ability he was simply not a 'Liverpool player' and was quickly bombed out when Roy Evans took over.

Not that Evans ever really managed to solve the problem either, players such as Steve Harkness and Stig Inge Bjornebye -- who enjoyed one excellent season and several mediocre ones -- battled it out for a place in the side, and the best left-back (or wing back, the Reds mostly played 3-5-2 at that time) of the Evans era was another right footed player, Rob Jones, who was switched to the left side after Jason McAteer won the job on the right.

When Liverpool won the treble under Gerard Houllier in 2001, Jamie Carragher was playing left-back. He'd won the job almost by default after Christian Ziege played his way out of contention with some wretched performances combined with the most work-shy attitude witnessed in a Liverpool player in many a year. Liverpool had paid over 5 million pounds for Ziege and also been dragged through an FA tribunal after being found guilty of an illegal approach for the German. He was hardly worth the effort, as Liverpool's left-back curse continued.

Other left-backs from the Houllier era included Gregory Vignal and Dominic Matteo, neither of whom ever looked like anything more than a stop gap solution, but at least Houllier did eventually sign Riise. That said, even he is at best remembered for being 'decent' rather than top class and many of his best displays came on the left of midfield.

For all the great players dressed in red that the Anfield turf has been graced with over the last 30 years, none of them have been left-backs. There have been numerous top quality full backs on the other side, but the left has always been a weak spot except when a top player from another position was shunted there.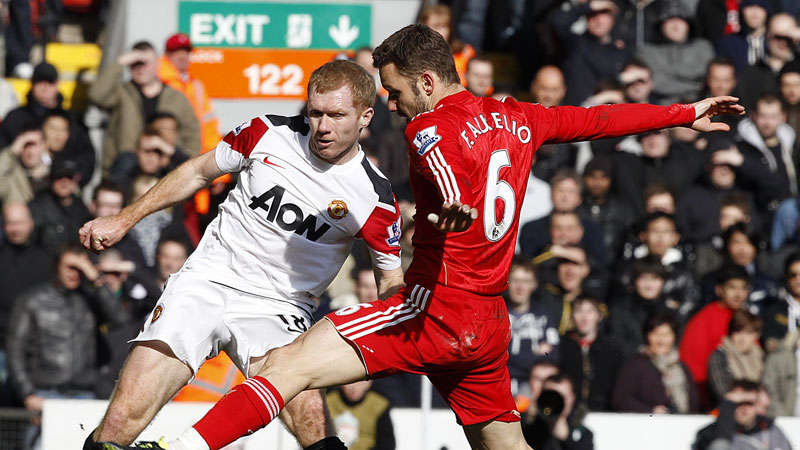 GettyImagesFabio Aurelio struggled with injuries before eventually leaving.
When Liverpool became European Champions for a fifth time in 2005, they had the much maligned Djimi Traore manning the left side of the defence. The French Joey Jones if you like. Fabio Aurelio could have been the answer if he could have stayed fit for more than a couple of games at a time. The Brazilian could certainly play and looked the part when healthy, but he was a walking sick-note and spent more time on the treatment table than on the field.

Rafa Benitez thought the answer to Liverpool's left-back problems was to splash out seven million pounds on Andrea Dossena. He was wrong, the Italian was truly hopeless in that role and only managed to avoid embarrassing himself on the occasions he was used further forward. One game at Anfield against Hull City stands out in particular, when Bernard Mendy destroyed the Italian in what remains perhaps the worst half of football I've ever seen from a Liverpool player.

The young Argentine Emiliano Insua was the next to be handed an opportunity to nail down the position, but like Dossena he was too slow on the turn and struggled against any winger with a turn of pace. A tidy footballer, he was a liability defensively and was rightly shipped out by Roy Hodgson. Unfortunately he replaced him with Paul Konchesky. Enough said.

Other players who have filled in since then include centre backs Daniel Agger and Mamadou Sakho, winger Stewart Downing and right back Glen Johnson (whose displays were probably the best since Riise). Jose Enrique is not everybody's cup of tea and he certainly has his weaknesses, although in comparison to most who have gone before him, however, you'd have to say he's pretty good.

His absence is certainly being felt at the moment that's for sure, mainly because his replacement is simply not at the same level as him.

At least Cissokho is only on loan, so there won't be a Dossena type situation where the club loses a fortune on him. He had something of a proven pedigree and was worth taking a look at to see if he could regain his best form. It's not happening at the moment and he looked scared stiff against Arsenal, but it is still early days for him in fairness. He may still get back to his best level, and who knows, he might even manage to do it at Anfield as there's a long way to go between now and May.

Liverpool's chequered history at the position isn't on his side though.