Rodgers must resist urge for wholesale change
Liverpool's defeat at the Emirates on Saturday has created far more questions than it provided answers. The most simplistic way to break the game down would be to say that Brendan Rodgers' men lost to a better side and that it highlighted the remaining gap between the Reds and where they want to be. That's the line most have taken and, while it's mostly a fair one, I don't think it paints an entirely accurate picture as a lot of Liverpool's problems in this game were of their own making and are therefore -- hopefully -- fixable.

Rodgers has a lot of thinking to do this week as there are some tough decisions that might need to be made. First, does he persist with three at the back now that he has Philippe Coutinho available again? If the answer to that is "yes," then is it time for Daniel Agger to come back in to that three? And with the midfield consistently underperforming, should Joe Allen come into the equation, as well? Is it worth sending Jose Enrique out on one leg rather than allow Aly Cissokho to embarrass himself like this again?

All questions for the manager to ponder during the next few days, but with a home game against hopelessly out-of-form Fulham up next, Rodgers may well decide he doesn't want to risk throwing the baby out with the bathwater and therefore err on the side of caution. After all, it was only a week earlier that the same set of players (with the exception of Jon Flanagan, who came in for the ailing Glen Johnson) produced their best performance of the season when hammering West Brom at Anfield.

- Delaney: Three things from the Emirates
- Brewin: Ramsey shines while Gerrard wanes
- McNicholas: Arsenal presents convincing defense
- Walsh: Doubts plague Reds in Arsenal loss
- Look: Premier League gallery

With his team still in a reasonable league position and well on course for a run at a top-four spot, Rodgers will not feel the need for mass change that many supporters are currently feeling. He could with some justification even put this one down to too many players having an off day against a side that you can't get away with having an off day against. For Liverpool to get something from a trip to the Emirates, certain things needed to fall into place. Unfortunately, they didn't.

First and foremost the front two needed to perform. When that happens -- and it usually does -- Liverpool have a chance of beating anybody. Against the Gunners, however, both players were way, way, way below par and that is always going to result in big trouble for Liverpool given that the Reds possess very little else in terms of a direct goal threat.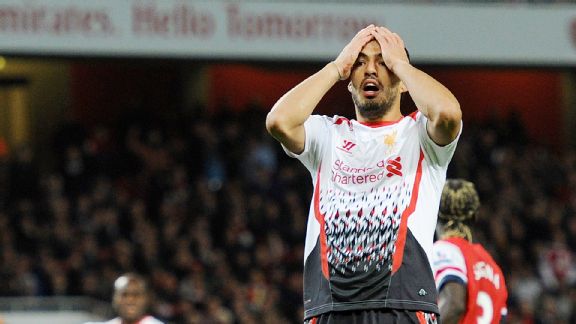 John Powell/Getty ImagesLuis Suarez was wasteful in the Arsenal defeat but Brendan Rodgers doesn't need to change everything moving forward.

They also required a big game from Jordan Henderson but that didn't happen, either, and they certainly needed a lot more from Lucas and Steven Gerrard than they got. Combine all of that with the absence of both first choice wing-backs and it's easy to see why Liverpool lost the game. Despite all that, with better finishing this could have been a different story as the chances were there for Liverpool -- Arsenal looked far from impregnable. Luis Suarez hit the post and missed a late sitter, Henderson wasted two excellent opportunities and Daniel Sturridge fluffed a headed chance. In fairness, Arsenal also missed some good openings, but the fact remains that this was a game that Liverpool could easily have gotten a point out of despite not performing anywhere near the level they can.

Nevertheless, Rodgers now has to decide on what he wants to do moving forward. The back three has had limited success and shouldn't be written off by any means, but goals are being shipped at an unacceptable rate and -- the West Brom game apart -- the midfield has not been functioning as it needs to. For long spells in this game Arsenal were able to pass the ball around under very little pressure. Whether that was a tactical issue or a personnel one is for the manager to decide, but in defence of Liverpool's midfield trio, Arsenal present a challenge unlike any other in the Premier League. They essentially had five midfielders in central areas who are all excellent in possession and who like to play keep ball. It looked like a training exercise at times, with the three Liverpool players in the circle chasing the ball like dogs in a park as Arsenal's five knocked it around them.

Liverpool were usually outnumbered in midfield, in part due to having three defenders up against Arsenal's lone front man. Valid questions have been asked about the mobility of Lucas and Gerrard as a pair, but perhaps this isn't the fairest game to be using as evidence against them? The switch at halftime to a back four was the correct decision, but I was somewhat surprised that Rodgers went with more or less a flat midfield four rather than a diamond shape. It's certainly going to be interesting to see what system Liverpool use now that Coutinho is back in the mix, as there doesn't appear to be an obvious solution.

The Agger question is a significant one now, too. Individually the back three have not performed badly but the numbers don't look good. Liverpool have failed to keep a clean sheet since Agger has been out of the side and have conceded seven goals in the five Premier League games that the Dane has missed -- compared to three in the five Premier League games he has started. If Rodgers wants to get Agger back in there, he could use those figures as his justification to whichever of the current trio is unfortunate enough to be dropped.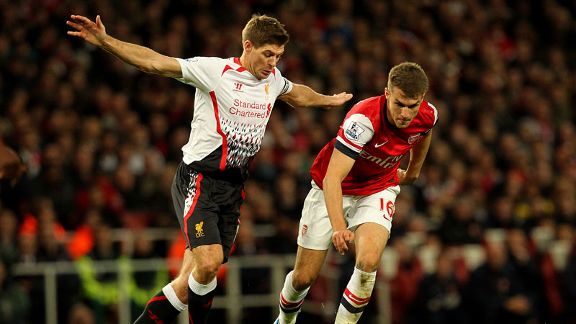 PA PhotosAaron Ramsey outshone Steven Gerrard in Arsenal's Premier League victory over Liverpool.

Every defeat hurts, of course, but if you take the emotion out of the loss and look at it from a purely realistic viewpoint, then this was not a shock result; it was almost to be expected, in fact. Liverpool were certainly capable of winning at Arsenal, but the odds were against it and if they played this fixture 10 times with the same set of players, Liverpool would be doing well if they won three. One win in 10 attempts at the Emirates tells its own story. Of far more importance to Liverpool will be the game between the sides at Anfield.

Ultimately, Liverpool's season will not be determined by what they do in games at the Emirates, Old Trafford, White Hart Lane and Stamford Bridge. Points gained in those fixtures should be seen as a bonus and the crucial thing for Rodgers' men is to ensure they win the games they are expected to win and to hopefully beat their top-four rivals at Anfield -- or at the very least to not lose to them. If they continue to do that then they will certainly be in the shake up for the top four, especially if they can also pick up the odd result in the more difficult away fixtures. They had an opportunity to do so against an Arsenal side that are far from unbeatable, but on the day they were incapable of exploiting the obvious weaknesses in Arsene Wenger's side.

It's frustrating and disappointing, but not entirely surprising and Liverpool just need to dust themselves off and go out and beat Fulham next week, as they are still on track for where they want to be.