Litmus test for Liverpool against Arsenal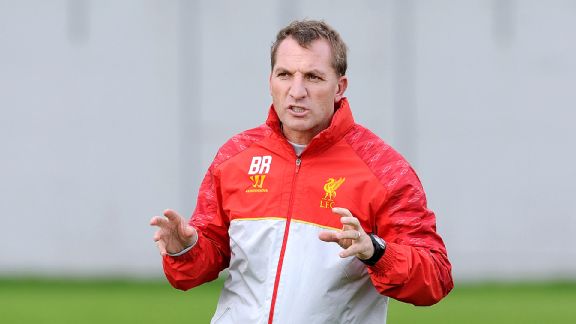 John Powell/Getty ImagesBrendan Rodgers' tactics will be put to the test in Liverpool's clash with Arsenal.
Liverpool face their most difficult test of the season so far when they make the trip to North London to face table-topping Arsenal. The Emirates Stadium hasn't been a happy hunting ground for the Reds, with just the one victory there in nine attempts in league and cup games, but Brendan Rodgers' men will go there in good heart after their most convincing display of the season in last weekend's 4-1 victory over West Bromwich Albion.

Arsenal's form has generally been excellent since their shock loss to Aston Villa on the opening day, and this game represents Liverpool's first really big test of the season. The Reds' displays have not been anywhere near as polished or consistent as Arsenal's, yet only two points separate the sides, and a Liverpool victory would see them leapfrog the Gunners.

Only Manchester City have scored more goals than Arsenal and Liverpool this season, while Arsene Wenger's men are the only side to have found the net in every league game, so there promises to be goals in this one. Arsenal will rightly go into the game as slight favourites; they have consistently finished higher than Liverpool for a number of years and they are at home, so the odds are understandably on their side. But there is no question that Liverpool are more than capable of winning this game if they perform on the day.

Rodgers will have to get his tactics correct, and the players will have to take full advantage of the opportunities they create, as they most certainly will be able to create against an Arsenal side that is far from solid at the back. They also play an open brand of football that is pleasing on the eye, but does give the opposition a chance. They are especially vulnerable to quick, incisive counterattacks as Villa showed with that opening day success.


With that in mind, it will be interesting to see how Liverpool approach this game. Based on the two meetings last season, it's clear that Arsenal are not a particularly good matchup for the Reds. They play a similar type of possession-based football, but Arsenal have been doing it longer and are more accomplished at it. At Anfield last year, Liverpool tried to beat Arsenal at their own game and were given a bit of a chasing in a 2-0 defeat. Sandwiched in between that defeat, Liverpool had passed both Manchester clubs off the park at Anfield, but Arsenal were a different proposition entirely.

The game at the Emirates later in the season saw Rodgers completely change his approach and Liverpool played mostly on the counterattack. It looked to be working, too, as goals from Luis Suarez and Jordan Henderson saw them take a 2-0 lead. The game plan had worked perfectly up to that point, and although Arsenal had created a few decent chances, Liverpool generally had kept them at arm's length. Unfortunately, a cheap goal conceded from a set piece (an all too familiar occurrence for the Reds) let Arsenal back into it, and after that it was backs-to-the-wall stuff as Arsenal suddenly clicked into gear. Theo Walcott equalised with a typical Arsenal goal and after that, the game could have gone either way.

I'd expect to see Liverpool adopt a similar approach to this game, playing largely on the counterattack and hoping that the in-form strike pair of Suarez and Daniel Sturridge will be able to take advantage of the space Arsenal leave when they attack. Henderson's strong running will also be crucial if Liverpool are to get something from the game; he had a lot of joy in this fixture last season and will be a key man once again as none of Arsenal's midfield players will want to be tracking the runs of the tireless former Sunderland man.

While Liverpool will be delighted to have Philippe Coutinho back in the fold following his injury layoff, it would be a major shock if he was thrown straight back into the side and -- injuries permitting -- Liverpool will surely name an unchanged lineup from the one that beat West Brom. How the back three deal with Arsenal's attacking threat will be one of the keys to this game. With Olivier Giroud operating as a lone frontman, will Liverpool be able to pick up the talented runners coming from behind him? It's going to be fascinating to see how that unfolds.

Arsenal always look threatening when they start to put passes together around the edge of the penalty area, and with the talent they have, they are capable of slicing a team open at any given moment. You may think you're in control and keeping them quiet, but players such as Mesut Ozil, Santi Cazorla, Aaron Ramsey and Jack Wilshere are difficult to contain for 90 minutes, while the underrated Giroud is proving to be the perfect foil for them and is enjoying a fine season. That's where Arsenal's strength is, and it's an area that has been a weakness for Liverpool, so that battle will go a long way to deciding where this game is won and lost.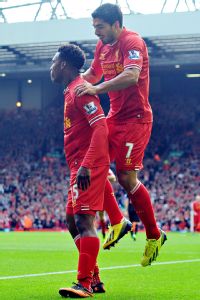 Paul Ellis/AFP/Getty ImagesDaniel Sturridge and Luis Suarez hope to do more celebrating on Saturday at the expense of the Arsenal defence.
For all their attacking quality, though, the Gunners are a completely different kettle of fish at the other end of the field. Of all the sides at the top end of the league, Arsenal clearly have the weakest looking defence and that, combined with Wenger's admirable commitment to attacking football, always gives the opposition a chance. Sturridge must be licking his lips at the possibility of lining up against the ponderous Per Mertesacker, while Laurent Koscielny's regular moments of recklessness and tendency to dive in appear to play right into the hands of the streetwise Suarez.

Another potentially decisive factor is that Mathieu Flamini is missing, which is good news for Liverpool; the Frenchman is the one midfield player Arsenal have who would be comfortable helping out his defence and keeping an eye on Suarez when he comes deep looking for the ball. He'd also be the one most likely to track the lung-busting runs of Henderson. Flamini's absence could tip the balance in Liverpool's favour, depending on how well the Reds' own midfield manages to cope with the huge threat posed by whatever trio Wenger selects to play behind Giroud.

It really is a fascinating clash, this one, and it promises to be a real test of both teams' credentials. Arsenal have made a good start, but aside from the North London derby against Spurs, they haven't really played anyone of note yet. They follow up this fixture with a trip to Old Trafford, so we'll know a lot more about whether they are the real deal once those two games are out of the way.

The same applies to Liverpool in many ways. The only big game they've had so far was the home game against Manchester United, so this is a real opportunity for them to make a statement by performing well against a top-four rival. While Arsenal will have one eye on a title challenge, the realistic target for Liverpool at this stage is merely gate-crashing the top four.

If the New Year comes and the Reds are within touching distance of the top, perhaps then they will reassess their goals, but for now, Rodgers and his squad are first and foremost targeting a Champions League spot, and Arsenal are one of the sides that stand in the way of that. That's one of the main reasons they were so adamant that Suarez would not be allowed to join the Londoners, and the hard-line stance taken by the club over that is looking like more and more of a masterstroke with each stunning goal plundered by the fiery Uruguayan. Forty million plus one pounds? Really, Arsenal?

While it would be unfair and inaccurate to suggest that either side is in a false position, the "soft" fixture list at the start of the season has undoubtedly contributed to both the Reds and Arsenal occupying spots in the top three. The big tests are still to come for both sides, and the question is whether they can maintain such lofty positions when the tougher games start to roll around.

We're about to find out, starting this weekend.