Preconception and perception reign over Agger's Anfield career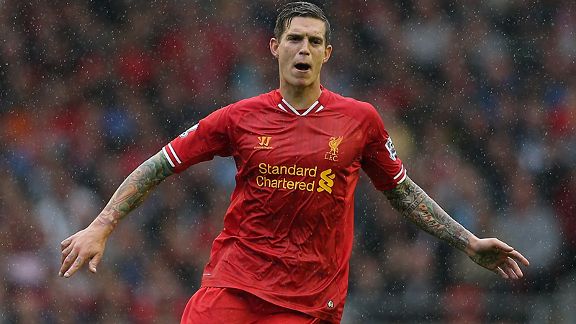 GettyImagesDaniel Agger could be on his way out of Liverpool.
When Brendan Rodgers delved into his tactical box of tricks and produced the 3-4-1-2 formation, everything made sense. Sort of.

At the very least, all the worries of how he would shoehorn his best players into the starting lineup were fisted away in true comic book style. POW! Luis Suarez and Daniel Sturridge, both capable of 30 goals a season, can now play together centrally. BAM! Philippe Coutinho can play behind them, floating, and not be marginalised on the left-hand side. THWACK! Three central defenders allows left-footed duo Daniel Agger and Mamadou Sakho to play in the same defence.

Turn back the page, because that isn't quite true. There is rationality behind the decision to play three central defenders. In theory, though no clean sheets would challenge that, it solidifies the back line, particularly when defending a lead; if one player makes a mistake, there are two players who alleviate the pressure instead of one. Most crucially to Liverpool, with Suarez and Sturridge up front, a midfielder out and an extra defender in is not a major sacrifice to make.

- Usher: Agger quells rumours

But the biggest presumption was that of Agger and Sakho. There is a strange inhabitation regarding left-footed players in defence, as though the world will end if they are paired together, that come judgment day the golden gates will be slammed shut and padlocked to anybody who dares place them alongside each other. Because of that, a dilemma arose: How to squeeze £17 million Sakho and vice-captain Agger into the same side without suffering eternal damnation?

The answer appeared to be three at the back, with Kolo Toure or Martin Skrtel as the third member. But in reality, it was by simply not playing Agger.

Since not missing a second of the first three games of the season, which yielded three wins and three clean sheets, he has played 80 minutes in the league (albeit a figure affected by injury), relegated to the bench against both Newcastle and West Bromwich Albion in the past fortnight. That is not enough to constitute a full-on, headline-friendly dropping by Rodgers, but it is enough to silence any proclamation of the Dane simply being rested, recovering from the injury to his ribs.

Somebody should tell that to Agger. He told broadcaster TV3: "First of all, if I don't play, if the manager doesn't think I'm good enough, that could make me leave Liverpool. I'm here to play football, nothing else. So if I don't play football, then I don't want to be here anymore." Strong words made softer by Agger himself on Twitter, no doubt met with thousands of Liverpool fans posting Bill Shankly quotations to persuade him to stay. "I'm not going anywhere," he tweeted. "Will be back in the team soon."

Misplaced confidence, maybe. Agger has been at Liverpool for nearly eight years now, eight years founded on preconception and perception.

There is a preconception that he is injury-prone, a fine defender made of fine porcelain, and therefore unreliable to build a defence around. In actuality, although he has struggled with injuries throughout his time at Liverpool, last season was the first time he appeared in more than 30 league games. He looked sharper and fitter than previous years.

There is also the perception that Agger is a majestic, ball-playing centre-back, one who effortlessly saunters into midfield, attack (and the history books) with a style and swagger not seen at Anfield in decades. Yet the reality is somewhat different: Agger can pass the ball and is capable of moving out of defence with it at his feet, but it is hardly game-changing. His long-range passing occasionally finds the front row of the Centenary Stand, while his movement upfield rarely offers much more than a pass sideways on the halfway line.

What this creates is a vacuum between reality and a long-held, steadfast belief of reality, both of which are back-to-front anyway. Whether one believes the former or the latter dictates whether his absence is thought to be good or bad. "He'd only be injured anyway!" comes the cry. "A-ha, but his wonderful passing and 100 goals a season is key to this side!" is the nonsensical retort. With so much conjecture, any clarity is clouded, scrawled upon in a haphazard style like the tattoos that adorn his body.

Three factors, or defenders, have conspired against him since his injury this season. Nobody knew Skrtel, tossed aside after defeat to Oldham Athletic in the FA Cup, would both stay at the club and regain his place. His inconsistency does not range game by game or month by month, but seemingly season by season.

Toure, meanwhile, has been a wonderful surprise to everyone bar those who worship at the altar of Kolo -- it says a lot of the Ivorian that Manchester City need him more than Liverpool. Sakho has started to settle, with each game offering further insight into why he was adored at Paris Saint-Germain, his strength and dominance both in air and on ground belying his youth.

The issue for Agger is that his competition, though not collectively managing a clean sheet so far, offer something better individually. Skrtel is more aggressive -- possibly a little too aggressive, too keen to wrestle with defenders for no reason, as if he were a Greco-Roman Olympian -- while Toure has the voice, experience and presence of a former Premier League winner. Sakho's left foot may not pass as well as the Dane's, but it invariably manages to block onrushing balls and incoming attackers.

That is not to say Agger is not a good defender. Granted, he sometimes loses concentration, deep in a daydream as a long ball is fired toward him; he can also be outjumped and outmuscled at set pieces, though he is not alone with that infliction. But he reads the game well and usually times his tackles to the split second. In open play, he can touch floodlights, such is his ability in the air. It is also curious that Agger has not had much opportunity to play in the 3-4-1-2 given he appears, out of the foursome, most capable of filling the gap between defence and midfield that so often widens.

There will be calls that this is a curious decision by Rodgers, possibly his most curious so far. But Rodgers has made curious decisions before -- most notably the switch to this formation -- and they have, to varying levels, worked well.

Placing Agger on the bench was not the original plan, highlighted by Rodgers handing him the vice-captaincy after Jamie Carragher's retirement. But with the arrival of Sakho, re-emergence of Skrtel and unanticipated impact of Toure, Agger now finds himself struggling to play.

Depth is important in a squad, particularly one chasing the Champions League, but the players who wait in the dugout never quite agree with that. The question of how to fit Agger and Sakho into the same side may not be asked at all beyond January.

With Agger receiving high wages as he approaches 29 and with teams with fearsome financial clout reportedly interested in him, the question could change from "How?" to "How much?" in an instant.