Agger quells rumours now Rodgers has decision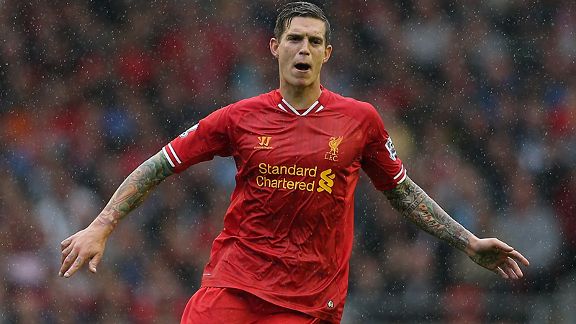 GettyImagesDaniel Agger could be on his way out of Liverpool.
It was pleasing to see Daniel Agger come out so emphatically on Tuesday to deny the inevitable speculation that had started to rage about his future. When a player of the undoubted quality of the Dane finds himself on the substitute's bench for any length of time, there is always going to be talk of him being unsettled and of other clubs being ready to make a move.

Barcelona's need for a top class centre-back and long-standing interest in the 28-year-old combined with Agger's lack of playing time meant this was a story that was always ready to explode at any moment. And when the player himself is quoted in the Danish media as saying: "If I don't play football, then I don't want to be here anymore," the stories that follow are completely understandable.

- Agger denies Liverpool exit plan

However, Agger was clearly frustrated at how his words had been interpreted and took to his Twitter account to put Liverpool fans' minds at ease:


Please stop all the tweets about me leaving! I'm not going anywhere! Will be back in the team soon:) Y.N.W.A

— Daniel Agger (@DanielAgger) October 29, 2013


Quotes can often mean very little without context and this is a good example of that. Agger actually said: "If I don't play, and if the manager doesn't think I am good enough, that could make me leave Liverpool. I'm here to play football, nothing else. So if I don't play football, then I don't want to be here anymore."

There are a lot of "ifs" in that, and in fairness to the Dane he was responding directly to a question about what would make him leave. In that context, there's nothing wrong or out of the ordinary about what he said. Show me a player who would want to stay if he wasn't playing and his manager didn't think he was good enough. Gold stars to those of you pointing to Heurelho Gomes and Winston Bogarde, but those are the exceptions that prove the rule. Most players would be off in those circumstances.

The crucial point here is that Brendan Rodgers most certainly DOES think Agger is good enough; he made him his vice-captain and has repeatedly referred to him as the "best left-sided centre-back in Europe." So why is Agger not playing then? Because he got injured and those who played in his place performed well enough to keep their place. It's as simple as that, as Rodgers explained this week.

"If you are playing well you'll play," Rodgers said. "If you're not you'll be in and out of the team. I've got an international captain [Agger] sitting on the bench but that's because I like to think I'm fair and if people are playing well they play. Martin [Skrtel] has been outstanding."

If you asked Rodgers privately what his strongest line up is on paper, I'm willing to bet that Agger would almost certainly be in it. Ask him what team he is going to pick for the next game, however, and you may well get a different answer.

Sometimes there is a big drop-off between two players vying for the one position in the side, and if the "first choice" player misses some time he can still come straight back in even if the replacement has played well. For example, Glen Johnson was always going to come straight back into the side once fit, irrespective of how well whoever was filling in for him performed. The drop-off in quality between Johnson and a Raheem Sterling, Andre Wisdom or Jordan Henderson for example is significant enough that it would be detrimental to the side to not put Johnson straight back in. It would be the same with Simon Mignolet, Luis Suarez, Daniel Sturridge etc. ...

The centre-back situation is more complex, as Liverpool have four excellent players vying for three spots (and it will be a lot more complex if they ever revert back to just two). Few would argue that Agger is not one of Liverpool's best three, but there is certainly not a massive drop-off in quality between the Dane and any of the other three, and whoever finds himself out of the side will have a job on his hands to get back in it. Right now that just so happens to be Agger, but in a couple of weeks it could be one of the others missing out.

This is how Liverpool always used to do things when they were successful. Players in the 60s, 70s and 80s would often hide injuries from the staff because they knew the consequences of missing any games. If you missed a game back then, there was the significant risk that you might never get back in. That changed over time, especially with the need for squad rotation and the increase in squad size. Back then though, in terms of Liverpool's starting XI, possession was always nine-tenths of the law. It was simple: The man who had the shirt kept the shirt until he lost form or fitness. What Rodgers is doing right now is nothing new, he's simply reverting back to the Liverpool way.

At this moment the Reds boss does not have an especially big problem in relation to Agger. He can justifiably say to his vice-captain that he needs to be patient and wait for his opportunity to get back into the side. It's only been five games and better players than Agger have found themselves out of Liverpool's side for longer periods than that. At some point, one of the starting three will surely pick up an injury or a suspension, Agger will get back in -- and assuming he plays to the level he can -- he'll stay there.

Where things could get complicated for Rodgers is if none of Skrtel, Mamadou Sakho or Kolo Toure get injured or suspended. Agger cannot be left on the bench indefinitely or the time will inevitably come when he feels he needs to move on. That time isn't now, but if January rolls around and Agger is still on the sidelines then he may well feel differently.

Rodgers could pre-empt that problem by simply deciding on his best three, selecting them irrespective of who deserves to play and then dealing with the fallout from whoever is left out. The general consensus seems to be that in those circumstances Skrtel would find himself the odd man out, and considering how close he was to leaving last summer it would not be a huge shock to see him depart in January, especially if Rodgers reverts to playing just two centre-backs at some point.

There is no right or wrong way to deal with this situation, Rodgers can persist with this "man in possession keeps the shirt" policy, or he could be pragmatic and decide that he'd rather have an unhappy Martin Skrtel than an unsettled Daniel Agger. Strong arguments can be made for either approach, but if the manager was to make a change now he'd be leaving himself open to accusations of bowing down to Agger.

I understand the viewpoint that Rodgers should just pick what he feels is the best three and not worry about whether he's being "fair." After all, managers are paid to make the big decisions and if the players don't like it, tough. It's a valid argument, but there is a risk that in doing so you can demotivate players, especially if you've repeatedly been telling them that if they play well they'll be in the team. If Skrtel or Toure were to be dropped despite playing well, what kind of message does that send to the squad?

Taking everything into account, I'm in favour of how Rodgers has handled this so far. It's not an easy situation for him and the temptation must certainly be there to find a way to get Agger back in the side (let's just hope he doesn't look for a compromise and shoehorn four centre-backs into his lineup again!). I'm a big Agger fan myself and want to see him back on the pitch, but only when an injury, suspension or loss of form from one of the others opens the door for him.