Perfect storm against West Brom sets up Arsenal clash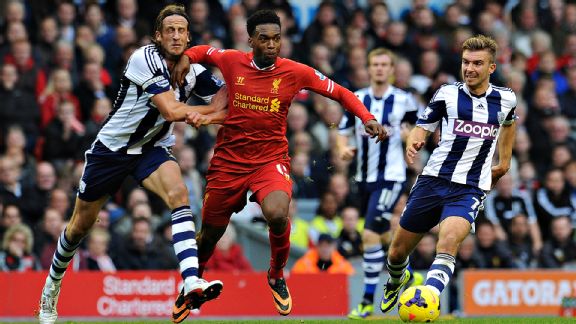 Andrew Powell/Liverpool FC/Getty ImagesWest Brom had no answer for the rampaging Daniel Sturridge and Liverpool.
The British love weather. They catastrophise about the slightest spit of rain, look intently at the colour of clouds and wear nothing but a loincloth upon the first sighting of sunshine. No surprise, therefore, that the news agenda is currently dominated by one subject: There's a storm hitting London Town.

Nail the windows shut, light some candles and steer clear of heavy trees. It may be a hurricane, or maybe a breeze hardly strong enough to knock over a small, imbalanced infant, but no matter -- London is prepared for every eventuality.

- Usher: Reds click into top gear
- Evans: West Brom outclassed

Almost. On Saturday, another tempest will hit London, one that hasn't arrived for a few years and is long overdue. The capital doesn't realise it yet, but it will. This frenzy will make its way to Euston station, then take the Victoria line underground to Highbury and Islington. Furious, erratic and fanciful. This whirlwind of people, this chattering mass of enthusiasm, will watch a game of football that means something. Liverpool, with Luis Suarez and Daniel Sturridge, are heading to Arsenal; Liverpool, with a victory at the Emirates Stadium, could go to the top of the league.

The 4-1 victory over West Bromwich Albion served a few purposes for Brendan Rodgers' side. On the most basic level, it won them three points to take them to 20 after nine games, a tally that could extrapolate to around 85 points if the consistency is maintained throughout the season. Football, of course, is never that simple. But the performance against West Brom made it feel like 90 minutes of poetry, read aloud by two individuals in particular.

But before Suarez and Sturridge shimmy and dance -- wriggly arms included -- in the spotlight, here's a nod to what the entire 11 offered on Saturday. The three points were important for Liverpool, but it was done so rampantly that it opened eyes, pricked ears and moistened mouths. Before West Brom arrived at Anfield, Liverpool had won 17 points but had not yet put together a full game of attacking verve. They had not had 90 minutes of every player standing upon a plinth and pointing, ferociously, and bellowing this is what Liverpool do.

Are Liverpool overachieving or underachieving? The win against West Brom does not answer that fully, and any answer will change innumerable times as the season continues. But the mutterings coming from Anfield say it doesn't matter anyway, because it feels as if there is now more to come from this side. This was the first game when potential was realised not just in a 45-minute burst followed by the erection of a blockade; this was not simply 45 minutes of running preceding the inevitable cheeks tinted maroon, legs feeling as thick as lava and concentration flittering away.

It happened last season, of course. Liverpool humbled sides at Anfield regularly, and throughout the entire game, no less. But that was after a start which relieved any scrap of pressure that could have been placed upon them. At Anfield on Saturday, pressure was everywhere: in between the gloves of Simon Mignolet, the ears of Kolo Toure and the laces of Suarez. All three, at varying times and to varying levels, worked.

It could have been nervous from Liverpool with one eye, foolishly, on Arsenal in a week's time. The knowledge of what could be in a week's time -- the opportunity of a season-defining game -- could have seen West Brom, unbeaten in five, take advantage with savvy West Brom manager Steve Clarke watching on.

Instead, they were frightened; they were frightened because Liverpool, at times, were frightening. Suarez and Sturridge were the main instigators, forcing the away side to abandon their tactics -- and eventually, all hope -- and simply defend their three-goal disadvantage for their lives. Of the average positions taken up by West Brom, seven of the starting 10 outfield players were stationed in their own half.

It served Liverpool three points but also served as a realisation that Suarez and Sturridge are magnificent individually but also capable of ingenuity together. There is no such thing as impossible in football (though Suarez's propensity to nutmeg from every angle runs close), yet West Brom will feel they couldn't be halted, not even by the tough limbs of Jonas Olsson. If Suarez drops deep, Sturridge can use his pace behind; if Suarez becomes the focal point, then Sturridge has time on the ball to use his underrated long-range shooting ability. Defenders are damned either way, swept up by this whirlwind partnership that appears perfect.

The effect was evident. Olsson's expression was one of an 8-year-old who had just been told about the birds and the bees; Gareth McAuley, a scorer here last season, looked overwhelmed.

That means a lot to Liverpool, even more than the three points. With Suarez and Sturridge on the team, they have a chance against any team -- and every team now knows it. It also helps that the midfield worked well with Lucas Leiva deep, almost as a fourth centre-back, allowing both Steven Gerrard and Jordan Henderson to dictate in the midfield. That was aided, of course, by West Brom deciding not to play; however, it looked balanced, and Gerrard, in particular, was magnificent. Sir Alex Ferguson's book may need a quick rewrite at this rate.

So Suarez and Sturridge, and Gerrard and Henderson, and the rest of the team, all provide this storm, this perfect storm, a tornado of enthusiasm and belief and everything else on top that Liverpool can beat Arsenal and leapfrog them and go joint-top-of-the-table. There are still issues that were not made obvious by a shell-shocked West Brom side, but they will come another time. That nobody talks of them now is just as important as three points. For now, get inside, for there's a storm -- length of time and level of severity unknown -- incoming.