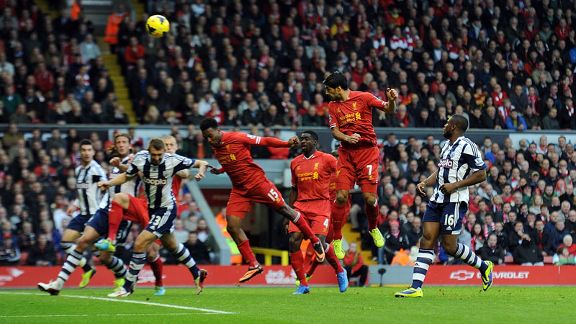 GettyImagesLuis Suarez heads home to complete his hat-trick against West Brom.
At the risk of sounding repetitive, how about that Luis Suarez and Daniel Sturridge partnership, eh? Since Liverpool's magical number seven returned from his suspension it feels like those two are all I've written about, but that's because they are doing remarkable things on a weekly basis. This was the best yet, as both delivered in spectacular fashion against a shell-shocked West Bromwich Albion at Anfield on Saturday.

The 4-1 scoreline may have even flattered Steve Clarke's men a little as only the woodwork prevented Liverpool's deadly duo from notching up half a dozen goals, whilst the penalty decision from which the Baggies briefly threatened to get back into the game was generous at best. After the disappointment of failing to beat ten-man Newcastle last weekend this was just about the perfect response from Liverpool as it was comfortably their best display of the season, not least because it's the only "90 minute performance" they've produced. They finally "won a second half" too, so that irritating little statistic can thankfully now be put to bed.

- Rodgers hails 'magic' Suarez

It was one of those rare days when nobody performed at anything less than a high level, some at a very high level and one man was just completely off the charts. West Brom didn't do too much wrong, as it's not as though Liverpool's goals came from their poor defending. When opponents come up against Suarez and Sturridge in this kind of form there's not actually a great deal they can do. The Uruguayan in particular was just irresistible. The first goal was typical Suarez; the close control, the outrageous nutmeg, the finish... just sublime. He was at the corner flag on his knees celebrating whilst poor Jonas Olsson was still turning around looking for the ball and wondering what just happened. The worst part for defenders is that they know it's coming, but still can't stop it. His own teammates train with him every day and they can't stop him, he's just a serial nutmegger and there's no-one else like him.

His second goal was definitely not something we're used to seeing from him though. That was a bolt right out of the blue and is a goal that those present will remember for a long time. Suarez does score the occasional header, of course, but they are usually of the glancing or flicked variety. To describe this one as thumping doesn't quite do it justice; it was an incredible goal but it summed up the kind of day he was already having, even at that early stage. Suarez was demonstrating the full repertoire, some of his instant control from difficult high balls had the crowd gasping and he seemed to be involved in everything.

The supporting cast were all playing their part too, it should be said, and the re-enforced midfield looked much more effective than of late. Victor Moses had been sacrificed to accommodate the return of Lucas Leiva, which most assumed would mean Jordan Henderson moving forward into the role vacated by the on-loan Chelsea man, with Lucas partnering Steven Gerrard in the engine room. That was not the case, as Lucas clearly played as the deeper man with both Henderson and Gerrard playing further ahead of him. "Flipping the triangle around" is how Rodgers likes to describe it. It worked to great effect, Lucas was imperious in front of the defence, winning possession and using the ball intelligently, whilst Gerrard and Henderson were both excellent on the day too.

The midfield has been a well documented concern for Liverpool this year, but there can certainly be no complaints about how they performed in this game. Whilst everyone associated with Liverpool will be delighted to have Philippe Coutinho back in the squad, it's unlikely he'll walk straight back into the side given how the midfield trio that started this game performed.

It was refreshing to see how the side approached the second half too. Too often this season there has been a significant drop off in standard when the team has had a lead to protect, but there can be no complaints about the intensity or quality of this second half performance. The first half had been all about Suarez, with Sturridge looking sharp but not having much fall his way. After the break that changed as the former Chelsea man took centre stage and was involved in just about everything. For a while it didn't look like it was going to be his day in terms of getting on the scoresheet, but nevertheless some of the things he did were sensational. The close control, holding off defenders and bringing teammates into the game was a joy to behold, and as usual he was a massive goal threat.

He went close with a beautifully struck free-kick that whistled wide and he rattled the bar with a remarkable shot that came out of nowhere. How can you generate such power with no backlift? Incredible. Suarez had already completed his hat-trick at that point, and whilst Sturridge will no doubt have been delighted for his strike partner you could tell he was desperate to get in on the act. He had to wait a while to do so, but it was worth the wait as his wonderful chip was so good it may even have been the goal of the game, and that's some feat given the quality of the goals from Suarez.

It was an important goal too as it killed the game. It was unlikely that the Baggies were going to mount a comeback, but the ridiculous penalty they were awarded did lift their spirits and for a little while they had a bit of momentum. If they'd managed to get back to 2-3 then Liverpool may have gotten jittery, so the delicious lob from Sturridge was important as it ended the game as a contest. It's also important that Sturridge keeps scoring, he's on an incredible run and with Suarez matching him almost goal for goal Liverpool have a chance against anybody.

Next week the Reds have to go to table-topping Arsenal for what is a huge test of Liverpool's top four credentials. The Gunners are in excellent form and it will be a tough task for Brendan Rodgers' men, but it won't be a game Arsenal will be feeling great about either as nobody can feel too comfortable about having to face the most lethal strike pairing in the land. Sturridge is the Premier League's top scorer with eight league goals and remarkably Suarez is now just two behind, despite having been suspended for the first six games of the season.

With those two functioning at such a frightening level, the key for Rodgers is to get everything behind them working in good order and this performance was a big step in the right direction; it was the first time this season that all areas of the side functioned well for an entire game.

With that trip to the Emirates on the immediate horizon, this was the perfect way to prepare for it and both sides will go into that game in good heart. It promises to be an absolute cracker, and there's no doubt who will take centre stage in the build up to the game, especially after Arsenal's controversial attempts to sign him last summer. That £40,000,001 was deemed insulting by Liverpool at the time, and it's looking more and more so with each passing week.