Scene is set for questions to be answered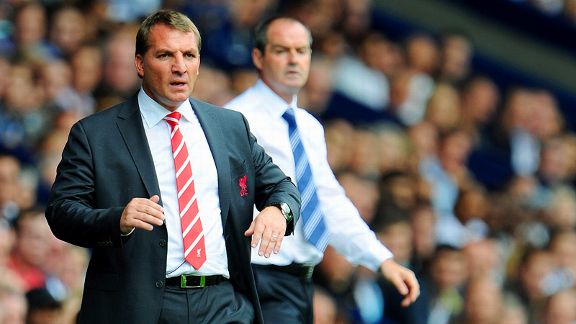 Michael Regan/Getty ImagesWest Brom manager Steve Clarke, right, made things very uncomfortable for Liverpool boss Brendan Rodgers last season.
If Brendan Rodgers is to achieve what is ultimately expected of him -- Champions League football, the Premier League title, the world -- then it would be a story deserving of star billing on the biggest stage. His career at Anfield, and the narrative that it followed, would be worthy of the finest Hollywood director.

Christopher Booker, the English journalist and author, penned The Seven Basic Plots -- a book of curiously considerable length given there are only seven plots, all of them basic. Nevertheless, the concept is self-explanatory. For Rodgers, his success would be characterised in the rags to riches category.

-Liverpool updates: Gerrard | Coutinho
-Rodgers hits back at Fergie
-WBA's Clarke plays down Baggies' Anfield wins

"Surrounded by dark forces who suppress and ridicule him, the Hero slowly blossoms into a mature figure who ultimately gets riches, a kingdom, and the perfect mate," writes Booker. "These stories feature modest, generally virtuous but downtrodden characters, who achieve a happy ending when their special talents or true beauty is revealed to the world at large."

Somebody contact Hollywood. Granted, Rodgers' Carnlough upbringing did not include scrubbing floors under the draconian rule of his siblings, but this was a manager whose appointment at Anfield was met with an uncertainty that bordered on suspicion. The worst league start in over a century, an inconsistent first half of the season and eventual seventh-place finish was not the exact tonic to silence the worried whispers. No matter, it only adds to the drama.

If a movie was to be made of Rodgers' title-winning exploits -- an adaptation of the novel that was published years before, no doubt -- then expect Steve Clarke to feature heavily as a protagonist in the beginning.

Picture the scene: The Hawthrorns, August 2012, and Clarke (portrayed by a balding, greying Gerard Butler, naturally) raises his hands in victory. Rodgers looks towards the turf, head bowed, a solitary tear slowly navigating down his cheek. Rodgers extends his hand, Clarke accepts, then pulls the Northern Irishman's body close to him, close enough to smell what he says.

Clarke smiles for the cameras but his words are of a different design. "You'll never make it at this club," rasps Clarke. "And you will certainly not win the championship." Clarke laughs manically; cue thunder, lightning and, if directed by Michael Bay, Clarke's flying evil robot to transport him back to his castle in the Midlands.

This is all tongue-in-cheek, of course. There are no flying robots, and Clarke had nothing but kind words for Rodgers despite inflicting the worst possible start to his reign. But there is an element of reality to it: in an undulating season of good and bad, West Brom and Clarke provided Rodgers' with some of his lowest moments so far.

They have competition. Christian Benteke ravished the Liverpool defence in Aston Villa's 3-1 win at Anfield in December; at Southampton in March, Rodgers opted for a two-man midfield with four attackers against industrious opposition and suffered sufficiently. Even this season, the 2-2 draw with Newcastle was a game to have Rodgers reflecting, resentfully, on what could have been different otherwise.

But West Brom is the brightest star on the small, but significant, walk of shame. Clarke, removed by Fenway Sports Group earlier that summer, enacted cold revenge in the blistering heat; Rodgers' revolution, for those who believed in it, had stalled before it had even begun. Any enthusiasm had evaporated, replaced with negativity about Rodgers' penchant for passing.

In February, the sequel. The optimism garnered from impressive draws away at Arsenal and Manchester City was shattered by Gareth McAuley with nine minutes remaining; the tiny, glacier-like shards, frozen in the late winter bitterness, were then trampled upon by the bulldozing Romelu Lukaku, whose 15-minute cameo remains one of Anfield's finest in years.

The defeat had a similar effect as the one six months previous. Rodgers had done well to rebuild after the opening-day defeat, though still hovering mid-table; there had been some good performances against top sides, and some hearty beatings of lowly teams, to subside any restlessness. Yet with the power of Lukaku came a blunt blow to the sternum, as if the Belgian himself had rammed into it head-first: There was still much more to do. That Liverpool have only lost two league games since highlights the impact it had.

So ahead of the third meeting, the mist of deja vu descends through Melwood. Enthusiasm and optimism has risen once more. This could be the beginning of Liverpool's long, arduous, fingernail-destroying climb toward where they want to be.

Nobody knows for certain yet. After the first three games -- all 1-0, all Daniel Sturridge -- it appeared more than possible. Now, with just two wins in five, old doubts regurgitate, mothballs flying from mouths about mentality, stability and consistency. The results have been good but, by Rodgers' own admission, the performances have not been to the expected standard.

Is this Liverpool side underachieving or overachieving, albeit with an eight-game sample size? It is wholly possible that Sturridge and Luis Suarez are yet to reach full devastation together, that the midfield behind them will discover the balance it needs, that Philippe Coutinho comes back and waves his gold and green wand. Similarly, maybe Liverpool have already shown their best, the tactics used in those 1-0 wins impossible to sustain over a 38-game season.

The visit of a team likely to finish mid-table, seven days after disappointment against 10-man Newcastle, could bring partial answers. West Brom and Clarke answered questions aplenty against Liverpool last season, mostly with an emphatic, vigorous shake of the head. No, Rodgers' style will not translate effortlessly; no, Liverpool cannot defend against such specimens as Lukaku; no, the happy ending Anfield seeks is still a number of pages away.

Rodgers will want to right a few of last season's wrongs on Saturday. Anything other will reveal a script well-worn, frustratingly faded with yet more questions and answers they don't want to hear, and a plot all-too-familiar over the past two decades.