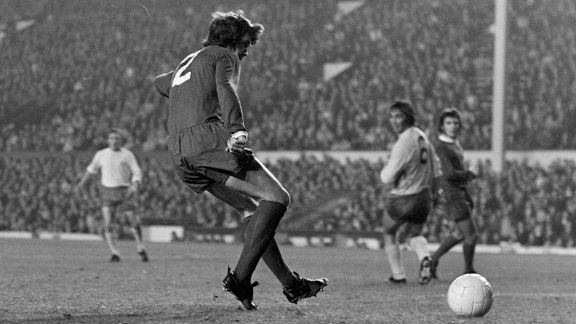 GettyImagesLiverpool's Chris Lawler scores in the 1972 League Cup.
Last weekend, former Liverpool full-back Chris Lawler celebrated his 70th birthday. Lawler served the club with great distinction throughout the 1960s and early '70s, playing well more than 500 games for Bill Shankly's side and finding the net on an incredible 61 occasions, averaging a goal roughly every nine games. Remarkably, none of those 61 goals came from penalties or direct free kicks.

People often talk about how the role of the modern-day full-back has changed and Liverpool's present incumbents are a good example of that, as both Glen Johnson and Jose Enrique are more like wingers than defenders at times. The style of football demanded by Brendan Rodgers means there is little call for a traditional type of full-back in his team. They are expected to play high up the pitch and to provide attacking width.

- Walsh: Allen could be key for Liverpool

Even when Liverpool play 4-3-3 Rodgers prefers his wingers "inverted," cutting inside and clearing out space for the full-backs to exploit. Johnson in particular is ideally suited to this and is regarded as one of the top attacking full-backs in European football. Yet he's found the net only eight times in his Liverpool career to date and has just 14 goals in his entire career.

Lawler's 61 goals from open play represent an incredible haul and few full-backs in any era can match it. As a rule, modern-day full-backs are unquestionably more attack minded than their predecessors, so surely it would stand to reason that they'd find the net more frequently. So why then, does it seem that goals from full-backs are becoming increasingly rare? Certainly from open play at least.

Ashley Cole is a great attacking full-back but rarely finds the net; I've already mentioned Johnson, and Kyle Walker comes into the same category. All are blessed with great pace, power and skill and are comfortable marauding forward, yet none of them regularly find themselves on the score sheet.

So how did Lawler manage to be so prolific?

His contemporaries weren't. George Cohen, the man who kept Lawler out of England's 1966 World Cup winning side, managed just six goals in 459 appearances for Fulham. On the opposite flank in that England side was Everton's Ray Wilson, who also managed only half a dozen career goals from more than 400 club appearances.

So if the two best full-backs in the country weren't scoring goals, maybe it was down to whatever tactics Liverpool were using at the time?

Well no, it wasn't, as the man on the opposite flank -- another Liverpool legend, Gerry Byrne -- scored just four goals in 333 appearances. Byrne's successor was Alec Lindsay, who came a little closer to matching Lawler's strike rate with a respectable 18 goals from 248 appearances, but almost half of those were penalty kicks.

After suffering a serious knee injury, Lawler struggled to recapture his best form and was eventually replaced in the Liverpool side by Phil Neal, who plundered 59 goals in his Reds career, just two short of Lawler's tally. However, 38 of Neal's goals came from the penalty spot.

One of the best full-backs I've seen in my lifetime was Rob Jones, a fantastic defender who was also very comfortable going forward. At least he was comfortable until faced with the whites of a goalkeeper's eyes, at which point it generally all went pear shaped. Jones famously failed to find the net even once in a fine career that was cruelly cut short by injury.

Markus Babbel also saw his Liverpool career brought to a premature end due to circumstances beyond his control. Not injuries this time, but by a serious illness that he eventually recovered from but which had taken too much out of him, as he was simply never the same after that. The Babbel of the 2000-01 season was an absolute machine, powering up and down the right flank and plundering six goals from 60 games, a similar strike rate to that of Lawler. Had illness not struck him down, the German could have been one of the Anfield greats as he had it all.

John Arne Riise was a regular goal scorer during his time at Anfield, too, not always at the right end of course, but that's another story. Riise found the opposition net 31 times from 348 appearances, but many of those goals came from a left wing position and several were blockbusting free kicks. Just ask Fabien Barthez.

There is only one Liverpool full-back who can boast a similar strike rate to Lawler over a sustained period, and that's Mr. Versatile himself, Steve Nicol. The Scot averaged a goal almost every 10 games, chalking up 46 strikes from 468 appearances, but it should be taken into account that, like Riise, some of those goals came from a wide midfield role (one memorable hat trick from the right wing in a televised game against Newcastle United at St James Park immediately springs to mind). Even allowing for that, Nicol's goal-scoring prowess from full-back was impressive by anyone's standards. Well, anyone except Lawler's, perhaps.

Despite the role becoming more and more attacking, goal-scoring full-backs are just incredibly rare these days. Most of today's full-backs are a lot quicker and more athletic than Lawler ever was -- a lack of pace was the one regular criticism leveled at him -- and some will be technically superior, too, so how come none can even come close to doing what he did in front of goal?

Perhaps it's tactical? Today's full-backs are encouraged to get forward, but maybe they have a more rigid and defined role that requires them to stay wide and prevents them getting into goal-scoring positions. You certainly don't see too many full-backs coming in at the back post when the ball is played in from the opposite flank, that's for sure. That's something Lawler did to great effect, whilst many of his goals even came from him just suddenly appearing in a centre-forward position in open play and the ball dropping to him unmarked. He was nicknamed "the Ghost" because he had this uncanny knack of just appearing out of nowhere to score a goal (another nickname was "the Silent Knight," as he was a man of few words).

Using today's tactical approach as an excuse for full-backs not being as prolific in front of goal as Lawler is probably doing the great man a disservice. Lawler didn't have any kind of special dispensation that other full-backs didn't have then and probably don't have now, he just had a real nose for scoring goals. He had the anticipation and movement of a centre-forward, it just so happened that he utilised those assets whilst playing full-back.

It's extremely difficult to find a comparison, either modern day or from the past. Probably the best attacking full-back in the Premier League right now -- in terms of goal scoring, anyway -- is Everton's Leighton Baines, but as good a player as he undoubtedly is, most of his goals come from penalties and free kicks. Pablo Zabaletta is a fantastic player, too, but he rarely finds himself on the score sheet.

Not even the Brazilians can compete. Brazil are unquestionably the side most synonymous with attacking full-backs, yet Cafu -- arguably the best right back of the past few generations -- managed only 18 goals in 525 club games, whilst their current first choice at the position -- Barcelona's Dani Alves -- has just 14 career goals. The great Roberto Carlos measures up, though, statistically at least. He bagged more than a hundred goals in his career, but to be fair he must have had more than a million shots! Many of those Roberto Carlos goals will have been free kicks, of course, but it's still an impressive haul, almost worthy of Lawler...

It's only when you look around at the numbers of all these wonderful players, however, that you begin to realise just how incredible Lawler's Anfield career was. Sixty-one goals from open play for a right-back is mightily impressive, and he was durable, too, appearing in a remarkable 316 consecutive games from Oct. 2, 1965, to April 24, 1971.

Perhaps due to his quiet, unassuming nature, not to mention the unglamorous position he played, Lawler is rarely spoken about in any discussion about Anfield greats, and he was largely underappreciated back when he was playing. A paltry four England caps for a player who achieved everything that Lawler did seems almost criminal.

His regular omissions from the England side were a source of bemusement, not just on Merseyside but also further afield. After a man of the match performance from the full-back in the second leg of the UEFA Cup final against Borussia Monchengladbach in 1973, Jupp Heynckes approached him after the game, shook his hand and asked "Why are you not in the England team?" Why indeed.

They don't make full-backs like Chris Lawler anymore.