Allen could be Liverpool's key to unlocking defences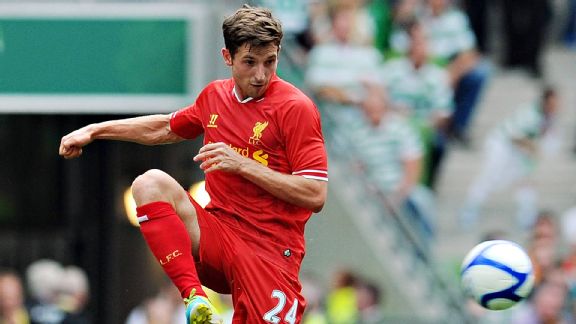 Andrew Powell/Liverpool FC/Getty ImagesJoe Allen saw his debut Liverpool season end prematurely due to shoulder surgery.
Brendan Rodgers' first league game at Liverpool resulted in three goals conceded, two penalties given away, one red card and no points. The reflections and remonstrations began over their worst opening day defeat in 75 years; such was the apoplexy at their 3-0 hammering at West Bromwich Albion, it looked capable of lasting for the next 75 years as well.

But then there was Joe Allen. After the tide of distress subsided -- a long sigh, a run of fingers through thinning hair, a longing gaze into the half-empty beer bottle -- there was the Welshman, diminutive and dynamic, offering a shrapnel of positivity; a player whose performance was permeated with excellent passing and intelligence on the ball. A week later, yet more offering of optimism, this time after Martin Skrtel's head exploded against Manchester City.

- Usher: Prolific Sturridge in esteemed company

In the midst of transition that was affecting all around him, Allen was the calming kernel, passing through the eye of a needle and in the eye of the storm.

It is unknown exactly when Allen's performances began to deteriorate, but it eventually became apparent why. His left shoulder: going, going, gone. For five months he played despite requiring season-ending surgery; over those five months, the opinion of him transformed. Upon completing his final game of the season -- a nadir of ineptitude as Liverpool went down to Southampton -- his late summer rise had become an early spring fall.

It was said that at Liverpool in the 1980s, players who suffered injures became persona non grata, a sceptre whose only trace rests with their Melwood locker. A change has come with modern football; now, there is usually a clamour for those sidelined, the enhancing of their reputation correlating with the length of incapacitation.

Not so with Allen, who has largely been forgotten. But Liverpool have problems -- though miniscule and insignificant on the surface -- and they would be well-served to be reminded of what Allen can do with two good shoulders and the form of last August with him.

There is no guarantee the two are linked, of course -- playing with an injured shoulder for five months can affect performances, but so too will the realisation of playing for Liverpool and the clammy-handed pressure that follows. But if shoulder and mind are both stronger, then his presence on the bench at St James' Park should be welcomed, even if it isn't in actuality.

Allen has not been treated kindly by circumstance. He was a victim of an ill-timed injury and a shift in the manager's philosophy.

When Allen arrived, he did so as the manager's poster boy, a footballing representation of everything the club was to become. Pass, pass, pass; death by football; pass, pass, pass. Where does a change in playing style and formation, which now technically only requires two central midfielders, leave Allen's future? Pass.

But Rodgers cannot pass on that question. If he does, he risks answered the next one: Why sign a player for £15m if he is to be inflexible, marginalised at the first possible opportunity?

Circumstance owes Allen a favour or two, and maybe the repayment begins at home to West Brom. Much has been scribed of Liverpool's move to 3-4-1-2. It is not a desperate attempt by Rodgers to win goodwill with the peculiar brand of football hipster, nor is it because the Northern Irishman kisses a statue of Walter Mazzarri or Antonio Conte at night-time. The 3-4-1-2, in theory, works.

With four centre backs worthy of first-team football, three in defence is sensible and also a guaranteed way of keeping the manager's office free of strife; Jose Enrique, Aly Cissokho and Glen Johnson all have qualities suited to wing-backs, while a two-man midfield makes sense given there is only four recognised central midfielders in the squad. The three up front, predominately, allows Philippe Coutinho (when fit), Luis Suarez and Daniel Sturridge together.

It's never that easy. The results when deploying 3-4-1-2 have been mixed. There has been only one defeat -- at Old Trafford in the League Cup, no less -- with two wins and a draw in the league, scoring eight goals and conceding four. Statistically sound, then; but there's lies, damned lies, statistics and watching Liverpool repeatedly fail to control the tempo of a game with gaps the length of the Mersey tunnels between defence and midfield.

Against Sunderland and Crystal Palace, the league's bottom two, there was no punishment forthcoming. But at a raucous St James' Park against a side determined to prove their legs are not made of blancmange after a 6-0 battering in April, problems with Liverpool's system was evident. Against 11 men, they struggled; against 10, they struggled more than they should.

The problem derives between defence and midfield. Newcastle had 12 of 14 shots outside the area, most of them in the pocket of space between the back three and midfield two. Yohan Cabaye may have flung a 30-yard shot beyond Simon Mignolet, but he could have juggled the ball on his nose, like a majestic French seal, for the remaining 70 minutes, such was the reticence of a defender stepping out of defence or midfielder dropping deep.

This is where the 3-4-1-2 was problematic against Newcastle. None of Liverpool's three centre-backs filled the space ahead and neither Steven Gerrard nor Jordan Henderson moved closer to them to facilitate the issue. The by-product, possibly, of Daniel Agger and Lucas Leiva not featuring -- but Agger is susceptible to being bullied, while Lucas is not mobile enough to move box-to-box. Against Swansea -- another breathless 2-2 but against 11 men with more control from the away side -- the gaps were not as evident in the 4-2-3-1.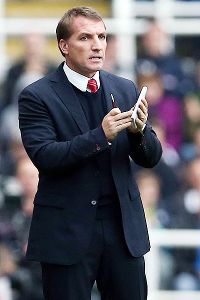 Ian MacNicol/AFP/Getty ImagesAllen's versatility gives manager Brendan Rodgers options in midfield.
There is also pressure on Victor Moses to help the midfield, but he is far too attacking-minded for that; he is a fearsomely built, talented square peg in a Coutinho-shaped hole.

Yet Allen could be the key. He has the ability to feature in any of the three positions in midfield: he is quick on his feet and can drop into the gap between defence and midfield, possessing the ability to play facing the goalkeeper; he has also exhibited the potential of playing further forward, behind the strikers, and would be able to move deeper in the 3-4-1-2 and solidify the two-man midfield.

He must improve, of course. Excuses will no longer apply; injury can no longer shoulder his malaise. But if Rodgers is to continue with 3-4-1-2 -- and how hard it will be to break up Suarez and Sturridge with both so magnificent -- he cannot sacrifice or relinquish control, or risk more frustration, and more dropped points, as suffered against Newcastle.

Allen, sacrificed and relinquished in recent times, could bring that control. But first thing is first: he must provide a reminder, and a much needed one, of his existence.