Suarez storm shows issues with wider game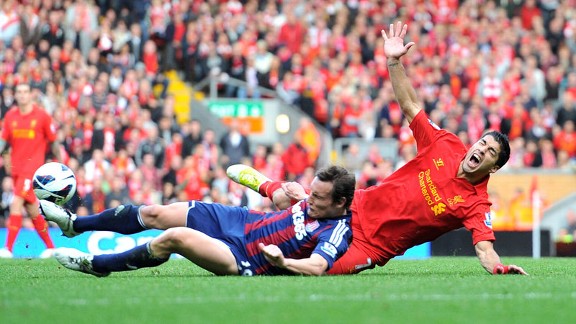 GettyImagesLuis Suarez: Public Enemy No. 1
Everyone knows the Aesop Fable of The Boy Who Cried Wolf. It's a fairly simple narrative: a nondescript shepherd boy in a nondescript village falsely claims a wolf is eating his flock of sheep, panicking the entire village. When a wolf actually appears, the shepherd boy's protestations are ignored. Depending on your upbringing and the maliciousness of the storyteller, the end result was either a devoured shepherd boy or disemboweled flock of sheep.

- Bennett: Too quick to judge Luis Suarez?
- Suarez calm over diving row

Aesop dealt with the simplicities, his fables neatly concluding with a digestible moral to the story. But the archaic tale, composed to understand consequences and little else, needs a more complex, modern assessment. Why did the boy want to cry wolf to begin with? Was the punishment - anything ranging from the death of his sheep to his own untimely demise - appropriate for telling a few lies? Why did the boy never have a name?

The Premier League's Boy Who Cried Wolf does have a name: Luis Suarez. The Uruguayan played well against Stoke City on Sunday, but it was not his sorcery with the ball that dominated the news the morning after, but rather his spellbinding attempt to win a penalty in the second half. As he threw himself to the floor over the mass of Stoke legs, it was partly in exasperation. He had been given little all afternoon. Actions such as that won't help his cause. The dizzying cycle continues.

That's not to excuse his display of stupidity - because that's exactly what it was. After his team-mates, captain and manager spoke of the unfair treatment Suarez receives from referees, he looked to win a penalty in an almost comical manner after people displayed that rare emotion of sympathy towards Suarez following Leon Barnett's unpunished assault to the head, it instantly evaporated with one theatrical fall. The archetypal villain of the league dons his mask once more.

It's a mask he has worn from the moment he arrived in England. His World Cup of 2010 is not synopsised by his winner against South Korea and general overall impressiveness, but for his swift hand movement against Ghana with a nanosecond of extra time remaining. He pushed the ball away from goal and plunged the dagger into the heart of Africa, denying them their first World Cup semi-finalists, on home soil no less. Likewise, his time at Ajax is not footnoted by 111 goals in 159 games, but his bite on PSV Eindhoven's Otman Bakkal. That smile of mischief instantly transformed into one of subterfuge; those sparkling teeth now menacing, not welcoming.

But there is no witch hunt against the 25-year-old and diving - certainly not in the media, which grasped the narrative of diving the moment Jurgen Klinsmann signed for Tottenham in 1994, and has continued ever since with players like Robert Pires, Didier Drogba and Cristiano Ronaldo.

Klinsmann was one of the clever ones; after a goal on his debut against Sheffield Wednesday, he celebrated with a self-deprecating dive, which then became a trademark. Any indiscretion from the German that season took a comedic tone. Similarly, Cristiano Ronaldo was labelled as a diver, but it was seen as a by-product of his world-class talent and visceral passion to be the best. Suarez, at this moment, has the benefit of neither.

For referees, the boy cries wolf once more. Suarez doesn't dive in the traditional sense, but he does flick his neck, arch his back and bellow in anguish at most challenges. His general demeanour towards officials is one of impetuousness - something fans love, but few others do, especially the recipients of his forked tongue. Consciously or subconsciously, when Suarez is prone on the floor, it is harder to give him the decision he is pleading for.

But it is all a very simplistic way of viewing the issue; it's very Aesopian to simply lambast Suarez for his behaviour on Sunday and clamber aboard the subsequent bandwagon. It is clear this boy cries wolf because he feels he is not getting the decisions he deserves. But however misguided that stance may be, it's no more so than Tony Pulis' post-match appraisal of the situation. Though not quite akin to being eaten by a carnivorous canis lupus, the idea of a retrospective three-match ban is outlandish, particularly given Stoke City's behaviour over the 90 minutes.

It is here where the issue lies, and this country's strange obsession is laid bare: sporting morality ranks far higher than personal welfare. The crime committed by Suarez has been judged far graver than Robert Huth's assault, when he raked his studs across the back of the prone Suarez. Diving and feigning injury are decadent aspects of football, much like shirt pulling, professional fouls and handballs; but an intent to leave an impression on an opponent, both physically and mentally, should be considered far worse.

The moral code scrambles further when talk of intelligence enters the discourse. Someone will claim a player is clever for leaving his leg trailing in the box; others will eulogise over the art of backing into defenders in an attempt to trick them into grappling. The morality of which football stands is on shaky foundations, shifting on the aptitude of deception. Liverpool manager Brendan Rodgers realises this, and has sought to defend his forward.

"I believe some people need to develop a sense of perspective and I also believe in this moment the vilification of Luis is both wrong and unfair," he said. "I will continue to protect the values, spirit and people of this great club and game while searching for a consistent level of results in order to make progress on the field."

It was certainly not too little, but some would argue Rodgers' statement came too late. These agenda-altering words were needed before Monday morning, the focus shift from Suarez to Stoke required far quicker. But he will learn. So, you would hope, will a lot of people - including Luis Suarez.

He has a lot of work ahead to alter his reputation; so too the referees, who have work to ensure they adhere to Rodgers' words and treat Suarez fairly. Even football in this country must reassess what is truly important across the 90 minutes of action. Suarez has a captive audience; the only way he can silence people is with the ball at his feet. The villagers are still listening. For now.