Two points dropped, but things are as you were for Liverpool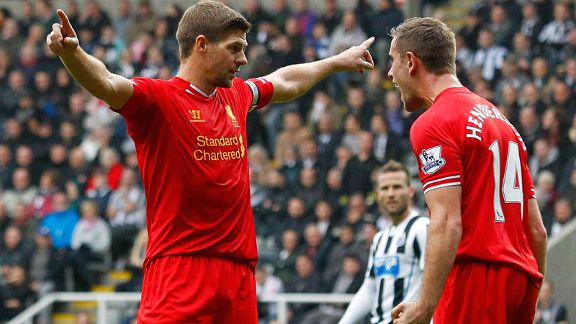 GettyImagesSteven Gerrard century celeb Newcastle v Liverpool
The brutish reality is that Liverpool dropped two points against Newcastle. The cacophony of noise at full-time alerted all who could hear it. The medley of relieved Geordies and the disbelieving away following, prompted by the tardy toot of the referee's whistle, confirmed it.

Even simple mathematics proves it. Liverpool drew 2-2 at St James' Park and took one point instead of three. They did so against a side that had 10 men -- one man less than Liverpool -- for over 45 minutes. Two points most definitely, undeniably, frustratingly dropped.

- Duffy: Resilient Newcastle hang on for draw

Every team drops points, of course; very rarely does a side navigate an entire season without fashioning a sure-fire victory into an infuriating draw.

But this was the first time Liverpool have done so this season. Their 2-2 draw at Swansea was fair on the balance of play, and it was also against a full complement of players. Their defeat to Southampton was one point dropped at best, though in reality it was a fantastic, controlled away performance by the Saints, a 90-minute plan executed perfectly.

Before the inquest comes the inquiry. Two points can be a hefty tally at the season's end for such thin margins. It can be the girth of a crossbar, as Luis Suarez discovered when his volley rebounded off it; it can be a centimetre of a goalkeeper's glove, as Tim Krul exhibited when he tipped away the Uruguayan's free-kick during the final act. Champions League places, championships and careers can be decided on such moments, such wicked, unpredictable spins of the ball. They have done before.

But the draw with Newcastle was more than tossing away two points. In reality that is true, but in theory it was akin to dropping three, six or nine mentally. It is this sort of result that can separate the title winners from the hapless runners-up. Show me a team who wins 3-2 and I'll show you a team that is equipped to qualify for the Champions League, Vince Lombardi would no doubt say, God rest his soul.

There is a lot to be said about momentum and the belief -- or disbelief -- it can instil within. When Liverpool won their first three games of the season 1-0, it did not only reveal the wonder of Daniel Sturridge and the resilience of their back line, but it kept writing the narrative that so many were willing to read.

After Stoke, it was a hard-earned three points; after Aston Villa, it represented a good start. The euphoria that greeted the win against Manchester United was partly down to the opposition, granted, but also because it fed the idea that Liverpool could grind out every result on their way to world domination. Even after Swansea and Southampton, the rhetoric remained: this is Liverpool's season to do whatever they please.

How that would have been supported with a win against Newcastle, albeit with a man extra. A win would exhibit resilience, patience, intelligence. This draw exhibits an opportunity missed, mutterings and curses, a collection of what if? scenarios.

This one game of football dictates little for the moment; hindsight may regard it as two points that floated down the Tyne. It was probably Liverpool's most disjointed performance of the season, one where passes were fired into shins more than anything, one where raking balls found the front row more than Glen Johnson and Aly Cissokho's instep. But it didn't highlight anything not already under the blinding spotlight.

The 3-4-1-2 formation looks good when it works and appears a catastrophe when it does. That '1' -- currently occupied by Victor Moses -- is currently taking the shape of a five foot six hole with curls on top and stardust on the boots below. In order for the 3-4-1-2 to fully work, the player behind Suarez and Sturridge must be able to act as both midfield and attack in equal measure; Moses, who possesses many attributes but not that one, struggled once more. Glances towards the shoulder of Philippe Coutinho and the industrial-sized tub of superglue continue.

Yet more confirmations of what was already known: Suarez and Sturridge are fantastic, even with the former having mild jet-lag after international week. The midfield is a puzzle yet to be solved, and it probably won't until the next transfer window, unless Joe Allen shows his form of August 2012 -- Jordan Henderson failed to make an impression there, though he run and run; the defending from set-pieces can be prone to disaster, if not in frequency then in impact, as Mamadou Sakho showed for Paul Dummett's goal.

Not that Liverpool should toss their passports into the River Mersey just yet. Though Liverpool only picked up a point, this was a game that embraced eccentricity and managed to demonstrate both the bad and good of Brendan Rodgers' side. They let so much slip, and yet came from behind twice.

The slow start was disappointing, but Liverpool's ability to play themselves into the game was commendable; conceding a goal to a long-range Yohan Cabaye strike could have seen chins scrape along the turf, but instead Sturridge raised his to pick out Suarez, who scampered clear of Mapou Yanga-Mbiwa. Anticipating another half of torture by the lively Suarez, Yanga-Mbiwa did the merciful thing and allowed himself 45 minutes rest by getting sent off.

The subsequent penalty from Steven Gerrard, dispatched with the confidence of a player deserving his 100 Premier League goals, should have proven the catalyst for a comfortable win. Instead, apoplexy reigned as Dummett stole in; then came the onslaught, both physically and mentally fatiguing, before Suarez and Sturridge combined once more. A lesser side would have lost 2-1; a better side, a title-challenging side, might have won 3-2. But this is not meant to be a title-challenging side, not yet anyway; that is the position Liverpool find themselves in and the reality they must deal with.

But it says much of Liverpool's season so far that this is the first time a draw can be regarded as an opportunity truly missed. Such is football and the way it swings so viciously. Their opening day win against Stoke could have seen two points dropped if not for the reflexes of Simon Mignolet and against Aston Villa, the craned neck of Gerrard ensured it was three points instead of one. Sunderland was ultimately a similar story.

Only when the damage, if any, is tangible can this Newcastle result truly impact upon the season. If Liverpool were to miss out on whatever they target this season by a solitary point, they will acknowledge their inability to fully take advantage of Yanga-Mbiwa's red card.

Still cause for optimism and still reason for concern; a chance for redemption, at home to West Bromwich Albion, awaits next week. When all is told, that is not a bad position given Liverpool are third in the league and only two points from the top. If it remains like that come the end of the season, as unlikely as that is, then it will be black and white where it all went wrong.