'How long, ref?' Only success can stop Liverpool looking ahead
It can be heard on the landfills of mud and grass that pose as football pitches on Merseyside, spiralling through the Sunday morning mist, asked in a tone that is both accusatory and suppliant.

It makes an odd appearance at Anfield, and probably Goodison Park too, even with the advent of electronic scoreboards. You can even find it, if it is ever your intention, somewhere towards the middle of the Scouse phrasebook -- that exalted, mystical parchment bound with glaciered Mancunian tears, which may or may not actually exist -- on page 122.

"How long, ref?"

It's a loaded question. It may be asked in every city across the United Kingdom and a fair distance further -- "Quanti minuti rimangono, arbitro?"-- but no other accent contains the intensity and integrity of a Liverpudlian one.

-Liverpool set for fitness boost
-Jolly: Rodgers' 3-5-2 formation
-Hillsborough inquests venue confirmed

Asking the referee how long remains is a time-honoured tradition in the city, whether watching the game or unsuccessfully trying to replicate it at an amateur level in the local park, where the crossbars are no more than a strip of white sticky tape.

The question can be asked at any time. It can be asked when a goal has been scored or conceded; it can be asked when a match is being won or lost. The answer is rarely satisfactory. At Anfield, where the red clock forever ticks, the referee doesn't even have to respond -- not that he hears the pained voices dotted around the Kop anyway.

Time matters in football. There is an obsession, possibly an unhealthy one, regarding the concept. The result of a match is not only quantified in points but the lengthening and shortening of time; the present is often disregarded, pushed aside for what has already happened and what could happen in the future.

Here stands a manager who has had two years to win a trophy -- how long does he have left in the job? Here stands a player struggling at his new club after 20 games -- how many more chances does he need? How long, ref?

In a sport that is supposed to prick, poke and prod at our sensibilities, very little time is spent enjoying the moment. No sooner had the whistle blown on Liverpool's 3-1 win against Crystal Palace Oct. 5 and eyes shifted towards fixture lists; abacuses lay mangled in the corner as targets are targeted and calculations are calculated.

The Palace win did not just bring three points, but gave Liverpool 16 out of a possible 21. Furthermore, the three points form part of a potential 30, 60, 90 points at the season's end. A win against Newcastle on Saturday makes it 19 points from 24; follow that with a home win against West Bromwich Albion and it becomes 22 from 27. If Liverpool win at the Emirates against Arsenal at the start of November, hand them the trophy right there.

Liverpool are not used to being in this position in recent times; nor is Brendan Rodgers, who sat in the dugout in 14th after seven games last season, albeit with tougher opening fixtures to face. Not since 2008-09, the season that Liverpool finished second and excruciatingly missed out on the Premier League title by four points, have they been so high with nearly a quarter of the season played.

Not that the squad is fully inexperienced. Of the squad that last truly contested for Champions League qualification, a number still remain. There are also players who have experience of such travails elsewhere, bought by Rodgers partly because of that -- Kolo Toure, most notably, has won league titles with two different teams.

But still they ask how long. There are still 31 games to go this season, but Rodgers and Liverpool will no doubt wish it were two. The fans certainly do.

The potential of the squad is still burgeoning and its development is exciting, but all that is clouded by the necessity of winning the next set of fixtures. There is little enjoyment here, just the rhetoric espoused by manager and players that the best approach is to focus on the next game alone. Impossible when near the league's summit, an alien position.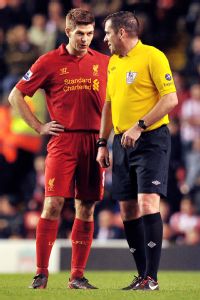 Paul Ellis/AFP/Getty ImagesThere's still a long way to go for Steven Gerrard and Liverpool, but the promising start has hopes rising at Anfield.
Simon Mignolet's penalty save against Stoke began a perpetual focus forwards. At that moment, as the Belgian roared with the backdrop of bedlam, many would have been happy with seven points from a possible nine, 10 from a potential 15, 16 from 21.

And so to Newcastle, and West Brom, and Arsenal, Fulham, Everton. The next five games fit nicely into the obsession of targets and projections: After that, Liverpool enter December and seven games in 28 days, including away trips to Tottenham, Manchester City and Chelsea. After Everton, they will have played 12 games; they could potentially have 31 points, though very unlikely. Anything above 26 can be regarded positively -- they did not reach that tally last season until the last game of 2012.

What Rodgers and his squad must decide is how to approach these games. It is for the manager to prepare for each game individually -- the pace of Loic Remy, the majesty of Mesut Ozil, the raw power of Romelu Lukaku -- but remain mindful that every three points is three points closer to a target, whatever that may be. If that happens, it will either put more pressure on the squad or take a little off; which one it is will depend on the mentality of the squad. Rodgers will just be happy to find out either way.

Liverpool have spent a lot of time asking how long. After 23 years without a league championship and five without Champions League football, it is a question embedded upon their lips. Indeed, given the troublesome second-half performances this season -- Luis Suarez's strike at Sunderland remains their only one so far -- it is something not so much muttered by the gallery this season, but continuously whispered, spell-like, as the 90th minute edges nearer.

How long, ref? In fact: How long, Liverpool? How long will this club, and its personnel, continue asking the question? How long will they continue to look forward, cautiously, through tightly knit fingers, failing to fully appreciate the here and now: the ingenuity of Suarez, the refinement of Daniel Sturridge, the captaincy of Steven Gerrard, and all that it may lead to, if anything at all.

The reign of Rodgers may ultimately be judged on how closely he comes to that answer. How long will he have? Nobody can say.