Gerrard-Lucas partnership a quandary for Rodgers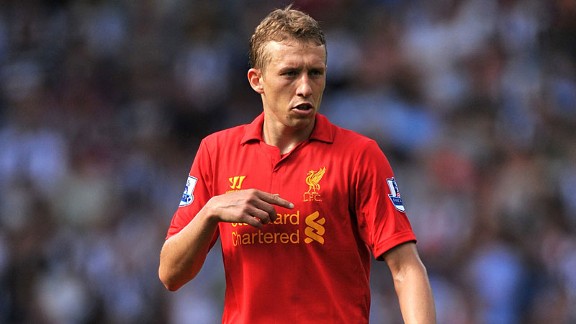 PA PhotosLiverpool midfielder Lucas Leiva has suffered a knee injury.
As Philippe Coutinho and Glen Johnson both edge closer to a first-team return, Liverpool boss Brendan Rodgers will soon have a full complement of players to choose from for the first time this season.

Assuming he persists with the present system then Liverpool should soon be looking very strong in all areas of the pitch. Well, almost all. There is the small issue of the centre of midfield of course.

The combination of Lucas Leiva and Steven Gerrard should work. You've got arguably the club's greatest-ever player (and current England captain) partnering a man who has just been recalled to the Brazil squad. You need to be able to play a bit to get a game with the Samba Boys, so Lucas is clearly no mug. And while Gerrard is not the marauding, rampaging force he was throughout his 20s, there's still plenty left in the tank, and he showed last season what a great player he still is. Luis Suarez apart, the skipper was the Reds' best performer in 2012-13. Yet put the two of them together and, well... there's just something not quite right.

- Gerrard cools Reds title talk

So far this season, Liverpool have not dominated the middle of the park in the manner they often did last year. There were games last season -- especially early on -- when the opposition could barely get a kick of the ball. Possession didn't always translate into points due to the lack of quality in the final third (until Coutinho and Daniel Sturridge arrived at least), but there was a clear blueprint for how Rodgers wanted his team to play.

This year, there have been games when the Reds have barely been able to string more than three or four passes together. The second half displays at Aston Villa and Swansea are prime examples of that. Whilst it would be unfair to pin those failings entirely on the midfield, it's not unfair to state that this is an area of the field that has not been functioning how Rodgers would like.

Yet despite Liverpool's midfield issues they currently sit joint top of the Premier League table, which begs the question: is the central midfield position really that important? After all, it's been the biggest weakness of Manchester United for many years, yet Sir Alex Ferguson never really seemed to worry about it and it didn't do him any harm did it? When people told him he should be buying a top class centre midfielder, he went out and signed Robin Van Persie instead and won the title.

Throughout the course of last season United's midfield featured the likes of Phil Jones, Ryan Giggs, Anderson, Tom Cleverley and a Paul Scholes, who was running on fumes. Michael Carrick was the only natural, top-drawer midfield player at United, but even he wouldn't be considered as one of Europe's elite. In fact, numerous England managers never even considered him one of England's elite, although that perhaps says more about them than Carrick.

United would be the exception to the rule though. Most successful sides have a great midfield, or at the very least a balanced one. Liverpool currently have neither of those things, and given the importance placed by Rodgers on dominating possession and pressing high up the pitch, that represents a potential problem down the line when the more difficult games start to arrive.

Lucas and Gerrard are obviously both excellent players, but the balance between the two isn't there. Whether that's down to the players themselves or tactics that leave them too exposed is for Rodgers to decide, and he'll certainly know far more about it than anybody else. To my untrained eye though, I'd say it's mostly the tactics leaving the midfield pair exposed and asking more from them than they are capable of giving.

That's not to say the tactics are wrong, just that the combination of Gerrard and Lucas struggle to do the job that these tactics demand of them. The problems are less obvious when there is a third player in there, but when Liverpool are playing just two in the middle the gaps are there for all to see and they don't dominate possession as much.

Gerrard and Lucas would both perhaps be better suited to a different partner. Many Liverpool fans still pine for Xabi Alonso -- and there are few bigger Alonso fans than me -- but it's Javier Mascherano that would benefit the Reds more right now. Of course, if there was any chance of bringing Alonso back to Anfield I'd not only be on board that train, I'd be driving it and tooting the horn. He's a wonderful player, and Liverpool's ball retention would improve massively with him in the side. He would not improve the lack of speed and athleticism in there, however, and that's as much of a concern as the inability to dominate possession.

A Mascherano type would improve this Liverpool side immensely. Unfortunately they are not easy to find. I look around the Premier League and there are not too many midfield players that might be said to be better than Lucas, and fewer still that are superior to Gerrard.

The Brazilian has improved enormously in his defensive work from when he first arrived in England, and prior to the knee injury he sustained against Chelsea in 2011 he was really beginning to look the part. It takes a long time to recover from an injury like that and five bookings in six games so far suggests he's still a fraction off the pace. You could argue that some of those bookings have been harsh, but the counter point would be that they usually come as a result of persistent fouling rather than for the one offence. Lucas has been conceding a number of free kicks, but then he's also right up there at the top of the tackles won statistics. If you're making that many tackles, it stands to reason you're also going to concede quite a few free kicks, right?

Stats can be used to make whatever point you want them to, but based solely on the eye test I'd say Lucas is still half a yard short of where he was before his injury and he continues to divide opinion amongst Liverpool fans. He's won a lot of people over -- myself included -- but he still has his critics, albeit not to the extent he did in his first few seasons at the club. He's one of those rare players that is both overrated and underrated within his team's support. Some Liverpool fans will tell you that Lucas is the best defensive midfielder in the Premier League, others will tell you he's not even worth a place in the team. I'm somewhere in the middle, I'd say in the spell immediately before his injury he may well have been the best the league had to offer in his position, but as of right now he most certainly is not. He's still a good player, he's just maybe not the best partner for Gerrard.

So what's the answer? As I see it, there are four options available to the manager. Option one is he keeps things as they are and hopes that the return of Coutinho to play at the point of the midfield triangle ensures that Liverpool have so much going forward that they don't need 60% possession every week to win games and that any midfield issues are masked by the brilliance of the front players and a solid backline.

Option two is that he changes the system to make room for a third central midfielder. That would mean either switching back to a variation of 4-3-3 or possibly going to a midfield diamond, which would at least allow Suarez and Sturridge to continue to play as twin strikers without one having to be shunted into a wide position.

Option three is to replace one of the current pair, and let's be honest here, it's not going to be the captain is it? So that means Lucas being replaced by either Jordan Henderson or the fit again Joe Allen. Both would bring different qualities to the side that aren't there at present. Allen helps with ball retention and is also excellent at pressing the opposition to win it back quickly, whilst Henderson too excels at pressing but also offers a goal threat and almost freakish levels of stamina.

Finally, option four would be that Rodgers goes out and finds a new midfielder in the January sales. There are no guarantees that this will even be possible; it is difficult enough attracting top players in the summer window, let alone the January one. It can be done, but you certainly can't hang your hat on it.

I've got high hopes for the current 3-4-1-2 system and I don't want to see that sacrificed to bring in an extra midfielder, so for me I'd either stick with option one and hope that Coutinho's return papers over any cracks behind him, or I'd go with option three and give Henderson an opportunity to have an extended run in his best position to see how it goes; his form this year warrants that.

And if neither of those work? Well hopefully Rodgers can pull another rabbit or two out of the hat as he did last January with the signings of Sturridge and Coutinho.