Newcastle and Liverpool deserve mutual respect over ticket gesture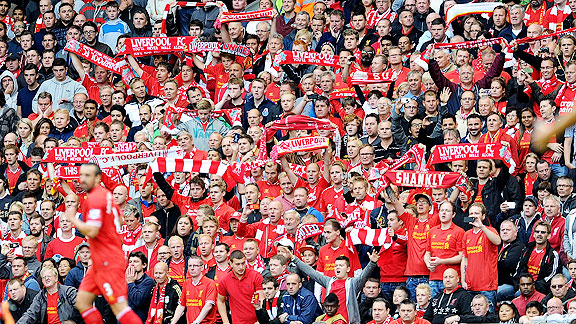 Andrew Powell/Liverpool FC/Getty ImagesSupporters of Liverpool hope that the club will follow the gesture already made by Newcastle of offering tickets to away fans for £20.
There are few iron-clad certainties in this game of whim and wonder. The heroes and villains -- status defined by wafer-thin decisions -- shape-shift and swap, while the referee is just a whistle's toot from being offered a luxury Spanish villa or being thrown from its balcony. Most certainly, somebody will narrate and analyse all this contemptuously, much to the nation's anguish. Nothing can be said to be certain except death and taxes, Benjamin Franklin claimed. It's almost the same for football.

Almost. Pervading every football match in every division is the guarantee of acerbic, vocal barbs flung back and forth between supporters. No matter the team or occasion, the first whistle acts as a prompt to scowl, snarl and sneer; even the most mild-mannered, genial person is capable of deviltry.

There is nothing wrong with this -- within the realms of human decency, at least -- but rather accepts a simple fact: football can be tribal, visceral and ugly, disregarding rationality with faces and flying saliva.

- O'Farrell: 200k away fund is a start

So it will prove next weekend -- there will be few places more prevalent than St James' Park when Liverpool visit Newcastle United. Regular folk engage in the trite tit-for-tat with venom in words, if not intentions.

A bus driver from Gateshead will rise up, look toward the congregation of Liverpool fans who stand among the clouds and mock their unemployment, catering to the negative stereotype of work-shy Scousers; the bus driver ignores that a number of those he sits with suffer similar problems in the brutish economic climate.

Across the divide, an office worker from Garston bolts upright, possessed by apoplexy, and calls the Geordie crowd scruffs, screffs, meffs and inbred; the office worker, with two children at home, neglects that they all look similar to him -- fingers, thumbs and toes included -- and that only the colour of the shirt is fundamentally different.

Little do the bus driver and office worker know they should be shaking hands. Little do those Newcastle and Liverpool fans, who toss antiquated insults out of habit more than malice, realise they have much to thank each other for. Once the veil of hackneyed behaviour drops, everybody is a football fan.

With The Independent's exclusive report that Newcastle United are set to offer tickets to away fans for £20 -- providing clubs reciprocate the gesture to the travelling Toon -- comes a notable, important step in the fight against extortionate ticket prices, one that every supporter of every Premier League club should acknowledge. Acknowledgement should also follow that Newcastle's gesture is founded on the diligence and determination of both the Football Supporters' Federation's "Twenty's Plenty" petition and a number of supporters, of which Liverpool's were one of the most vocal.

- O'Farrell: Away fund is a start, but that's all

There won't be that acknowledgement on Saturday, of course -- tribalism and petty witticisms reign over all -- but there should be, for both club and fans. There also won't be acknowledgement by those who dismissed June's fan protest toward the Premier League and rising ticket prices (an average of 716 percent since 1989); those who disbelieved in either its message or methods -- or both -- were quick to say so.

The answer was not in arguing these prices, but simply accepting them; the solution was not in protesting, but curling into a ball and rolling over, allowing stomachs to be tickled by wads of cash. Supply and demand! This is business! If you don't like it, step aside!

Those voices of dissent are a little more hushed now, if not fully silenced. There will still be arguments that June's protest is not directly linked to Newcastle's pricing plan. Technically, that is true: it is the unwavering hard work of the FSF that has ensured the Premier League has granted every top-flight club £200,000 over the next three seasons to make football more affordable for away fans.

But it was also the voices of hundreds, curdling in the summer heat, that have placed the cost of football on the agenda; those same voices pricked the conscience, no matter how slight, of those who hide behind oak desks and towers of paperwork.

The June protest was organised by Liverpool supporters union Spirit of Shankly, but this is not limited to Liverpool alone, even if ticket prices have risen 1108 percent at Anfield since 1989 and can now cost more than £50. The acidic words that hover across football stadia across the country every week matter little now.

Support also came from other groups and organisations including Manchester United Supporters' Trust, the Blue Union of Everton, Tottenham Hotspur Supporters' Trust and Arsenal's Black Scarf Movement; it came from fans of Championship clubs and below.

And now support comes from Newcastle United as a football club. Other clubs have taken the £200,000 fund and offered free coach travel or a reduction of up to £4 on away tickets; the latter is a particularly good gesture, one that Liverpool have offered their away following. But what Newcastle are offering is a leap instead of a step, a bellow instead of a shout. It is worthy of praise from fans of all Premier League clubs; most importantly, it is worthy of reciprocation from the other 19 clubs, ensuring their goodwill does not go unfulfilled.

Still the voices of dissent will come from those unaffected. Why should you care? If you don't spend money on tickets, what does it matter?

The issue of ticket prices, and the treatment of supporters in England, is not something to stir everybody into manning the barricades. Football is not the all-singing, all-dancing emotional kaleidoscope to everyone; football can be viewed through a distant, Perspex box -- a simple topic of small-talk at the office water cooler.

But there must also be recognition that this is about more than football and that it reflects on other sports, if not society in general: those atop of the hierarchy have abused their power far too long; this is a win, no matter how slight, for the people who truly matter. Even to those whose relationship with football is willingly separated by the cold television screen, the narrative should resonate with them.

The past 10 days have introduced a number of new heroes to the football lexicon. Adnan Januzaj's double for Manchester United has captured the attention of 100 nations, while Ravel Morrison's turnaround from bad boy to brilliance personified is finally complete after his standout performance against Tottenham took his career standout performance tally to one. And Andros Townsend, with his 20th attempt of a long-range shot, confirmed himself as England's saviour against Montenegro.

The trio of Januzaj, Morrison and Townsend received a disproportionate amount of coverage in comparison to Newcastle's £20 initiative, their performances making loaded quills weep. But irrespective of how limitless their potential may be, it is only the latter that can truly alter the future of English football.

Newcastle have listened to the fans and shown their willingness to improve life for football fans. Now is the time for others to follow and accept Newcastle's offer -- including Liverpool. As one of the league's biggest clubs, shame on them if they don't. And may those supporters who stand and hurl abuse at each other every weekend turn to their attention those who truly deserve it.