Are Liverpool finally ready to contend for the EPL title?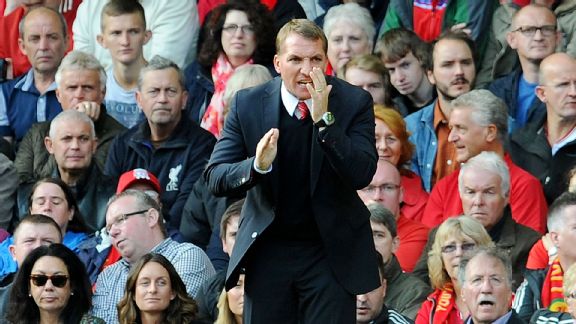 John Powell/Liverpool FC/Getty ImagesBrendan Rodgers would be revered at Anfield if he was able to secure a title with Liverpool.
It's been 23 long years and counting since Liverpool were last crowned Champions of England. In that time they've probably only had three sides that were really capable of winning the title, but for varying reasons they failed to get over the finish line.

The Roy Evans side of the mid 90's certainly had enough talent to become champions but unfortunately lacked the mental strength and professionalism to get the job done. The 1996-97 season was Evan's best opportunity but his men choked down the stretch and handed the title to arch rivals Manchester United.

If Liverpool held their nerve that year, who knows how differently the next decade would be? Instead, they buckled under the pressure and the expression 'fourth in a two horse race' still sends shudders down Kopites' spines, conjuring up painful memories of David James flapping at near post corners against Coventry City at Anfield.

Liverpool had led the way for most of that season yet finished seven points behind United. It was almost unforgivable, the title was there for the taking but the 'Spice Boys' -- as they were dubbed back then -- completely blew it. United only amassed 75 points that season, which in most years since wouldn't have even gotten them within sniffing distance of a championship. It smarts just as much today thinking about that as it did at the time. 'The Spice Boys' were a good team, just not as good as they thought and that complacency and lack of professionalism cost the Reds the best chance they've had at winning the title in the last 23 years.

That side played a very similar formation to that which Brendan Rodgers has recently implemented. Three at the back, two wing backs, a couple of central midfielders, one in the hole and an explosive front two. This was in the era just before Premier League clubs began importing foreign players in such huge numbers and -- aside from the Norwegian duo of Stig Inge Bjornebye and Bjorn Tore Kvarme -- the dashing Czech Patrik Berger was only other overseas player in the squad. The brand of football that team produced was as consistently pleasing on the eye as anything witnessed at Anfield since Kenny Dalglish's last great title winning side, but man for man the 1997 squad does not compare favourably with many of the sides that followed, including that which we see today. For me, only Berger, Rob Jones, Robbie Fowler and Steve McManaman from that side would get anywhere near the present team, that's how much the standard of Premier League player has risen since then.

Gerard Houllier's team of the early 2000's went close too. They were the polar opposite of that Evans side. Ultra disciplined, mentally strong and capable of churning out wins when the pressure was on, their inability to win a title was more to do with the excellence of others, most notably Arsenal. Houllier came close, he assembled a fine group and in another era they may well have had enough to become champions, but there's no disgrace in losing out to the Arsenal side of Henry, Adams, Campbell, Pires, Bergkamp, Cole, Vieira, Ljungberg et al

Had Houllier's side been playing a few years before there's every chance they'd have won at least one title, but sadly for the Frenchman the standard of opposition was increasing year on year with the influx of top foreign talent. Liverpool amassed 80 points in that 2001-02 season, the same total that was enough for Manchester United to win the league the previous year. That was an excellent Liverpool side, not as pleasing on the eye as the Evans team perhaps, but it was built on a solid defence that conceded the fewest goals in the league that year.

Jerzy Dudek had a great season, whilst the regular back four of Jamie Carragher, Sami Hyypia, Stephane Henchoz and John Arne Riise formed a formidable barrier for opposing forwards at home and in Europe. Steven Gerrard was really beginning to establish himself as one of the world's top midfield players alongside the ever dependable Dietmar Hamann, Czech duo Berger and Vladimir Smicer added flair to the wide midfield positions whilst Danny Murphy also had an excellent season. Houllier was spoilt for choice in terms of striking options with Fowler, Michael Owen, Emile Heskey, Jari Litmanen and - for the second half of the season - Nicolas Anelka.

Under different circumstances that Liverpool side may have ended the title drought, but during that season Houllier had suffered a serious heart problem and things were sadly never quite the same for him after that. For one thing, he allowed Anelka to leave and splurged £10m on the horrific El Hadji Diouf instead. Not to mention Bruno Cheyrou and Salif Diao. The beginning of the end.

Rafa Benitez succeeded Houllier in 2004-05 and of course won the Champions League in his first season. Domestically, however, the Reds were way, way, way off the pace that year, finishing a whopping 37 points behind Jose Mourinho's Chelsea. Benitez had a fine record in European competition with Liverpool, but closer to home he only ever made one real run at the title, in 2009 when his side finished four points behind their big rivals from Old Trafford.

That was comfortably the best side Liverpool have had since they last won the title, but they fell short as United simply refused to drop any points during the run in. The spine of that Benitez team was incredibly strong, with Pepe Reina in goal and intense competition for places in the heart of the defence with Carragher, Hyypia, Daniel Agger and Martin Skrtel fighting for two places. The midfield was arguably as good as any of those to ever have graced the Anfield turf, with the majestic Xabi Alonso and tigerish Javier Mascherano sitting behind the marauding Gerrard. And of course, there was Fernando Torres in his pomp leading the line.

Whilst the wingers and full backs in that team were not exceptional they were more than serviceable and that first eleven was good enough to have won a title in many other years, having finished with an impressive 86 points. That total would probably be enough to win the league this year.

So how does the current side measure up to the three mentioned above? At this early stage of the season they sit joint top of the table but few if any are talking about a potential title challenge from the Reds. And nor should they be as it would be a major shock if Liverpool mounted a sustained run at the title this year. It's very rare indeed that a team goes from seven to first or even to second or third without a massive financial outlay, so despite their present lofty position there's nothing to suggest this will be 'title challenge number four' for the men from Anfield.

In terms of how the present team matches up to those who did have a run at the title, I'd say it compares quite favourably in certain areas and less favourably in others. For example, the current midfield pales in comparison with the 2009 side, but then it's not just Liverpool that can't match that Alonso/Mascherano/Gerrard combination. For all the money spent by others, there's not a team in today's Premier League that can match that trio. The 2002 midfield also looks stronger than Liverpool's current one, although I'd probably take this midfield over the Evans one.

In terms of the keeper and central defensive options, the current crop is already much better than anything Evans had and has the potential to be as good as the Houllier and Benitez backlines - depending on how Mamadou Sakho pans out and whether Rodgers can keep all four of his centre backs happy. It's too early to make any definitive statements but this is an area of the side where Liverpool currently look to be in very good shape.

It's in attack where it's especially interesting though. How does the trio of Luis Suarez, Daniel Sturridge and Philippe Coutinho compare with those that went before? It's very difficult to say given how few games the three of them have played together, but on paper it certainly looks to be as good a combination as any, and Suarez is so good he'd probably get into any Liverpool side in any era.

Evans, Houllier and Benitez all produced one side that was capable of mounting a serious title challenge but it took them all a few years before they got there and they were then sadly unable to sustain it. Rodgers is only in his second season so is still a little way short of getting to that level, but the foundation is there for a very good side if he can strengthen the midfield and keep hold of Suarez.

The emphasis there is on the word 'if' as there are no guarantees he will be able to do either, but even if he succeeds in both, Rodgers is still faced with a problem that none of his predecessors had to deal with. Evans, Houllier and Benitez had to worry about one, two, or at the very most three other sides. Liverpool were generally guaranteed a top four spot even when they weren't very good. Times have changed, and in financial terms and spending power Liverpool are no longer in the top two or three. At best they'd be five but more realistically sixth given the transfer activity of Tottenham over recent years.

Previous Liverpool managers never had to worry about Manchester City or even Spurs, whilst even Chelsea were not a threat to Evans and only appeared on Houllier's radar in his final season after Roman Abramovich came on the scene. Rodgers has to overhaul all of them as well as the traditional big hitters of United and Arsenal. In terms of mounting a title challenge he has the toughest task of any Liverpool boss since Bill Shankly (I'm not counting Roy Hodgson, like most Liverpool fans I'm just trying to forget those six months ever happened).

The heart says that Liverpool have enough good players that with a quality addition or three they could be ready to make another run at the title in the not too distant future, but the head says that given how the financial landscape has changed in English football, even if Rodgers does produce the best side Liverpool have had since 'Kenny's boys' landed number 18 back in 1990, it's probably still not going to be enough.

Still, you have to crawl before you can walk, and Liverpool's first priority has to be to get back into that top four and then take it from there. At least they look like they've got a good shot at doing that this year, and right now I'd probably take 'fourth in a one horse race'.