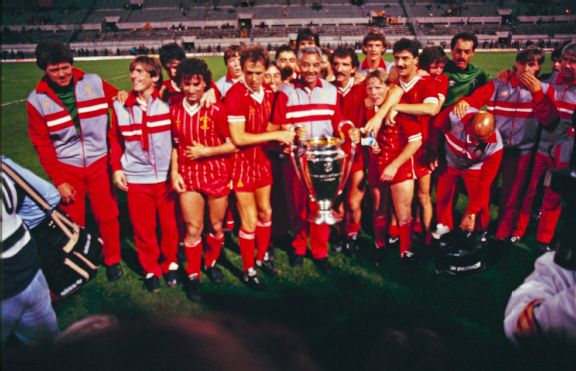 GettyImagesLiverpool beat Roma, in Rome, to lift the 1984 European Cup.
It is impossible to ignore the history of Liverpool Football Club and the people -- the managers, players and supporters -- who wrote it so fantastically and dramatically. Nobody would saunter past the Bayeux Tapestry without taking a look, after all.

It is also impossible not to actually write of that history either, given the amount of literature that exists: for the archaically-minded who still walk amongst us (myself included), a stroll through the football section of a city centre bookstore reveals hundreds of novels, autobiographies and fan accounts of Rome, Paris and Istanbul, three cities where Liverpool's most famed nights occurred. Many of them are unimaginative and formulaic; few are worth more than the cursory glance at the synopsis.

David Peace's Red or Dead, released earlier this year and detailing Bill Shankly's managerial reign at Liverpool, now dominates those shelves after being granted publicity a football book hasn't been offered in years. But it was not for everybody.

The language was smart but unwelcoming, the narrative compelling but difficult. In 736 pages, Peace provided a thorough -- and how excruciatingly so it proved at times -- account of Shankly, a man who turned a ramshackle operation into a global force. But it was not for everybody.

Simon Hughes' Red Machine; Liverpool in the 1980s, the Players' Stories is for everybody.

There is gossip about in-fighting and feuds, of who enjoyed socialising and those who didn't, of what happened in city centre pubs when there was no match to play. There is also the actual football, recounted by both Hughes and the interviewees, that provides both reminiscence for the older generations and insight for the younger readers. Most interestingly, the book contains the constant background hum of the desperate socio-political climate of the decade; few chapters or paragraphs ever truly escape the shadow of Margaret Thatcher's Conservative government and the degradation of Liverpool as a city.

It is a difficult balance to maintain, but one Hughes manages successfully through his 11 interviews -- represented by 11 different chapters -- with the men who witnessed and experienced the fighting, football and Thatcher at Anfield. It allows the book to not be merely limited to readers of a faded grey disposition; it is also an important history lesson both on and off the pitch to those who have never seen Liverpool lift a league title. It ultimately means Red Machine jostles admirably next to Red or Dead as the must-have Liverpool-related book of the year.

Not that there should be a direct comparison between the two. Content and style are different, as is the level of media coverage. Most importantly, the inspiration behind penning such a book contrasts. But both are fundamentally about football and the humanity that surrounds it; both explore how important character and mentality were to survive at a club where so many failed to do so.

In interviewing 11 men who featured for Liverpool in the 1980s, Hughes emphasises his main goal: to tell people of what happened to some of the game's great characters -- successful characters at that. Liverpool won five league titles in the decade, with a sixth coming in the 1989-90 season. They also captured two FA Cups, four League Cups and a European Cup in the Eternal City.

Some of these -- Bruce Grobbelaar, John Barnes and Ronnie Moran -- were vital cogs in the machine that inspires the book's title; most, interestingly, were peripheral characters with fleeting success at the club. The latter allows for a more analytical tone to be taken, sometimes with a tinge of resentment or bitterness from the players whose stays at Anfield were all-too-brief. There is also an acknowledgement that they did not possess what was required to be an imperative part of this footballing juggernaut, whatever that may be.

The book begins with goalkeeper Grobbelaar's recollection of breaking the nose of midfield enforcer Steve McMahon on a pre-season tour of Dundee. Twice. It is an eye-opening passage to begin with, but one that comes with slight apprehension.

Even supporters who were not alive in the 80s will be aware of the culture surrounding British football at the time: drinking, fighting, and more drinking. Footballers lived lives of rock stars, their off-field exploits far wilder than today's. With the opening gambit, there is a worry this book will simply be 269 pages of masculine chest-beating and cane-swinging, a diary of shocking booze-riddled behaviour that becomes less shocking with each turn of the page.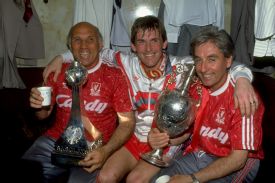 GettyImagesKenny Dalglish celebrates Liverpool's last league title, in 1990, with Ronnie Moran and Roy Evans.
It does not take long to realise this isn't what this book is about. It is to Hughes' credit that he steered clear of this simply becoming an alcohol-fuelled stagger down memory lane, as entertaining as that could have been. Within pages, Grobbelaar is speaking of his upbringing in Rhodesia (now known as Zimbabwe) and speaks of the racism that was prevalent as he grew up; he also recalls his years serving in the Bush War, which will leave the reader grimacing.

The grimace does not really fall throughout the opening few chapters. They are breathless but also somewhat uncomfortable to read for somebody who, born in 1987, had been sheltered to such grim reality. It becomes obvious that this book is not only about football. It is about politics, social status, nature versus nurture and how all that conflict makes a person who they are. Hughes works hard to paint a fuller picture of most of his interviewees by asking of their childhoods, their careers before and after Liverpool, their lives afterwards.

After the Zimbabwean goalkeeper's jarring opening chapter is the words of Howard Gayle, who played just five games for the club. Born in Toxteth and growing up as a terrace hooligan -- "I gave out a fair share of digs and I took one or two as well" -- Gayle was a player who struggled to deal with the racism so rampant in society, something which reflected in his style of play and his struggles to establish himself. His language is raw and expletive-heavy as he reflects on the riots in his own Toxteth, unrest caused by racial tension.

By the time Michael Robinson opens the third chapter by saying Thatcher "bore the same charm as the bubonic plague", the world this book inhabits has fully formed with Hughes' impressive narration ruler of all. Hughes knows when to let the footballers talk and when the subject needs another voice, an accompanying viewpoint, to keep the chapter moving. The author also allows every player to speak of the Heysel and Hillsborough stadium disasters, of what they saw and felt as the horrors occurred.

There is also the football, of course. Though Hughes is keen to establish the socio-political climate of the time, he does not neglect the purpose of the book. Craig Johnston tells his story of how a young Australian boy, dismissed as rubbish by Jack Charlton, eventually scored in the FA Cup final; David Hodgson speaks of the pressure of filling the boots of Kenny Dalglish and Ian Rush; Nigel Spackman engages in rare tactical insight as he reveals the specific role player-manager Dalglish expected of him.

Some of the chapters do feel flatter, admittedly, though this is inevitable because of the rambunctious nature of the book's beginning. This is not to the detriment of the author, but rather the content he had to mould.

Some players did not have the journey of others in playing for Liverpool, their rise and fall far less dramatic. Spackman is presented as a likeable gent, but one who took a fairly simplistic route to life as a professional footballer; Steve Staunton's chapter contains odd moments of titillation, but his dour reputation is hard to shake, while his story continually jars given he is introduced as manager of Darlington -- a club that is no longer in formation. The idea to include Everton legend Kevin Sheedy, one of the few successful players who Liverpool willingly sold, was good; unfortunately, Sheedy spoke more of Everton than Liverpool.

There is compensation, at least. It is on these chapters where Hughes' talent with words can be used, adorning the interviewee's utterings with his solid prose. His description of the pub he met Spackman in is magnificent, his words about Sheedy and Staunton excellent. All three are dwarfed, however, by his account of his meeting with Robinson in Madrid, one of the strongest chapters as it marries his own skill with that of Robinson, a meeting of two considerable minds.

What chapters are deemed best is all personal taste, however. That is where the book's success truly lies. Anybody wanting to read something on Liverpool will enjoy Red Machine as it is so multi-faceted. The first few chapters weigh heavily on the mind, while the middle portion is a far lighter reminiscence. Whether the book is read in one sitting or in a more casual style, it is a page-turner. As each story is read, a further layer is added; players such as Rush, Dalglish and Graeme Souness are described throughout and their characters are built, disjointedly, through the words of others.

But referenced more than any is Moran, one of the founding members of Liverpool's famed Boot Room, who spent over 40 years at the club. He is a constant figure as players recollect their sweat-stained training sessions, his name uttered as if the final word in a magic spell to evoke an ethereal spirit. He is called a "barking dog", a "Rottweiler" and a "very angry man", but Hughes decides to use him as the final interview, the final attempt to decipher why Liverpool were so successful in that decade.

The conclusion ends the collection nicely even if it is somewhat dissatisfying for those wanting a definitive answer. It is at the end of the book, when Moran describes his disgust at Liverpool's 2-0 home defeat to West Bromwich Albion days before, that the question that permeates the book can be asked a different way: after 23 years without a title -- something even Steven Gerrard references in the foreword -- it is not what made Liverpool so successful in the 80s, but what can make them successful in the present-day.

For anybody who has yet to witness Liverpool lift a league title, it is an answer that is constantly sought. This book doesn't find those answers, but gives the reader a wonderful, harrowing time asking the questions -- questions that nobody would dare ask the professional footballer of today, so sanitised and protected by matriarchal press officers. Simon turned off the dictaphone. Simon opened his laptop. Simon wrote a book. And it was very good.