Sterling derailed by lofty expectations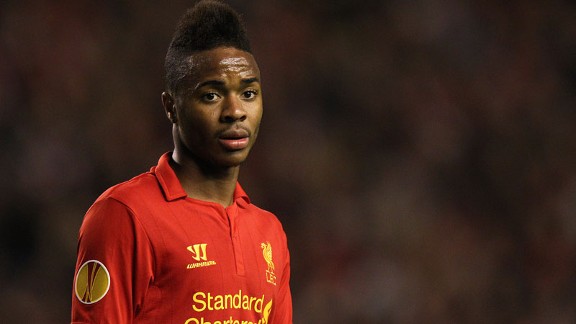 GettyImagesRaheem Sterling has rediscovered his form for Liverpool.
There were a lot of positives to take from Liverpool's weekend victory over Crystal Palace at Anfield, but the play from the wide areas was certainly not one of them. Jose Enrique and Raheem Sterling both had their moments, of course -- the Spanish full-back created the opening goal for Luis Suarez whilst Sterling won the penalty from which skipper Steven Gerrard claimed his 99th league goal. Those highlights aside, both players had their problems, particularly in the second half, when the whole team's performance level dropped. That led to some unrest in the crowd, and Sterling in particular bore the brunt of the fans' frustration.

From my seat in the Main Stand, I heard numerous unflattering comments directed at the youngster, and speaking afterward to friends who were scattered around various parts of Anfield, it seems it was happening all over the stadium. Whilst football crowds have always had their whipping boys (I can remember dozens of them at Anfield just in the 30 years or so that I've been going to the game), it's generally rare for Liverpool supporters to show such a lack of patience toward an 18-year-old, especially one who is playing in an unfamiliar position, as Sterling was at the weekend.

Some would say it's merely a symptom of the "modern-day football fan." I'd agree up to a point but would also suggest that it's partly a reaction to the "modern-day footballer." In Sterling's case, the lack of leeway from the crowd is almost certainly in part due to what happened around this time last year when his agent attempted to hold the club to ransom for a huge contract for his client despite Sterling's having played fewer than 30 first-team games.

Brendan Rodgers has rightly been commended for giving young players an opportunity to play, but the wage demands of Sterling and his agent last year will have done little to encourage the Reds' boss to bring other youngsters into the first-team picture. You give a kid a chance, he puts together a dozen or so good -- not great -- performances and suddenly he wants parity with some of the established, experienced senior players?! When did that become acceptable?

It was ludicrous really, but Liverpool were in a difficult situation and Sterling's people knew it. "Give us what we want or we can go and sign for Manchester United or Arsenal." Liverpool didn't give him what they wanted, but they did give him far more than he was worth, and whilst Sterling's bank balance is flourishing, his career has stalled somewhat.

Are the two issues related? Perhaps, as Rodgers recently warned: "He needs to stabilise his life, understand the remarkable opportunity he has at one of the biggest clubs in the world and focus everything in on his career. Once he does that and he is clear in his mind, he has no distraction and we can get to the level of performance of the first four or five months of last year."

Some youngsters mature more quickly than others. Michael Owen for example had the mentality of an experienced pro when he was a teenager. He was also light years ahead of Sterling as a footballer, too, yet he never made those kind of contract demands even though he could have joined any club in Europe at that time following his stellar showing at the 1998 World Cup. Owen eventually got the big contract he deserved, but it certainly never arrived after 20 odd games and one goal.

The initial demands of Sterling's camp were reportedly not that far short of the salary Reds stalwart Jamie Carragher was earning, and the contract he eventually signed was for the kind of money that even Owen and Gerrard didn't get until their early-mid-twenties. Of course the game has changed and players earn more money than ever, earlier than ever, but even allowing for that, Sterling's contract was excessive. If you give an 18-year-old kid that kind of money, don't be surprised if his form drops off, and if and when that happens, don't be shocked if the fans get on his case. You want to be paid like an experienced pro? Fine, but you'll be judged like one. Harsh, but that's football.

That is what is happening to Raheem Sterling now. Every mistake is seized upon by the crowd, and there is very little tolerance toward the youngster at the moment. Toward the end of the Southampton game, for example, Sterling was played clean through on goal only for the chance to go begging after a first touch so heavy that even a baby Rhino would have been embarrassed by it. Raheem got it with both barrels from the fans, but if you were to put someone else in that situation -- say, Jordan Ibe, for example -- the reaction would have been markedly different.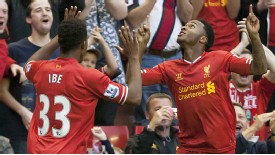 GettyImagesJordan Ibe is under significantly less pressure than Sterling.
It's a difficult situation. As a young player, he needs the crowd to be supportive and to indulge him a little, but having demanded the big contract, some would argue he forfeited the right to that indulgence and needs to deliver performances.

Paying young players too much too soon is largely counterproductive. At the age of 18, Sterling signed a contract that would financially set him up for life. Usually, players have to achieve a lot more in the game to reach that level of financial security, and when a young player gets that kind of money so soon, it can often have an adverse effect on them. A lack of focus and hunger are the two most common complaints about players in this situation. To me, the two go hand in hand: If you aren't focused, it's because you aren't hungry enough. As stated above, Rodgers has already used the F-word in relation to Sterling.

There has been no lack of effort in games, and there's been nothing to suggest he's not been training well either, but Sterling is no longer playing without fear in the way he was when he burst onto the scene. Time and again last weekend he spurned the option of carrying the ball forward and going at the opposing full-back. It points to a lack of confidence that stems from his drop in form. And the drop in form, according to Rodgers, is due to a lack of focus on his football. It's a snowball effect: If you aren't preparing yourself and focusing completely on being the best you can be, you won't play to the level you can, and when you aren't playing to that level, it can shake your confidence.

The fans were screaming at him to be more positive against Palace. Gerrard was telling him to be more positive, too, and at one point the manager was visibly exasperated after Sterling opted to pass the ball all the way back to his keeper rather than carry it into the space in front of him.

It's a tough situation for Sterling right now, as there are several things going against him, not least the recent change in system that has all but nullified the need for wingers. Where does he fit in to a 3-4-1-2 system? The simple answer is that he doesn't. You can shoehorn him into a right wing-back role, but that's not going to work against anyone half decent (it didn't even work against Palace). He could possibly play the "number 10" role, but again it's not ideal and there are several better alternatives available when everyone is fit.

The Crystal Palace game was Sterling's first Premier League start of the season, and the lack of European games combined with the Capital One Cup exit has drastically reduced the opportunities for fringe players to get games under their belt. I like Sterling as a player -- he had a spring in his step in preseason and he's clearly a footballer of rich potential -- but he needs to be playing week in, week out to develop that potential, and that is simply not going to happen at Liverpool unless there is an injury crisis and/or a change in formation.

With Glen Johnson and Philippe Coutinho on the way back, there will be even less opportunity for Sterling to get the playing time he needs, and it would not surprise me in the least if a loan deal was arranged for him soon. In fact, I really hope that is the case as he's crying out for it. Andre Wisdom was close to a loan move to Wigan Athletic before Johnson's injury, and the Latics would be an ideal club for both Sterling and Wisdom, as not only do they play football in the right way, they can also offer Europa League football.

Raheem is a talented boy who will hopefully have a big future with Liverpool, but he needs to get his head right and to play regular football. Surely it's in the best interests of both player and club to have him playing first-team football somewhere every week, developing his game and regaining his best form, rather than be sitting on Liverpool's bench or being a square peg in a round hole and having the crowd continue to lose patience with him.