Sturridge and Suarez deliver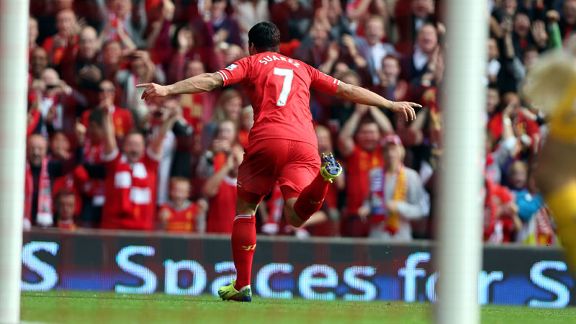 PA PhotosLuis Suarez wheels away after opening the scoring for Liverpool.
Two weeks ago Liverpool lost at home to Southampton and relinquished top spot in the table. I'll be honest, I didn't think we'd see the Reds back on top of the pile again this season, yet a fortnight later that's exactly where they are following another "Suarez and Sturridge" (or SAS as they have been dubbed in some quarters) inspired victory. That league position will change if Arsenal can avoid defeat against West Brom at the Hawthorns on Sunday of course, but irrespective of what the Gunners do, Brendan Rodgers' men will still be in good shape going into yet another international break. There never used to be this many, did there?

Liverpool's performance against Ian Holloway's struggling Crystal Palace was patchy, with the first half being far more impressive than the second. That's been a recurring theme this season, prompting much analysis and speculation from the supporters. Are these second-half disappointments down to fitness, tactics, a combination of both or something else? In previous games you could make a case for all of the above, but this one was purely down to complacency and players taking their foot off the gas after effectively winning the game in the opening 45 minutes.

It was almost like they were conserving energy ahead of a difficult midweek Champions League game, we saw several of these kinds of games under Rafa Benitez for example. Get the game won and then don't expend unnecessary energy. That's fine when you actually have a difficult midweek Champions League game coming up, but Liverpool don't. In fact, with no European football and having already been knocked out of the Capital One Cup, the Reds barely have to worry about any midweek games between now and the New Year. There's no need to be conserving energy for anything and it would have been nice to see the players maintain the first half intensity and record a big victory.

- Reds romp past Palace
- Rodgers praises strike stars

Liverpool famously once put nine past Palace at Anfield, and Holloway had bizarrely spoken in the build up to this game about how "it's worth a 10-0 hammering" just to be able to hear the Kop singing You'll Never Walk Alone. When the Reds raced into a 2-0 lead early on, he was probably regretting saying that. Another 9-0 was hardly likely to be on the cards of course, but having gone into the break with a three-goal advantage there certainly appeared to be the opportunity to get five or six at least. It quickly became apparent that wasn't going to materialise as the tempo and pace of the Reds' play dropped off significantly following the restart.

It matters little in the grand scheme of things. Of course, it would have been nice to deliver a hammering to Palace and to make the rest of the country sit up and take notice, but despite the lacklustre second half there was plenty to be pleased about, not least going back to the top of the table, even if it is just for 24 hours.

It's also difficult not to get a little bit carried away with the huge potential of a strike partnership that has now scored five goals between them in only two league games. Rodgers had talked them up all week in the build up to this game after what the pair did to Sunderland last weekend, and they showed why with a dazzling first-half performance that saw both get on the scoresheet once again. Daniel Sturridge has now scored a remarkable 18 goals in his first 22 appearances for the Reds and has numerous assists too, whilst Luis Suarez hit 30 goals last season and is averaging a goal a game since his comeback.

It's not just the goals they are scoring though, it's the way they are starting to play as a pair and the understanding that is developing since Rodgers changed the system to allow both of them to play as out and out front men. The link up play between Suarez and Sturridge in the first half was simply brilliant at times, while Victor Moses showed signs of becoming more comfortable with the central role he's been asked to fill since the change in formation.

Jordan Henderson's display was another big positive, it was always going to be interesting to see how he filled in for the suspended Lucas Leiva in the centre of the park and for me he was the best player on the pitch. His relentless chasing and pressing of the ball made for a refreshing change to what we've been used to seeing from Liverpool's central midfield so far this season, and Lucas may have a problem regaining his place given how Rodgers generally sticks with the man in form.

Glen Johnson can't return quickly enough though, as the experiment of playing Raheem Sterling at right wing-back wasn't exactly a roaring success. The teenager did some good things -- not least winning a penalty that Steven Gerrard converted for his 99th league goal -- but he never looked particularly comfortable and the confidence visibly drained from him as the game wore on. Johnson is tailor-made to play in this system; his return will be a huge boost to Rodgers as will that of Philippe Coutinho.

It seems almost ungrateful to be putting forward any kind of complaint on a day when the Reds have had a comfortable win and returned to the top of the league table, but there was a tinge of dis-satisfaction at full time following another poor second half display. Disappointment would be far too strong a word for it, but the complacency we witnessed in the second half was certainly frustrating, especially as it's not the first time it's happened. See Notts County as further recent evidence.

Having played some scintillating stuff and raced into a 3-0 lead, this was an opportunity for the Reds to rack up a big score and give a much needed boost to their goal difference. Instead, the players came out with no urgency and were just playing out time until Palace woke them from their slumber when Dwight Gayle headed in from a set piece. Dead balls continue to be a problem for the Reds. After that shock to the system Liverpool picked up the pace again and could have increased their lead, but it was good to hear Rodgers bemoaning parts of the performance afterwards rather than patting himself on the back for returning to the top of the table.

That kind of relentless desire to get better and to never be completely satisfied with yourself is one of the things that helped make Liverpool successful back in the day. The likes of Joe Fagan and Ronnie Moran would never let the players get too full of themselves; it was all part of ensuring that complacency never crept in and the team remained hungry. "Oh you've won a title, big deal. Let's see if you're good enough to defend it." "Ok, you've defended your title, but the really great teams win it three or four times on the spin" etc. Moran once famously chastised a teenage Robbie Fowler after he'd scored five against Fulham, telling him "you should have had seven". There's nothing wrong with that. It keeps people striving to do better, so for me Rodgers is correct to be expressing some concerns about what he saw against Palace.

As he correctly pointed out, some of the play in the final third was brilliant and the front two are fantastic players who are developing an incredibly exciting partnership, but what went on behind them wasn't so great and Liverpool are not controlling games in the manner Rodgers wants. To me that's an encouraging sign, the manager isn't getting carried away by anything and nor should the players. Still, to be in such a good position whilst clearly having plenty of things that can be improved upon has to be a good sign.

There were a lot of positives to take from the victory over Palace, but the biggest one is surely that the Reds have taken 16 points from seven games despite not even coming close to hitting their best form. Liverpool can -- and hopefully will -- get better in terms of the consistency of performance and being able to sustain that for 90 minutes, but even when the team is not functioning at its maximum they'll always be dangerous as long as Suarez and Sturridge are in tandem, as there is no better strike force in the league right now.